How Tom Cruise's Maverick Has Changed And How He Hasn't In Top Gun 2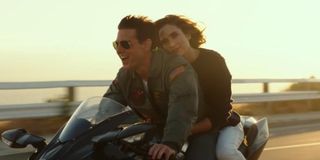 It's been 34 years since the first Top Gun soared into the theaters and audiences saw Tom Cruise's Maverick enter the danger zone. That's a long span of time for one character to grow and evolve in. However, according to director Joseph Kosinski, there's a lot of about Maverick that's stayed the same.
Joseph Kosinski spoke with Empire recently about his upcoming movie Top Gun: Maverick, and said when we find the title character again, he'll be entering a new stage of life and have to face some of his choices in the past. That said, he's still the Maverick we know and love from Top Gun. Here's what Joseph Kosinski had to say:
In a way, Maverick seems to be stuck in a rut, clinging to the old things of the past and not being able to grow up and move on. Even though he's been in the military for some time, he has only attained the rank of Captain and doesn't want to be promoted if it means taking him out of the cockpit. Although his new class of trainees might change that.
From what we know about the story, Maverick's relationship with Bradley "Rooster" Bradshaw (Miles Teller), the son of Nick "Goose" Bradshaw, will form the backbone of the story. This is likely what Joseph Kosinski is talking about when he says Maverick will have to reconcile things from his past. Of course, Nick "Goose" Bradshaw, played by Anthony Edwards, famously died in the original Top Gun. His character's death has long been one of those tragic, tearjerker moments fans still talk about to this day. So, it makes sense to a degree the filmmakers would want to revisit that.
Much like how Maverick hasn't changed much since the first Top Gun, the same could be said of actor Tom Cruise. Known for his wild and crazy stunts on the Mission: Impossible franchise, Tom Cruise stayed committed to his craft on Top Gun: Maverick as well and went through months of grueling G-force and water survival training.
Originally, Top Gun: Maverick was set to release this summer on June 24, 2020. That day has come and gone. Now, Top Gun: Maverick will release on December 23, 2020, days before Christmas. Check out our 2020 release list to plan your next trip to the movies.
Your Daily Blend of Entertainment News