A Movie Has Already Been Shut Down After Violating COVID-19 Rules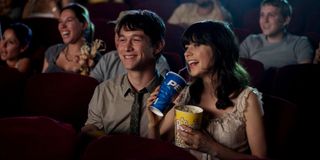 As we all know by now, the COVID-19 pandemic has shut down major theaters and Hollywood productions, as well as delayed release dates for a slew of movies, like Tenet and Wonder Woman 1984. Needless to say that trying to start up again is tricky, and this is highlighted by the fact that already a movie production has already been shut down for violating COVID-19 rules.
According to Deadline, SAG-AFTRA accused the producers of the movie Courting Mom & Dad, starring Scott Baio and Kristy Swanson, of not complying with "LA County Health Orders and SAG-AFTRA protocols in connection with COVID-19 as well as California regulations related to minor performers." Due to this, the guild instructed SAG-AFTRA members to withhold acting services until further notice.
Courting Mom & Dad comes from Revenge Movies LLC, and is about three kids who seek a personal injury attorney to stop their parents from divorcing.
In early March, the world stopped and took notice when Tom Hanks and Rita Wilson contracted COVID-19 on the movie set of Baz Luhrmann's Elvis Presley movie. At the time, a number of movie productions were already shutting down, including Mission: Impossible 7.
Of course, during the quarantine period, movie fans had been asking how long it would take before productions could get started again. Even when the shutdown ends, these productions require close proximity, which means they'd still have to follow safety protocols and guidelines.
After three months, California Gavin Newsom announced that movie and television productions can start again in Hollywood starting June 12. So, naturally, many movie productions are gearing back up again while trying to follow safety protocols to protect the cast and crew.
We don't exactly know what those safety measures might be for each production. However, if Avatar 2 producer Jon Laundau's recent social media posts are any indication, the rules are extensive. He posted a picture of himself and James Cameron wearing face masks and face shields on the set.
With the safety rules, many movies may have to drastically change their scripts to accommodate the rules. For instance, the Dungeons and Dragons movie talked about changing sequences where a large number of extras would be needed in a large crowd. With that in mind, it's not out of the question that other movies would have similar dilemmas and need to pivot accordingly to accommodate the rules.
Overall, SAG-AFTRA undoubtedly made the logical call by shutting down Courting Mom & Dad for not following safety rules. After all, while actors like Tom Hanks and Rita Wilson recovered from the coronavirus, other cast and crew on productions like The Batman were not so lucky. Hopefully, other movie productions will be careful and keep their cast and crew safe.
Your Daily Blend of Entertainment News