Would Avengers: Infinity War's Carrie Coon Return To The MCU? Here's The Latest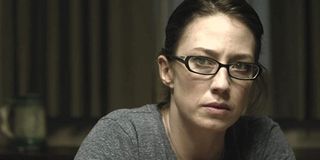 Now that Avengers: Infinity War and Endgame are in the past and the MCU Phase 4 is underway, there's been questions of who might return to future movies. After all, it seems anything is possible in these universes, so conceivably anyone could make a return appearance. Now we've got the latest on whether or not Carrie Coon, who played Proxima Midnight in Avengers: Infinity War, might make a return.
Marvel has a unique talent in bringing back characters we thought were long gone. So, with that said, it wouldn't be out of the ordinary for Carrie Coon to come back. And in a conversation with THR, Carrie Coon hinted it's always possible and that they got some assurances her making a return to the MCU wouldn't be off the table. Here's what she said:
It would be pretty awesome if they could find a way to bring Carrie Coon on for another role. She's an actress with an impressive, offering up some really solid work in the TV show Fargo and her latest film The Nest opposite Jude Law. She'll next be making an appearance in Ghostbusters: Afterlife.
For those who don't recall, Carrie Coon's villainous Proxima Midnight had a brief go of things in Avengers: Infinity War. At the end of that film, she brought Thanos' armies to Wakanda to secure an infinity stone. While in the heat of battle, she fought Black Widow and Okoye before Scarlet Witch used telekinesis to throw her in front of a Thresher, killing her.
There's a couple of ways Carrie Coon could potentially make a comeback. With DC toying with the multiverse in their upcoming Flash movie, there have been rumors swirling that the MCU might also dabble in the multiverse, too. If that happens, it wouldn't be impossible to have her character return from another universe.
The other way would be to use her as a totally different character. Since Carrie Coon's character required extensive CGI (you can hardly tell it's her), it wouldn't be out of the question if she made an appearance in the MCU as a totally different character. Who that character would be is anyone's guess. But whatever ends up happening, let's hope Marvel brings Carrie Coon back to the table. For more movie news, be sure to stay tuned to CinemaBlend.
Your Daily Blend of Entertainment News
Thank you for signing up to CinemaBlend. You will receive a verification email shortly.
There was a problem. Please refresh the page and try again.