4 Reasons Why Disney Should Do A Lion King 2: Simba's Pride Live-Action Remake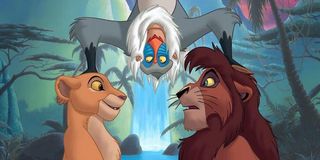 (Image credit: (Disney))
Disney's live-action version of the The Lion King was the second highest-grossing movie of 2019, behind Avengers: Endgame. It felt like it was only a matter of time before the studio would announce a sequel, and low and behold, Moonlight filmmaker Barry Jenkins is directing a live-action follow-up for Pride Rock. As the report revealed, the movie will be a completely original Lion King movie that dives further into the origins of Simba's late father, Mufasa.
It's an exciting way forward for the live-action Lion King, and after the summer blockbuster disappointed some for recreating more than reimagining, Barry Jenkins' involvement is great news. I'm admittedly intrigued by how the follow-up will pan out and excited to see the studio doing something different with its established animated properties. But seeing Lion King 2 float around in conversations reminded me of a certain underrated straight-to-video sequel. Separate from being on board for the If Beale Street Could Talk filmmaker's new project, Simba's Pride would actually be a great choice for a Disney remake. Let's talk about why:
Because Kovu... Obviously
Okay, we gotta get this elephant out of the room first. There's an entire generation of late '90s kids who can attest to crushing a 'lil on Kovu the lion in their young years. So on that alone, I know people would pay to see Kovu in live-action. Looking back, it's a bit silly, but let's think about this… attraction isn't only presentation. Kovu had a compelling story of redemption that the original Lion King did not explore. In the first movie, Scar is pretty much just evil and dies as a result of it. In Simba's Pride, Kovu is a descendent of one of Scar's closest followers, Zira, who is chosen to carry out her plan by getting close to Simba and his daughter, Kiara. Once Kovu gets to know them and falls in love with Kiara, he starts to change the ideology he has been raised on.
Kovu is also an interesting character to add into the mix for Lion King because he challenges Simba and forwards his story. Thinking back to The Lion King, Simba's arc revolved around accepting his place as king of the Pride Lands and avenging his father's death by killing his own uncle Scar. In Simba's Pride, we learn that Simba is still confronting the demons of Scar's betrayal and is not accepting of Kovu due to his ties to the villain and resemblance. Meeting Kovu, becoming at odds with him and learning to accept him is the natural place for Simba to go next in his emotional journey.
Lion King 2 Could Have Been Better
Kovu aside, Lion King 2 is still iconic, loosely drawing from the storyline of Romeo and Juliet after The Lion King retold Hamlet in its own Disney way. It tells the love story of Kiara and Kovu, but upon rewatching, there's a ton more lore within the Pride Lands that could have been explored. And as far as the great love stories of the House of Mouse goes, there could have been more to Kiara and Kovu's relationship.
I'm talking from the perspective of a fan who drew from Lion King 2 for inspiration when her brain was literally formulating as a toddler, so during my recent rewatch, I could only be let down and disappointed. What do you mean Lion King 2 is only an hour and a half? I thought it was a three hour epic with more songs!! In other words, fulfill my childhood dreams Disney and really explore Simba's Pride. It has so much more room to lean into its storyline, but because it was a direct-to-video sequel, it wasn't given the focus to be fully realized.
The Live-Action Model Is Well Suited For Lion King 2
My main issue with the live-action Lion King movie was I felt there were two conflicting ideas Jon Favreau was exploring. On the one hand, he was creating this photo-realistic world comparable to a nature documentary, and on the other hand, he was recreating the iconic song and dance moments rooted in animation. If The Lion King 2 was adapted, this problem would dissipate because one's memory of the material is not as overwrought as the original film. The animated sequel is not seen as a masterpiece like the original is, and therefore there's more wiggle room for a filmmaker to play around with the eye-popping format Favreau championed. It would be the best of both worlds – we keep the nostalgia for Simba's Pride fans, but it's not going to be a shot-for-shot remake either.
Also, Simba's Pride is not inherently a Disney musical like The Lion King was. The sequel is more-so an adventure film that also takes the time to expand its characters. This brings in room for there to be more action set pieces within the breathtaking world of the Savannah. A Lion King 2 film could lean more into the strengths of the live-action movie that ended up being mixed among audiences.
More Donald Glover And Beyoncé Is Always A Good Thing
For the time being, we don't know how the main cast of Jon Favreau's The Lion King fits into the second film Barry Jenkins is making, but I'd guess a lot of them will return. For me, one of the biggest draws of seeing The Lion King reimagined was the star-studded cast that was put together for the film. Seth Rogen as Pumbaa – genius by the way! Another plus of remaking The Lion King 2 is there's a ton of room for this established cast to really shine in their voice roles. I did feel the constraints of the original film in the 2019 version, but these amazing talents, like Donald Glover and Beyoncé, could have so much more room to improvise or make music for the film, just like the Queen Bey did with her album Black Is King, which recently became a film on Disney+.
What do you think? Would you like to see The Lion King 2 as a live-action remake? Vote in our poll below.
This poll is no longer available.
YA genre tribute. Horror May Queen. Word webslinger. All her writing should be read in Sarah Connor's Terminator 2 voice over.
Your Daily Blend of Entertainment News
Thank you for signing up to CinemaBlend. You will receive a verification email shortly.
There was a problem. Please refresh the page and try again.