Tyler Perry Giving Back: 8 Things You May Not Know About The Filmmaker's Philanthropy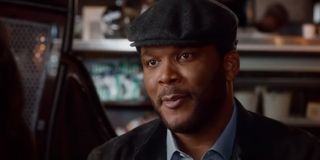 Tyler Perry is undoubtedly best known for all the Madea plays, movies, and shows he's created, written, directed, and even starred in, but the Atlanta-based media mogul should also be known for all of the philanthropic efforts he has made since becoming one of the biggest rags to riches stories the entertainment world has ever seen.
When he isn't putting on his Madea outfit or making random appearances in movies like Star Trek and Gone Girl, Tyler Perry dedicates his life to pulling up those who need help the most and makes an effort to support people when their world is crashing down around them. From natural disasters to holiday surprises, there's never been a time when Perry has not looked out for someone. Here are eight examples of the filmmaker's philanthropy.
In 2009, Tyler Perry Sent 65 Children To Walt Disney World After They Weren't Allowed At A Swim Club
In the summer of 2009, a group of 65 children from a daycare of mostly minorities were not allowed to return to a suburban Philadelphia swim club. Following an initial visit from the group, which was reportedly subjected to racist comments from other swimmers, the club cancelled future trips without giving any reason why. Once Tyler Perry caught wind of this he came in gave the children something they would never forget: a trip to Walt Disney World with all expenses paid.
Tyler Perry released a statement following the breaking of the news (via CNN), in which he said he was angry but wanted to do something for the children so that they know there are more good people in the world than bad and that he knew how one small act of kindness could change someone's life.
Tyler Perry Donated $1 Million To The NAACP In 2009 In Honor Of The Organization's Centennial
By the time 2009 was coming to a close, Tyler Perry was already at the heights of show business with more than a dozen stage productions, nearly as many movies, and a few TV shows to his name. But despite the fame and unparalleled success, the entertainment triple-threat didn't forget those who came before him, specifically the National Association for the Advancement of Colored People (NAACP). To honor the civil rights organization's Centennial, Perry donated $1 million, which according to the NAACP, was the largest gift ever given by an individual artist. When accepting the donation, NAACP president and CEO Benajmin Todd Jealous remarked:
In addition to making the large donation, Tyler Perry also purchased several prints commissioned by the NAACP to further support the organization's efforts moving forward.
In Wake Of The 2010 Haiti Earthquake, Tyler Perry Donated $1 Million To Help Survivors Rebuild
In the late afternoon hours of Tuesday, January 12, 2010, the nation of Haiti experienced an earthquake that resulted in no fewer than 100,000 deaths and billions of dollars in damages. In the days, weeks, and months following the initial quake and the humanitarian crisis that followed, people from around the world came together and support those in need, and included in those looking to provide support was none other than Tyler Perry.
After initially making a sizable donation of $250,000 immediately following the quake, Tyler Perry went on to increase the amount to $1 million in February 2010, explaining that he wanted to provide as much support as possible for the people of Haiti so that they would have something to rely on even after the news cycle moves on to the next incident. The media mogul also helped that his outreach would inspire others to donate what they could to help survivors.
Tyler Perry Pledged $1 Million To Hurricane Harvey Victims In 2017
Tyler Perry continued his record of providing philanthropic support to those in need following natural disasters in 2017 when he pledged $1 million to various religious groups in and around the Houston, Texas area following the devastation of Hurricane Harvey in 2017. According to the Los Angeles Times, Perry gave $250,000 each to two churches in the area with the remainder of his contributions being handed out to other groups in the months following the horrific storm. At the time, Perry explained that he was doing a lot of research to ensure that the money went to those who actually needed it.
Tyler Perry Paid For Everyone's Layaway Items At Two Atlanta Walmart Stores In December 2018
The holiday season can be hard on families who are struggling to make ends meet and so Tyler Perry played the role of Santa Claus for multiple families with layaway items at two Atlanta area Walmart stores in December 2018. In an Instagram video (via V-103 radio), Perry announced that he paid all of the remaining balances (minus $0.01) on every item in layaway that were in the system at the Walmart locations in Douglasville and East Point, Georgia. Check out the video for yourself:
As you can see in the video above, Tyler Perry is beyond ecstatic to be able to help out families who are struggling to provide a memorable Christmas for their kids and just wanted to do anything he could to help out.
In 2019, Tyler Perry Provided A Safety Net For The Grieving Children Of A Murdered Woman
In March 2019 Tynesha Evans was shot and killed by her on-again-off-again boyfriend in North Fulton County, Georgia, leaving behind four children scrambling to figure out how they would live without their mother and how they would pay the bills. And while nothing could bring back their mom, they no longer had to worry about getting evicted or being forced to drop out of school after Tyler Perry contacted the grieving family and said he was going to help them out in their time of need. Tynesha Evans' daughter, Audrey Turner, told WSB-TV in Atlanta that she received a call shortly after her mother's passing and couldn't believe who was on the other end wanting to help:
All in all, Tyler Perry offered to pay off their deceased mother's debts, cover rent for their house, take care of college tuition for one of the children so she could remain in school, and even offered to fly Tynesha Evans' body back to her home state of Wisconsin to hold a funeral with family and friends.
Tyler Perry Left A $21,000 Tip To Help Struggling Workers At An Atlanta Restaurant In 2020
There is not one industry that hasn't been impacted by the COVID-19 pandemic, but few were hit as hard as all the bars and restaurants around the world, many of which closed their doors forever at some point in 2020. Tyler Perry was all too aware of this situation and that's why he came through big for the staff at an Atlanta restaurant in April 2020 by leaving a $21,000 tip, which equals out to $500 for each of the restaurants 42 out-of-work members of the staff.
According to TMZ, Perry surprised the staff at one of the Houston's restaurant locations in Atlanta at the beginning of the pandemic and helped them with a tip that was much more than the standard 20 percent.
Tyler Perry Bought Groceries For Elderly Customers At 73 Grocery Stores Amid The COVID-19 Pandemic
There were a lot of heroes in the early stages of the COVID-19 pandemic, and not taking anything way from any of them, but Tyler Perry came through for a lot of people at a time when they needed it the most. In addition to helping the restaurant workers in Atlanta, the actor/writer/director/producer covered the grocery bill for all elderly shoppers at 44 Kroger stores in Atlanta and 29 Winn Dixie locations in his hometown of New Orleans.
According to People, the media mogul paid for all the groceries purchased during the early, elderly-only shopping hours at each of the stores where customers were shocked and surprised by the generosity.
These are just a few of the generous and philanthropic acts Tyler Perry has made over the years. Through his charitable organization, The Perry Foundation, countless lives have been changed for the better, whether it be the homeless population in various cities, community groups, or public health initiatives. And we can all thank Madea for that.
Philip grew up in Louisiana (not New Orleans) before moving to St. Louis after graduating from Louisiana State University-Shreveport. When he's not writing about movies or television, Philip can be found being chased by his three kids, telling his dogs to stop yelling at the mailman, or yelling about professional wrestling to his wife. If the stars properly align, he will talk about For Love Of The Game being the best baseball movie of all time.
Your Daily Blend of Entertainment News
Thank you for signing up to CinemaBlend. You will receive a verification email shortly.
There was a problem. Please refresh the page and try again.