Justice League's Joe Manganiello Responds To Rumors Of His Involvement In Snyder Cut Filming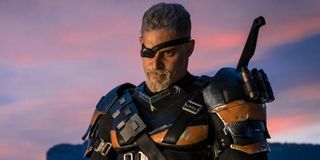 As many already know, Zack Snyder is busy working on his cut of the Justice League for HBO Max. And since the Snyder Cut is in production, it makes sense that fans would be curious if Zack Snyder has intentions to bring Joe Manganiello in for more shoots. Well, it looks like we have an answer, as the actor recently responded.
Joe Manganiello, of course, had a brief cameo at the end of Justice League, playing the infamous assassin, Deathstroke. Zack Snyder is bringing other actors back in for shoots, but is he bringing back Joe Manganiello? While speaking with Collider, Joe Manganiello kind of had a feeling that question would come up. Here's what he had to say:
Well, there you have it. Joe Manganiello isn't going to step on Zack Snyder's toes, which seems like a wise choice. You can interpret this answer a few ways but, for a firm confirmation, it looks like fans will have to either wait for Zack Snyder's word or for when the Snyder Cut releases on HBO Max.
None of this is to say Joe Manganiello isn't on board with the Snyder Cut movement. Last year, he took to social media and announced his support for the studio to release it. He also showed off several stills of him wearing his badass Deathstroke outfit, with one photo showing him standing next to Zack Snyder himself.
Originally, Deathstroke's appearance at the end of Justice League was supposed to kickstart his character's villain in the DCEU, leading to his own standalone movie, with The Raid's Gareth Evans attached as the director.
Unfortunately, it seems like all those plans came to a screeching halt after Justice League. Gareth Evans himself said he had planned to direct a lean movie for Deathstroke's character, but he only had a few calls with top brass at Warner Bros. before the studio's plans changed.
While Joe Manganiello's appearance as Deathstroke in Zack Snyder's Justice League may be in question, the two have still found a way to work together in another capacity. It was announced recently that Joe Manganiello will be joining the cast of Zack Snyder's anime prequel Army of the Dead: Las Vegas, which tells an origin story set before the live-action Netflix movie Army of the Dead, which is also in development.
Even if Joe Manganiello doesn't make it in Zack Snyder's Justice League, it doesn't necessarily rule him out from appearing as Deathstroke in the future especially if the director's cut proves to be a roaring success. For more movie news, be sure to stay tuned to CinemaBlend.
Your Daily Blend of Entertainment News
Your Daily Blend of Entertainment News
Thank you for signing up to CinemaBlend. You will receive a verification email shortly.
There was a problem. Please refresh the page and try again.