Justice League's Joe Manganiello And More Just Joined Zack Snyder's Netflix Project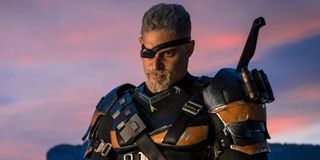 There has been so much focus on the release of the Zack Snyder cut of Justice League that it's easy to forget the director has another project in the works. Snyder has been working on Army of the Dead, the upcoming Netflix horror film. It was announced last month that the movie's universe was expanding and that Netflix had greenlit a spinoff anime series starring Dave Bautista and Omari Hardwick. Now, Justice League's Joe Manganiello and others have also joined the cast of Army of the Dead: Lost Vegas.
True Blood alum Joe Manganiello is reuniting with Zack Snyder for his Netflix project, joining a talented cast of actors that includes Mr. Robot's Christian Slater, The Witcher's Anya Chalotra, American Gods' Yetide Badaki, The Blacklist's Harry Lennix, 13 Reasons Why's Ross Butler, Vanessa Hudgens, Jena Malone and more.
Zack Snyder will also be working again with Christina Wren, who played Major Carrie Farris in Man of Steel and Batman v Superman: Dawn of Justice. That is a pretty impressive voice cast if I do say so myself! In addition to directing the Army of the Dead movie, Snyder will also direct two episodes of the anime series.
Army of the Dead: Lost Vegas will be about the origin story of Dave Bautista's Scott Ward and his crew in the immediate aftermath of the zombie outbreak in Las Vegas and will follow their journey as they try to figure out what caused it. Meanwhile, the plot of the film will follow the mercenaries as they plan a heist in the quarantine zone of Vegas.
The anime series marks the second project that is being spawned from Zack Snyder's movie. The other is a prequel film that will be directed by Matthias Schweighöfer, who is playing Ludwig Dieter in Army of the Dead. The actor will also star in the prequel movie, which is centered on his character. The film does not yet have a title. Zack Snyder sounds pretty pumped about these projects. Here's what he had to say about it:
Joe Manganiello played the villain Deathstroke in Justice League, appearing very briefly in a post-credits scene where he spoke to Jesse Eisenberg's Lex Luthor about starting their own league to take on Batman, Superman, and the rest of the Justice League.
The actor's appearance in the film was meant to be the first of many in the DCEU. There were also plans for a standalone Deathstroke film, but DC and Warner Bros. seemed to go in a different direction. While I doubt that Joe Manganiello will reprise his role as Deathstroke, it's nice to know that he'll at least get to work with Zack Snyder again in some capacity.
Army of the Dead: Lost Vegas does not yet have a scheduled premiere date, but stay tuned to CinemaBlend for updates. Meanwhile, Army of the Dead is set to debut at some point in 2021 on Netflix. For more on what to watch, be sure to check out our 2020 fall TV premiere guide.
Your Daily Blend of Entertainment News