I Watched Hocus Pocus With My 4-Year-Old Daughter And Here's What She Thought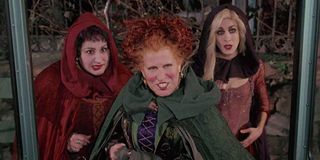 I will be the first to admit, I didn't grow up loving Hocus Pocus (I didn't see the 1993 Halloween spectacle until later in life), but my wife did and so it was only a matter of time before she introduced it to our 4-year-old daughter. We were a little apprehensive at first and didn't know if she would be scared by the Sanderson Sisters or everything else from the movie, and while that was true at first, she has since gone back and watched Hocus Pocus more times than I can count at this point.
Now that people who grew up being obsessed with Hocus Pocus or at least have watched it play over and over again on Freeform (formerly ABC Family) each October, have kids of their own, they may be wondering if their young children can handle a story about three witches who come back with a vengeance 300 years after they were hanged in Salem, Massachusetts. And while each kid will react differently, here's what my 4-year-old daughter thought.
She Was Initially Pretty Frightened By The Return Of The Sanderson Sisters
Not long into Hocus Pocus, Max Dennison (Omri Katz), the too cool for school transplant from Los Angeles accidentally brings the Sanderson Sisters back to life when he goes against the wishes of his sister, Dani (Thora Birch) and crush Allison (Vinessa Shaw). My daughter jumped up and ran over to me during this confusing and terrifying scene. The cackles and screeches from Winifred (Bette Midler), Sarah (Sarah Jessica Parker), and Mary Sanderson (Kathy Najimy) are honestly pretty terrifying, so I can only imagine what a preschooler was going through at this moment.
But as soon as the light horror elements wear off and some comedy comes into the picture, my daughter was back to her old self, at least until the introduction of another undead character.
Billy Butcherson Gave Her Quite A Scare
Billy Butcherson (Doug Jones) ends up being a redeemable person at the end of Hocus Pocus, but his introduction in the old graveyard about scared the life out of my daughter when we first watched the movie not too long ago. Maybe she had caught a glimpse of some zombie movies I was watching when she should have been asleep or maybe she was just terrified of a man rising from the grave with his mouth sewn shut. Whatever it was, Billy gave her quite a scare, and she was right back in my lap. She wasn't too scared, however, as she didn't want me to stop the movie and she continued to watch as the scene and the rest of the movie unfolded.
She Loved Thinkery Binx And Now Wants A Talking Black Cat
One thing that didn't scare my daughter at all was Thinkery Binx (Jason Marsden), the talking black cat who was tasked with watching over the Sanderson house which has since been turned into a museum in years since he was transformed from a teenager to a feline with amazing communication skills. Whenever he was on screen, she was amazed and kept bouncing between "Oh, I just love that cat," to "He's so funny." She loved Thinkery Binx so much so she kept asking if she could get a cat.
She Loved Sarah Sanderson's Song
My daughter is obsessed with blonde characters (I think we have Elsa to blame) especially when they sing a song, so it was only a matter of time before she fell in love with Sarah Sanderson when she heard the witch's enchanting song "Come Little Children" in Hocus Pocus. Admittedly, this song is pretty creepy considering it's essentially a siren's song to lead children to certain doom, but my daughter, being a 4-year-old, didn't really pick up on that. I guess it's for the best, though. I mean, I could explain the song's meaning and what Sarah Sanderson and her sisters are trying to do with it, but I don't think we're at that age yet.
She Actually Loved Everything About Sarah Sanderson And Wants To Be Her For Halloween
Before watching the movie and hearing the song, my daughter was going to be a princess for Halloween (at least it's not another Frozen costume), but now she wants to be a witch. Now, this isn't any normal witch; she wants to be Sarah Sanderson. Since we first watched Hocus Pocus, and every viewing since then (thanks, Disney+), my daughter grabs a dress and the broom from the kitchen and runs through the house acting like she's flying high above Salem.
As much as I would like to see my daughter trick-or-treating in an old princess costume and the dusty broom from the kitchen, we're going to have to find a proper costume because she's at the age now where she knows what's up with these types of things. Hopefully we can find something that's as close to the real thing as possible because I don't want her to put me under a spell or anything like that.
She Wasn't A Fan Of Master Devil And Medusa Lady, But She Doesn't Know About Penny And Garry Marshall
My daughter had no time for Master Devil and Medusa Lady, but I honestly think this is because she has no idea who about the legacies of Penny and Garry Marshall. I guess this says more about my parenting than anything else since I have yet to introduce her to Penny Marshall's roles on shows like Happy Days or Laverne & Shirley or any of her directorial efforts like Big or A League of Their Own. I guess it's about time I introduce her to Garry Marshall's work on those shows as well as his iconic movies like Pretty Woman and Beaches.
Overall, my daughter had a great time watching Hocus Pocus, as her multiple viewings show. And I honestly think that children as young as 4 years old will enjoy this Halloween classic because it has just the slightest amount of horror elements that make it exciting but so much that they'll be sleeping in bed with their parents later that night.
If you and your kids have already watched Hocus Pocus and want more thrills and chills for the whole family to enjoy, then check out this list of movies to stream on Disney+ that will get you in the Halloween spirit.
Philip grew up in Louisiana (not New Orleans) before moving to St. Louis after graduating from Louisiana State University-Shreveport. When he's not writing about movies or television, Philip can be found being chased by his three kids, telling his dogs to stop yelling at the mailman, or yelling about professional wrestling to his wife. If the stars properly align, he will talk about For Love Of The Game being the best baseball movie of all time.
Your Daily Blend of Entertainment News
Thank you for signing up to CinemaBlend. You will receive a verification email shortly.
There was a problem. Please refresh the page and try again.