What To Stream On Disney+ To Get Into The Halloween Spirit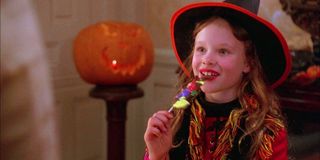 It is October and that can only mean one major thing: Halloween. This frightening holiday is the one time of the year where ghouls, goblins, and ghosts become the main attraction and your primary source of entertainment. Halloween movies can be a fun thing to watch all year-round, but they become even more exciting during October as you edge closer to All Hallow's Eve. When needing a dose of nostalgia or for parents with little ones, Disney+ is a reliable streaming service to find spooky, but not too spooky, movies.
Disney+ is filled with plenty of cute and creepy animated films, full-length scary live-action movies, and plenty of fantastical episodes of your favorite Disney and Fox series. For this list, I selected a few films and shows that will make you feel just monstrous.
Hocus Pocus (1993)
Kenny Ortega directed Hocus Pocus, a movie about the return of the Sanderson sisters from 1693 to 1993. They have one mission: suck the souls from every child around. It's up to Dani (Thora Birch), Max (Omri Katz), and Allison (Vinessa Shaw) to stop them. Bette Midler, Kathy Najimy, and Sarah Jessica Parker play the Sanderson sisters.
Hocus Pocus has become part of many people's Halloween tradition. They must watch it at least once, or a couple of dozen times, during the month of October, or resurrect some type of curse on themselves. To some Hocus Pocus is a silly movie, but to others, it's a beloved classic with a wacky nature and a fabulous performance by Bette Midler. For many, it doesn't quite feel like the Halloween season without a viewing of Hocus Pocus.
Stream it on Disney+ here (opens in new tab).
The Halloweentown Franchise (1998, 2001, 2004, 2006)
Disney produced four movies in the Halloweentown franchise. It starts as a film about a 13-year old girl who discovers that she's a witch. She and her two younger siblings then end up in her grandmother's hometown of Halloweentown. It's a place where creatures of all sorts live in peace. Kimberly J.Brown and Debbie Reynolds star in Halloweentown.
Personally, I prefer Halloweentown II: Kalabar's Revenge of all the Halloweentown movies, but all these films have a very interesting take on the idea of generational witches, and growing up and finding your powers, metaphorically and literally. Disney+ has all four films, so these are great to binge if you want to do an all-day marathon of Halloween movies.
Stream it on Disney+ here: 1 (opens in new tab), 2 (opens in new tab), 3 (opens in new tab), 4 (opens in new tab)
The Nightmare Before Christmas (1993)
Tim Burton directed The Nightmare Before Christmas. The film follows the King of Halloween Town Jack Skellington (Danny Elfman/Chris Sarandon) as he discovers Christmas Town and tries to take over it. Jack doesn't quite understand how Christmas Town works and creates complete chaos and havoc. The voice actors of The Nightmare Before Christmas include Catherine O'Hara, William Hickey, Ken Page, and Paul Reubens.
The Nightmare Before Christmas is one of those movies that is still brilliant even by today's high-tech standards. It's a family-friendly movie that is also really clever and a bit disturbing for very young viewers. It's a film that entertains a young and an older audience, and people find new things to admire about it the more they watch it. The Nightmare Before Christmas is the right blend of fun and freaky.
Stream it on Disney+ here (opens in new tab).
Zombies (2018)
Zombies is the Disney Channel's latest popular original movie series. The first film premiered on the Disney Channel in 2018 and starred Milo Manheim and Meg Donnelly. It's the story of what happens when zombie students are allowed to integrate with human students, and a zombie and a cheerleader start to fall in love.
Zombies then had a sequel that aired in 2020, which introduced wolves into this world of humans and zombies. The film is like High School Musical meets Twilight. It's not a scary movie but an amusing twist on the zombie genre. Also, the songs are really catchy.
Stream it on Disney+ here: 1 (opens in new tab), 2 (opens in new tab).
Don't Look Under The Bed (1999)
A young girl starting high school early, Frances (Erin Chambers) finds herself being tormented by the mysterious B. With the help of her new imaginary friend, Larry (Eric "Ty" Hodges), she must fight the Boogeyman.
I believe that Don't Look Under the Bed and Under Wraps were two of the best Disney Channel Original Halloween themed movies. I may be a bit biased because these were two of the ones I grew up watching, along with Halloweentown. Either way, Don't Look Under the Bed is a clever film that's a bit scary, and has a good message about not losing a sense of wonder. Don't Look Under the Bed will scare the kiddies but also remind them to be a child while they can still be a child.
Stream it on Disney+ here (opens in new tab).
The Simpsons Treehouse Of Horror (1990-)
The Simpsons Treehouse of Horror episodes have been an annual tradition since Season 2. Each episode features three segments that parody horror, sci-fi, or supernatural stories. Some of the movies spoofed in these Simpsons special episodes are The Shining, A Nightmare on Elm Street, and Dracula.
With the Disney and Fox merger, Disney+ fans can watch every Treehouse of Horror episode. These episodes have been a treat for Simpson fans for years, and now others can explore these clever spins on Halloween stories.
Stream it on Disney+ here (opens in new tab).
Twitches (2005)
Twitches is a Disney Channel Original Movie starring Sister-Sister stars Tia Mowry and Tamera Mowry. They are twin witches separated at birth who grew up with very different lives. One day, they meet by accident and that starts them trying to work on their sisterly bond and magic.
Twitches is another Disney Channel Original Movie that also had a sequel film, Twitches Too. You can't watch too many witch movies, especially during the Halloween season. They're the MVPs of the Halloween season. Twitches is an enjoyable addition to the witch genre because it emphasizes the importance of sisterhood in a coven, and the Mowry sisters add their own flair to this witch tale.
Stream it on Disney+ here 1 (opens in new tab), 2 (opens in new tab).
So Weird (1999-2001)
So Weird aired for three seasons and starred Cara DeLizia as Fi. In Season 3, Alexz Johnson replaced DeLizia. It followed Fi as she toured the country with her rock-star mom Molly (Mackenzie Phillips), her brother Jack (Patrick Levis), and the crew which included Clu ( Erik Von Detten) and his brother Carey (Eric Lively). As they traveled, Fi often encountered paranormal activity and strange situations in each episode.
So Weird was Disney's version of The X-Files. It was a much darker series than most of the things airing on the Disney Channel at the time, but that's one of the things that made it so fascinating. It was a more adult children's program that could be actually pretty creepy at times. Some of the cases that Fi explored involved cloning, aliens, sirens, and ghosts.
Stream it on Disney+ here (opens in new tab).
Disney+ is full of Halloween movies and shows, especially ones that the entire family can enjoy together. They'll be full of scary favorites all October.
Your Daily Blend of Entertainment News
Spent most of my life in various parts of Illinois, including attending college in Evanston. I have been a life long lover of pop culture, especially television, turned that passion into writing about all things entertainment related. When I'm not writing about pop culture, I can be found channeling Gordon Ramsay by kicking people out the kitchen.
Your Daily Blend of Entertainment News
Thank you for signing up to CinemaBlend. You will receive a verification email shortly.
There was a problem. Please refresh the page and try again.