6 Questions We Have About Jared Leto's Joker In Zack Snyder's Justice League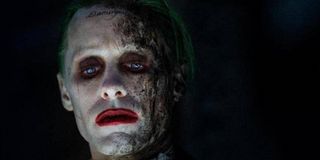 2020 has been a crazy year in general, but the news that DC has churned out has really sent things over the top. First, we had the confirmation that Zack Snyder's Justice League is on the way, then there was the news about the multiple Batmen in The Flash, and now Jared Leto's Joker is coming back for another appearance.
In a year where Marvel was forced to take a break from its rampant release schedule, DC has really knocked our socks off with some surprising announcements. With that said, there are just so many questions I have about all these great announcements. Today, let's drill down on some of the larger questions circling Jared Leto's appearance as Joker in Zack Snyder's Justice League.
Will We Finally See What Jared Leto's Joker Did To Robin?
Back during Batman v. Superman: Dawn of Justice, fans were given a pretty huge tease about Batman and Joker's past. A Robin suit was seen with the words "Hahaha joke's on you Batman" written in paint over the chest. It has been since been revealed that it was Dick Grayson who died, though since there was once a Nightwing movie in development, perhaps Warner Bros was leaning more towards it being Jason Todd who met his demise.
While I don't know exactly what Jared Leto's Joker will do in this movie, I do like the idea that we'd see a flashback of when he "killed" Dick Grayson. If nothing else, it would help build the tension between him and Ben Affleck's Batman, and maybe give us that scene where Batman beat out all of his teeth. If that's all that comes from this whole role, I think it'll be a scene well worth it.
WTF Is Jared Leto's Joker Doing In Justice League?
This is the most obvious question I have to ask because I don't understand what role Joker would have in Zack Snyder's Justice League. This is especially true with Jared Leto's Joker, who doesn't seem to play nicely with others at all and largely only looks out for himself. He also seemed to be a bit more materialistic than other Jokers we've seen in DC, so I question if an apocalyptic potential end-of-world scenario would be quite his scene.
Don't get me wrong, I think all Jokers are built to thrive in those scenarios, but mentally placing Jared Leto's Joker directly in the plot has been a challenge for me. If I had to speculate, I'd wager he has a smaller role unrelated to all the major drama happening in the movie, and agree with others he may have some surprising role within the Knightmare timeline. I guess it's a little more satisfying I don't know where to place him because I'll be all the more surprised when we actually see him show up.
What Exactly Does This Mean For The Future Of Jared Leto's Joker?
There have been many questions about what exactly Zack Snyder's Justice League means for the DCEU, and obviously that same question applies to Jared Leto's Joker. David Ayer's Suicide Squad is already a thing of the past with James Gunn's The Suicide Squad on the way. With no word that Joker will be appearing in The Suicide Squad, it's been assumed his time in the DC universe was over.
Of course, with all the crazy headlines DC has made in 2020, It's hard to say what's true and what isn't anymore. If Zack Snyder can give the character life in Justice League and he's well received by the masses again, who's to say he won't get another appearance on the silver screen? I certainly won't count it out, especially after the news that Michael Keaton is going to reprise his role as Batman in The Flash movie.
How Much Time Has Passed Between Suicide Squad And Justice League?
It's a question that didn't need to be asked when the original Justice League came to theaters, but now that there's a tangible connection between the two, it should be asked: what did The Joker do between his final appearance there (which is said to take place after Batman v. Superman: Dawn Of Justice), and where does that leave him heading into Justice League?
Well, we do know that he broke up with Harley Quinn sometime between all this. Birds Of Prey: And The Fantabulous Emancipation Of Harley Quinn is set after Suicide Squad, but beyond that, we don't really know what else he's been doing. I don't expect to get a full recap of that time gap in Zack Snyder's Justice League, though I think some brief illusion to that period would greatly increase the chances we get a movie that's set then to give him another chance at an adventure.
Will Jared Leto's Joker Mention Harley Quinn?
Back when Jared Leto's Joker was being quietly phased out of the DCEU, it wasn't a huge deal because it was rather easy to bookend his story. Ben Affleck was leaving the role of Batman, and Harley Quinn had moved on from their relationship and right into Suicide Squad's sequel. Now that Joker's back, is there a chance we'll learn he's on a journey to get her back?
My guess is that it's far too late for James Gunn to incorporate the character into what he's doing, not that he should feel obligated to in either case. Sending Joker back Harley Quinn's way, however, would give the character a clear path following Justice League, assuming Zack Snyder's goal in incorporating him is to give the character a chance to work his way back into the DCEU. I can't say I'd like to see this Joker and Harley mend their relationship, but I would love to see them go to war against each other as ex-lovers.
Will Jared Leto's Joker Make Justice League Feel Better Integrated With The DCEU?
One of the common complaints about Justice League was how it felt so separated from the rest of the DCEU, despite featuring some of the main characters within it. It stands to reason that an appearance from Jared Leto's Joker would strengthen that bond just a bit, and at least give a connection to Suicide Squad that wasn't at all present before.
I guess the answer to this question comes from what WB is trying to get from Zack Snyder's Justice League. Is this movie meant to breathe life back into the DCEU, or just to reward longtime fans of their movies with a cut of a film that fits its director's vision? That answer may be more clear with whatever role Jared Leto's Joker, or whatever other characters are added into the new cut, have to play.
Are there any other major questions you have about Jared Leto's Joker in Zack Snyder's Justice League? List them in the comments and be sure to stick with CinemaBlend for all the latest news happening in television and movies.
Your Daily Blend of Entertainment News
Mick likes good television, but also reality television. He grew up on Star Wars, DC, Marvel, and pro wrestling and loves to discuss and dissect most of it. He's been writing online for over a decade and never dreamed he'd be in the position he is today.
Your Daily Blend of Entertainment News
Thank you for signing up to CinemaBlend. You will receive a verification email shortly.
There was a problem. Please refresh the page and try again.