Disneyland Officials Have Made A Compelling Argument For Reopening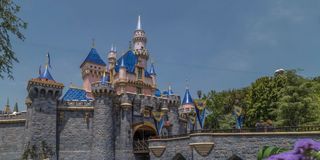 Recently, Hong Kong Disneyland was given a new reopening date, which means that very soon, Disneyland Resort will be the only Disney theme park in the world that isn't open to the public. Disneyland officials have made it very clear that they're not happy with that, and the park is continuing to put pressure on the state of California to release the guidelines that Disneyland, and other theme parks, need to reopen.
Yesterday, during an invitation-only webcast that CinemaBlend attended, the Disney Parks showed off the ways that Walt Disney World has successfully adapted to the changing times, and finished with a pitch specifically to California Governor Gavin Newsome and other state officials, asking for parks to be reopened. And while there are certainly some valid concerns, it has to be said, the case made for reopening isn't without merit.
Walt Disney World's Success
The first portion of the presentation was dedicated to Walt Disney World, which has already reopened. We heard from various officials within the parks and hotels discuss the steps that Disney World has taken, and the ways that park policies have adapted to guest behavior and new information regarding coronavirus transmission. This part was clearly a setup for what came later, an argument that what Disney is doing in Florida is working, and so it can work just as well in California.
And certainly, there's some validity to that. With capacity being restricted, masks being required, and temperature checks happening before entry to the parks, there's an argument that a Disney theme park could be a safer place to be than many other public locations that either aren't following such rules or are not enforcing them as well as they should be. We've seen people being tossed from Disney's Hollywood Studios for refusing to wear a mask inside the park. At this point, it does not appear that there have been any significant virus cases stemming from Walt Disney World, which implies these measures are successful.
And then, of course, there's the economic impact of the closure. As Disney Parks Chairman Josh D'Amaro said during the webcast, there are a lot of people whose employment is dependant on Disneyland...
Not only are there thousands of people that work at Disneyland, but there are countless businesses, like hotels and restaurants, that cater to the tourists that visit, and without those visitors, they are suffering as well. While certainly the health and safety of people are vital, the economic side of the argument can't be entirely ignored.
The Downsides Of Reopening
Of course, that doesn't mean that there aren't some potentially serious reasons that reopening could be difficult. As Josh D'Amaro himself pointed out during the presentation, the majority of Disneyland visitors come from inside the state of California. This is good news from a business perspective because it implies that Disneyland Resort won't have the problem of cancelations that Walt Disney World has seen. Most Disney World visitors are out of state vacationers, and without those guests, the resort has been clearly struggling, reducing park hours and keeping some hotels closed longer than originally planned.
Disneyland likely won't have that problem, but that's not entirely a good thing. It's possible that all the vacationers staying home is part of the reason that Disney World has avoided being a hotspot. And while some parts of California, like Disneyland's home of Orange County, are showing declines in virus transmission, that's not the case across the entire state, and so the potential that people coming from all over California and mixing at Disneyland causing more problems certainly can't be overlooked as a possibility.
In addition, Disneyland Resort doesn't have the gift of size that Disney World has. Whatever fraction of normal occupancy that Disneyland eventually lets inside the resort will be much closer together simply by virtue of the fact that the theme parks, shopping district, and hotels are all within walking distance of each other.
And then, of course, there the simple fact that whatever steps are taken to keep people safe, 100% success is simply impossible. If only the people who visited Disneyland were at risk, that would be one thing, but if something did happen, others who never wanted to visit Disneyland right now could still be impacted by others' decision to do so.
When Will California Make The Call?
Disneyland Resort and other theme parks are clearly getting restless. They're seeing theme parks opening elsewhere and are frustrated they can't do the same. It's completely understandable. And California is equally understandably gunshy. At one point Disneyland had every expectation to reopen in July, but when California saw an uptick in cases in June after starting to reopen, everything was pulled back. The last thing the state wants is to see that happen again. Of course, Disneyland doesn't want that either. An outbreak at the resort would be far more financially devastating than the shutdown has been to that point, Disneyland has every reason to prepare for every possible contingency to keep its guests safe.
But no matter what Disneyland wants or how safe the resort believes it can be, it all comes down to the state. California Governor Gavin Newsom has promised an announcement regarding theme parks soon, and with the increased pressure being put on the state to move, it certainly feels like the guidelines the parks need may be forthcoming. Of course, Disneyland Resort is a pretty massive beast and even though Josh D'Amaro says Disneyland is "ready" to open, it will likely still take weeks after guidelines are issued for the parks to actually reopen. Of course, that also can be good, things in California could actually get better between when the guidelines are released and when the reopening actually happens.
Disneyland knows that there are people looking forward to coming back that want the parks to reopen. There are also those that are far from convinced now is the right time. In the end, the only audience that Disney Parks are talking to right now is the government State of California, and we'll have to wait and see how they respond to this plea.
Your Daily Blend of Entertainment News
Content Producer/Theme Park Beat
CinemaBlend's resident theme park junkie and amateur Disney historian. Armchair Imagineer. Epcot Stan. Future Club 33 Member.