How Megan Fox Was Able To Shed Her Sexy Transformers Image For Her New Movie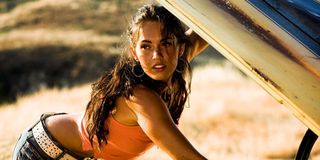 CinemaBlend participates in affiliate programs with various companies. We may earn a commission when you click on or make purchases via links.
When Megan Fox became famous as a sex symbol, it was largely in part due to Michael Bay's portrayal of her character in Transformers. Since then, she has struggled to shed the image, being both objectified and vilified for her later roles that leaned into it. But with her new movie Rogue, Megan Fox seems to be taking steps away from it.
When tackling her latest project Rogue, director M.J. Bassett, known for directing Silent Hill: Revelation, wasn't interested in Megan Fox's sexualized baggage for the lead character. But, Bassett told THR that she was confident that Megan Fox could remove it for the role. Here's what the filmmaker said about the actress:
In Rogue, Megan Fox plays Samantha O'Hara, the leader of a team of mercenaries who venture into Africa to save hostages. But when things go sideways, she and her team are stranded and forced to fight the local rebels and a hungry, predatory lion out for the kill.
Obviously Megan Fox hasn't played a role like this before, i.e. someone that's a tough-as-nails soldier, fighting both man and beast. So understandably, M.J. Bassett had her doubts at first, but eventually came around and had her expectations exceeded at the end of the day. She later said the following about the character:
Earlier this year, Megan Fox spoke out against "cancel culture" and people online attacking Michael Bay for the past work they did together on Bad Boys II and Transformers. She said she appreciated the support, but didn't feel it fully represented the full truth. Still, she's also shared in the past about how being objectified as a sex symbol led to a genuine breakdown in her life. This came shortly after her movie Jennifer's Body bombed and changed her relationship with the public. Megan Fox said:
It looks like Rogue could be one of many new movies to reshape Megan Fox's image. To see Megan Fox in this totally new and different role, you can catch it online right now, as well as order it on Blu-ray.
Your Daily Blend of Entertainment News
Thank you for signing up to CinemaBlend. You will receive a verification email shortly.
There was a problem. Please refresh the page and try again.