What Megan Fox Has Been Doing Since The Transformers Movies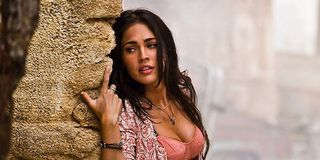 After appearing in projects like Confessions of a Teenage Drama Queen, Two and a Half Men and Hope & Faith, Megan Fox was propelled to worldwide stardom when she was cast in 2007's Transformers, the first live action adaptation featuring the robots in disguise. Fox gained a lot of attention and media exposure for her portrayal of Mikaela Banes, but while we're still getting Transformers movies (the Bumblebee spinoff rolled into theaters last December), Fox's time in the film series would be short, as she departed after the second movie.
However, don't think that Megan Fox's career has slowed down since then. While she'll arguably always be best known for her time in the Transformers universe, she's starred in various other movies and television shows that have allowed her to stretch other acting muscles, with the occasional foray back into blockbuster territory.
So if you're interested in learning what she's been up to in the decade since her last Transformers appearance, read ahead to learn about the most notable Megan Fox movies and TV shows that have come out since then.
Transformers Movies
Actually, let's first quickly recap Megan Fox's time on the first two Transformers movies. Her character, Mikaela Banes, served as the love interest of Shia LaBeouf's character, Sam Witwicky, and she was also quite skilled at fixing and stealing cars thanks to lessons from her incarcerated father. Transformers is what put Fox on the map for a lot of people, and she was nominated for three Teen Choice Awards and an MTV Movie & TV Award for her participation in that movie.
Megan Fox returned for Transformers: Revenge of the Fallen and the plan was for her to be back for the third installment, Dark of the Moon, too. However, plans changed after Fox compared working with director Michael Bay to working for Hitler. After initially refusing to apologize, Fox later retracted this statement and said she was "very fortunate" to be part of the Transformers franchise, but the damage was already done. She was eventually fired and replaced in Dark of the Moon by Rosie Huntington-Whiteley, who played Carly Spencer, Sam Witwicky's new girlfriend.
Jennifer's Body
Although Megan Fox had already completed work on Jennifer's Body before her ungraceful departure from the Transformers franchise, it's nonetheless notable for being her first movie after the debacle, coming out just three months after Revenge of the Fallen. Jennifer's Body sees Fox's titular character becoming demonically possessed and killing her male classmates in order to survive, and her best friend Needy, played by Amanda Seyfried, tries desperately to stop her.
Upon its initial release, Jennifer's Body was met with mixed-to-negative reviews, and it didn't make much of a splash at the box office either. However, in the wake of the #MeToo movement, the movie has received more attention for its depiction of sexual harassment and how Jennifer later uses her body to exact revenge on those who wronged her. Now Jennifer's Body is considered more of a cult classic, but whether or not viewing it through this news lens makes it better is up to the respective viewer.
Jonah Hex
A year after Transformers: Revenge of the Fallen and Jennifer's Body, Megan Fox returned for Jonah Hex, which brought the same-named DC Comics character to live action for the first time. In the movie, Fox played Lilah, a gun-toting prostitute who is dragged into the chaos that Josh Brolin's scarred bounty hunter in caught up in. It's revealed later that Lilah's real name is Tallulah Black, who is a character from the Jonah Hex comics, although Fox's version didn't have the scarred physical appearance of her comic book counterpart.
Alas, like a lot of pre-DCEU DC Comics movies not centered on Batman or Superman, Jonah Hex was met with negative reviews, and it was also a huge box office bomb, making a little under $10 million despite costing $47 million to make. Fortunately for Fox, this wouldn't be the last time she'd get to leave her mark on a property that began as a comic book, but we'll get to that later.
Friends With Kids
Thus far we've looked at Megan Fox's experience in genre work, but she also has experience in the comedy realm. Case in point, 2011's Friends with Kids, where Fox was part of an ensemble that included Kristen Wiig, Adam Scott, Jon Hamm, Maya Rudolph, Chris O'Dowd and Edward Burns. Fox played Mary Jane, an actress who becomes romantically involved with Scott's Jason. No spoilers here on what happens with their relationship.
Friends with Kids might not go down in film history as one of the more beloved romantic comedies, but when it came out it did fairly well for itself critically, if not commercially. At the very least, this was an opportunity for people only familiar with Megan Fox through her more visually-stimulating work to see that she could lend her talents to a smaller-scale movie.
The Dictator
To American audiences, Sacha Baron Cohen is arguably best known for starring in the wacky mockumentaries Borat and Bruno, but in 2012, he returned to the big screen in The Dictator, where he played Admiral General Aladeen of the fictional Republic of Wadiya in a purely fictional narrative. Fox plays a fictional version of herself who sleeps with Aladeen and other world leaders in exchange for handsome payment. But she doesn't do cuddling!
Megan Fox's appearance in The Dictator is nothing more than a cameo, but at the very least, it showed that she can poke fun at herself. If/when Sacha Baron Cohen leads another movie as one of his ridiculous characters, maybe she can cameo in that as well or obtain a bigger role.
This Is 40
In 2007, Seth Rogen and Katherine Heigl starred in Knocked Up, which Leslie Mann and Paul Rudd also appeared in, with the former playing Debbie, the sister of Heigl's Allison, and the latter playing Pete, Debbie's husband. Five years later, Rudd and Mann's characters returned for the semi-sequel/spinoff This is 40, and Megan Fox played Desi, who works for Debbie at her boutique and makes a side living as an escort.
While Knocked Up was met with a lot of positive reviews (though it wasn't without controversy), This is 40 earned more mixed reception. There was talk of making a sequel, which possibly could have resulted in Megan Fox reprising her character. That sequel never moved forward, but This is 40 still remains an noteworthy example of Fox's comedy work.
Teenage Mutant Ninja Turtles
Megan Fox and Michael Bay's time on the Transformers movie might not have ended well, but the two of them would reunite for the 2014 Teenage Mutant Ninja Turtles reboot, which Bay produced. Fox played April O'Neil, the intrepid reporter who accidentally learns about the Turtles during her investigation into the Foot Clan and soon becomes their closest ally on the surface. As alluded to earlier, the Teenage Mutant Turtles first appeared as comic book characters in the mid-1980s, so this movie marked Fox's second time working on a comic book property.
Megan Fox reprised April O'Neil two years later in Teenage Mutant Ninja Turtles: Out of the Shadows, which saw April meeting Casey Jones, the sports equipment-packing vigilante played by Arrow's Stephen Amell. While there were plans to make a third Teenage Mutant Ninja Turtles movie set in this continuity, a threequel was scrapped due to Out of the Shadows' mediocre box office return, but at least Fox had two movies where she got to star alongside anthropomorphic giant reptiles. Few others have done that.
New Girl
Up to this point we've only covered the movies Megan Fox appeared in post-Transformers franchise, but she also collected some TV work as well. In New Girl Season 5, star Zooey Deschanel had to leave for maternity leave, so her character Jess was written as being called in for a long amount of jury duty. Megan Fox filled in for her during that period as Reagan, a pharmaceutical sales representative who rented out Jess' room and shook things up among the main characters.
Megan Fox continued recurring as Reagan in New Girl Season 6, but she did not return in the final season. While the New Girl creative team was undoubtedly glad to have Fox fill in while Zooey Deschanel was away, Reagan wasn't particularly well-received among fans, and her presence served as a reminder that there's no substitute for the lead character who hooked people in from the start.
Legends Of The Lost With Megan Fox
In addition to acting, Megan Fox has also made a name for herself in the realm of documentary programming. Last December, the first four episodes of her series Legends Of The Lost With Megan Fox, where saw the actress traveling across the globe and learning about ancient history, cultures and myths.
This show received some criticism for how it blended actual history with pseudo-archaeology, and overall it's earned a mixed reception. It's unclear if Travel Channel will bring Legends Of The Lost With Megan Fox back for Season 2; if it does return, Fox will have more opportunities to go visit other countries and learn about their history when she's not acting.
So these are all the major projects that Megan Fox has appeared in since she exited the Transformers franchise, but don't think she's slowing down now. She'll appear later this year in Zeroville and Above The Shadows, and she's also signed on for Big Gold Brick, which doesn't have an assigned release date yet, but began production earlier this month.
Stay tuned to CinemaBlend for any major news concerning Megan Fox, but for now, be sure to browse through our 2019 release schedule to plan your trips to the movie theater this year accordingly.
Connoisseur of Marvel, DC, Star Wars, John Wick, MonsterVerse and Doctor Who lore. He's aware he looks like Harry Potter and Clark Kent.
Your Daily Blend of Entertainment News
Thank you for signing up to CinemaBlend. You will receive a verification email shortly.
There was a problem. Please refresh the page and try again.