Chris Hemsworth Had An Honest Response To His Trainer Possibly Joining The Bachelor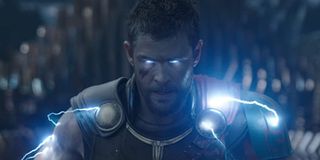 Everyone knows Chris Hemsworth is ripped. But for him to achieve his God of Thunder physique, he has a personal trainer, Luke Zocchi, at his side. They've been working together for some time now, as the actor stays in superhero shape. But recently Zocchi got invited to be on the Australian version of The Bachelor and Chris Hemsworth had an honest response to that possibility.
It's not every day you get a chance to be on a game show, much less The Bachelor. So, when Luke Zocchi got the invite, he was probably tempted to dawn the suit and tie and hold the rose. According to Zocchi, when he broke the news to Chris Hemsworth, he wasn't having any of it. Here's what Luke Zocchi said (via US Weekly):
Though it's probably a bummer Luke Zocchi can't be on The Bachelor, he still gets to keep his job. So, that's a plus. It also sounds like Zocchi is off the market now anyway, all thanks to a pandemic. Sorry, Bachelor contestants out there.
Thanks to Luke Zocchi, Chris Hemsworth is able to look Marvel-ready with his intense workouts and diet. Previously Luke Zocchi shared a bit about what it takes to get into Chris Hemsworth shape. Surprisingly, there's not much to it. They train twice a day and Chris Hemsworth eats 6 meals a day of protein and vegetables. You know, kid stuff.
Chris Hemsworth hasn't kept this disciplined regimen a secret, either. During quarantine, he has shared videos of his workouts. Thankfully for those at home, many of them don't require too much equipment-- but they look incredibly hard. So if you ever wanted to work out like Chris Hemsworth, prepare yourself.
To take it a step further, Chris Hemsworth also has his own fitness app, called Centr. Thanks to the newfound downtime people have been having recently, he saw a big boost in downloads from fans. You'd think if he had his own app, that Chris Hemsworth wouldn't need a personal trainer, anymore. But I guess he'd rather keep him around than lose him to The Bachelor.
The good news for Luke Zocchi is that Chris Hemsworth will be keeping him busy for the foreseeable future. Even though Avengers: Endgame is in the rearview mirror, he has no plans to quit playing Thor, and is gearing up to reprise his role in the fourth installment, Thor: Love and Thunder. He's also got plenty of other projects down the pike, including a Hulk Hogan biopic and a Mad Max spin-off featuring Furiosa.
Your Daily Blend of Entertainment News
Thank you for signing up to CinemaBlend. You will receive a verification email shortly.
There was a problem. Please refresh the page and try again.