How To Watch Tenet Streaming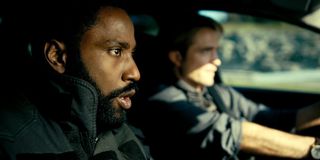 CinemaBlend participates in affiliate programs with various companies. We may earn a commission when you click on or make purchases via links.
At some point early on in Christopher Nolan's career, his movies became must-see attractions in theaters and were tailor-made for large screens (hello, IMAX) and concussive-levels of sound effects and music. And while that is true for Nolan's most recent effort, Tenet, with the ongoing COVID-19 pandemic leaving theaters in major markets shuttered and moviegoers reluctant to return during the middle of a global health crisis, the mind-bending action thriller starring John David Washington, Robert Pattinson, and Elizabeth Debicki didn't reach the audiences everyone thought it would. So now those who missed out on the big-screen experience are probably wondering where they can catch Tenet streaming.
Those who fall into that camp will be glad to find out that Tenet will be streaming (and available for physical purchase as well) in no time at all and everyone will have the chance to enjoy Christopher Nolan's 11th eye-catching and oftentimes confusing picture. Here's everything you need to know about Tenet streaming.
How To Watch Tenet Streaming
There has been no short supply of questions regarding the home release (both physical and digital) of Tenet ever since the movie opened in theaters in September 2020, and starting December 15, everyone with access to services like Amazon, Apple, YouTube, and Vudu will be able to buy a digital copy of the movie and stream it from the comfort of their own homes. All you'll have to do is go to your streaming service of choice, search for Tenet, make your purchase, and start enjoying the movie. These sites all currently give you the option of pre-ordering Tenet, so you'll be able to enjoy it immediately in a few weeks.
Is Tenet On Netflix?
One of the biggest questions surrounding the streaming release of any movie always centers around Netflix, specifically when any given movie will be available on one of the biggest and most popular digital platforms out there. The truth of the matter is no one really knows at this point when, or even if, Tenet will find its way to Netflix. Right now, Christopher Nolan's movies are found on streaming services like Amazon, Hulu, HBO Max, and a few others, but they often find their way onto Netflix. But with Warner Bros. trying to get as many eyes on the 2020 time-bending spy thriller and also wanting more HBO Max subscribers, the movie could end up there before anywhere else.
If you're ever traveling outside of the country and would like to access your regular Netflix queue, you can do so using a VPN.
Is Tenet Worth Checking Out?
Tenet is one of the most technically impressive yet hard to fully understand movies that has come out since Christopher Nolan released Inception an entire decade ago, but some prospective viewers are probably asking themselves if the acclaimed director's latest effort is worth checking out. In his review of the film, CinemaBlend's Sean O'Connell described Tenet as a wildly original movie with storytelling that more than makes up for its flaws, stating:
That being said, Tenet is worth checking out. It is Christopher Nolan firing at all cylinders and doing what he does best with large-scale (and mostly practical) action sequences, mind-bending storytelling techniques, and a level of re-watchability that remains largely unmatched in today's Hollywood.
So, to wrap up, you will be able to stream (purchase) Tenet starting December 15, and unlike those who saw it in the theater, you can watch with subtitles on during the many hard-to-understand lines of dialogue in the middle of those action sequences.
You can also pre-order the Tenet 4K HD Blu-ray on Amazon.
Your Daily Blend of Entertainment News
Philip grew up in Louisiana (not New Orleans) before moving to St. Louis after graduating from Louisiana State University-Shreveport. When he's not writing about movies or television, Philip can be found being chased by his three kids, telling his dogs to stop barking at the mailman, or yelling about professional wrestling to his wife. If the stars properly align, he will talk about For Love Of The Game being the best baseball movie of all time.