Why It's Probably Time To Give Up On Star Trek 4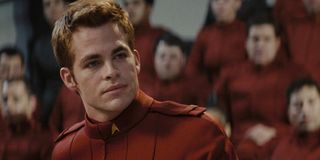 As the world of Star Trek is experiencing a big revival on television, the film corner of the sci-fi franchise has gone stagnant. Fans have been teased with endless talk regarding Star Trek 4, but to this point, there's been no meaningful progress or level of development. Now, on the heels of the latest news that director Noah Hawley doesn't plan on working on the movie anytime soon, it may be time to give up on it happening.
With that being said, this recent setback is not the only reason we shouldn't be optimistic about the 4th installment. It's just the latest in a string of disappointments, and as time drags on, there are many reasons to believe we may never see this 4th installment of the current Star Trek film series.
Many Of The Current Projects Rumored Don't Technically Sound Like 'Star Trek 4'
Depending on your definition of what Star Trek 4 would be, it stands to reason that Noah Hawley's movie may or may not be a true fourth installment in the franchise. For example, if your line of thinking is that Star Trek 4 should contain Captain Kirk and the rest of the characters we've gotten to know over the past three movies, well, Hawley has gone on the record to say he's not doing that.
There's still a chance that the movie could be Star Trek 4 if the movie took place in the Kelvin timeline, but there hasn't been any confirmation of that either. Until now, Noah Hawley sounded like the frontrunner for this next movie happening, which means if it does happen, it may not be a proper continuation of the first three movies in the Kelvin timeline at all.
The story is largely the same in regards to the script floated by The Revenant's Mark L. Smith, which was worked off an idea from Quentin Tarantino. Details on the movie were scant, though one rumor alleged the script was to take place on a planet reminiscent of a 1930s Gangland universe similar to one seen in The Original Series. It's a concept where the cast of the three prior movies could appear, but given that trademark Tarantino edge he'd bring to a movie if he directed, one would have to imagine it wouldn't mesh all that well and Paramount would rather use a different cast.
The Project That Does Sound Like Star Trek 4 Could Happen, But Is It Worth The Cost?
As those following the situation know, there is a J.J. Abrams project that would definitely be a Star Trek 4 audiences would expect. That means it would have Chris Pine as Captain Kirk, a story connected to the arc of the first trilogy and supposedly involve Chris Hemsworth returning as Kirk's father in some time-travel related plot.
Chris Pine, Chris Hemsworth, Zoe Saldana, Simon Pegg, Karl Urban, John Cho and Zachary Quinto may not have been cheap to get back in the day, and they're considerably less cheap in the present day. Getting this cast together for one last hurrah would foreseeably cost a chunk of change for a franchise that hasn't released a movie since 2016.
Which, in all honesty, isn't an eternity in the movie world. There's probably still a solid interest in seeing J.J. Abrams' version of Star Trek 4, but would that be worth the cost accrued in getting all these prominent actors together? Keep in mind that Star Trek: Beyond had an underwhelming (though not unsuccessful) run at the box office, so there's a school of thought that this franchise has already experienced diminishing returns. With the amount of time past and cost associated, there could even be a chance the bottom line just isn't there for Paramount to justify a continuation.
Cost aside, many of the names mentioned above are already involved in some high-profile projects. Chris Hemsworth is playing Thor, Chris Pine is often in demand, John Cho is doing Netflix's Cowboy Bebop and Karl Urban has been killing it on The Boys. Simon Pegg and Zachary Quinto have stuff going on as well, and did I forget Zoe Saldana has commitments to Marvel and Avatar?
Wrangling the schedules of all these actors will take time, and that was before COVID-19 knocked back the production schedules on dozens of projects. That means there are plenty of movies to work through before any work can begin on this movie. Which, once again, was not even the project Paramount was close to starting production on. It could be a long time before real work on the next Star Trek movie gets done from a production standpoint, which only lengthens the amount of time since we last saw the Kelvin cast in theaters.
The Cast Doesn't Even Seem That Optimistic It Will Happen
One thing I have noticed is that former cast members of the recent Star Trek films have gone on the record saying they'd love to see Star Trek 4 happen. With that being said, these quotes usually include a sober dose of reality. For example, Chris Pine said he'd love to return to the franchise to play Kirk, but added that he knew Paramount was in the midst of a giant corporate restructuring. He also threw in he's the last to know anything in these situations, which may be true, though I am a bit skeptical seeing he's the star.
Zachary Quinto also expressed a willingness to return, and that he and the cast are still close and discuss sometimes returning to it. He then added there's a "saturated market," though it's tough to understand what he's referring to. There has been a lot of new Star Trek on television as of late, but that doesn't mean interest is down for a movie. Also, this is the first year we've had in some time without a Star Wars movie, so wouldn't now be the right time to fill that blockbuster sci-fi void? It just seems like these comments are an easy way of letting fans down, which makes me feel like it may be time to move on from Star Trek 4 ever happening.
Do you think Star Trek 4 should happen? Would you care if Paramount moved on? All comments are welcome, so share your thoughts and continue to stick with CinemaBlend for all the latest happening in television and movie news.
Mick likes good television, but also reality television. He grew up on Star Wars, DC, Marvel, and pro wrestling and loves to discuss and dissect most of it. He's been writing online for over a decade and never dreamed he'd be in the position he is today.
Your Daily Blend of Entertainment News
Thank you for signing up to CinemaBlend. You will receive a verification email shortly.
There was a problem. Please refresh the page and try again.