Why Star Trek Beyond Wasn't A Box Office Hit, According To Simon Pegg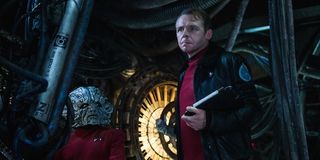 Since 2009, the Star Trek films have been following the adventures of Captain James T. Kirk and the U.S.S. Enterprise crew as they explore strange new worlds and all that jazz in an alternate timeline. 2016 brought the third entry of this reboot series, Star Trek Beyond, and while critically it was well received, commercially it underwhelmed, making only $343.5 million worldwide off a $185 million budget. As Simon Pegg, who reprised Scotty in Beyond and co-wrote the screenplay, sees it, the reason the movie failed to pick up traction at the box office is because it was poorly marketed ahead of time. In Pegg's words:
Of the three Star Trek reboot movies, Beyond is the one that performed the worst commercially. While they were both also made off a $185 million budget, Star Trek walked away with $385.7 million worldwide, while Into Darkness collected $467.4 million worldwide. While Beyond did release a teaser trailer in December of 2015, seven months before the movie arrived in theaters, Simon Pegg's comments to Screen Geek indicate that he was disappointed overall with Paramount's marketing push for Beyond. The use of the Beastie Boys' "Sabotage" was certainly an unusual choice for that first trailer, and even though it was eventually revealed that the song was actually important to the story, Pegg was disappointed that this was indirectly spoiled through that preview. Beyond's marketing also didn't play into the fact the movie was being released the same year as the franchise's 50th anniversary, so maybe that might have helped improve its box office haul.
Even with Star Trek Beyond not making the big bucks, the Star Trek film series is moving forward. Shortly before Beyond's release, it was officially announced that Star Trek 4 would see Chris Pine's James Kirk meeting his father George, who was played by Chris Hemsworth in Star Trek and died only minutes after James was worn in this alternate timeline. However, last December, Paramount and Bad Robot hired Mark L. Smith to write a screenplay based on an idea that director Quentin Tarantino pitched, and if this particular movie goes forward, Tarantino would direct. Perhaps Beyond's box office return made the studio bigwigs think that the film series needs to branch off in a new direction, but for right now, there hasn't been any official word on which of the two projects will get the green light.
Stay tuned to CinemaBlend for more updates concerning the Star Trek film series. You can also keep up with the TV side of the franchise by watching Star Trek Discovery on CBS All Access.
Connoisseur of Marvel, DC, Star Wars, John Wick, MonsterVerse and Doctor Who lore. He's aware he looks like Harry Potter and Clark Kent.
Your Daily Blend of Entertainment News
Thank you for signing up to CinemaBlend. You will receive a verification email shortly.
There was a problem. Please refresh the page and try again.