Filmmakers And Stars Are Furious After Golden Globes Forces A24's American-Made Minari Into Foreign Film Category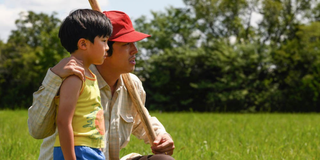 The Golden Globes recently became the subject of controversy after announcing Lee Isaac Chung's Minari would not be considered for Best Picture. The film, which was primarily shot in Oklahoma and produced by American production companies A24 and PlanB Entertainment, would instead be considered for Best Foreign Language Film. The decision has ignited backlash across social media, with filmmakers and stars alike decrying the Hollywood Foreign Press Association's (HFPA) verdict on Twitter.
Andrew Phung, who plays Kimchee in CBS's Kim's Convenience, tweeted that almost every aspect of Minari is American, including its cast. As he put it:
Minari stars South Korean-American actor Steven Yeun, who fans will recognize as Glenn from The Walking Dead, as a South Korean immigrant who tries to survive in rural Arkansas. Simu Liu, who plays Jung Kim alongside Phung in Kim's Convenience, and stars in the upcoming Shang-Chi and the Legend of the Ten Rings, added:
Despite the plot and nationality of those involved, the language spoken in a film is the defining feature for the HFPA, according to the Golden Globes rules:
In accordance with its own rules, the HFPA moved Minari to the Best Foreign Language Film category, rather than Best Picture, the category it was originally submitted to. Harry Shum Jr, who starred in Fox's Glee, tweeted that this rule has not been consistently applied in the past:
Quentin Tarantino's Inglorious Basterds was accepted as a nominee for the 2010 Best Picture award at the Golden Globes, despite roughly thirty percent of the film being in English. This begs the question: why did Tarantino's film make the cut, but Minari didn't? Lulu Wang, whose film The Farewell received the same foreign film designation at the 2020 Golden Globes, weighed in:
The HFPA decision seems to be at odds with other major awards organizations. Earlier this year, Bong Joon-ho's Parasite, a South Korean film, made history as the first foreign language film to win Best Picture at the 2020 Oscars. The Academy of Motion Picture Arts and Sciences also announced new slate of qualifying rules to promote diversity and inclusion. Perhaps the social media backlash will be enough for the Golden Globes to reconsider its decision, as the ceremony doesn't take place until February 28, 2021, and nominations aren't official until February 3, 2021.
The general public will also have to wait to get their eyes on Minari, as it doesn't release until February 12, 2021. Until then, stay up to date on the latest news concerning the Golden Globes and Minari with CinemaBlend, as we will be publishing comprehensive lists of nominations and winners as they are announced.
Your Daily Blend of Entertainment News
Into tracksuits by Paulie Walnuts, the Criterion Channel and Robert Eggers.