The Top 10 Movies Of 2020, According To Eric Eisenberg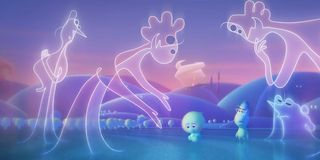 The experience of watching movies in 2020 was far from normal. While films are traditionally a communal experience that bring large audiences together to watch all varieties of entertainment to play out on the big screen, that was a luxury that we didn't get much of in the last 12 months, as the vast majority of our viewing experiences took place within the comforts of our homes. A lot of the biggest titles got delayed, and many others didn't the distribution method that was originally imagined.
All that being said, the only people who would say that there weren't any good movies released this year simply didn't watch enough of them.
While I will agree with the general consensus that 2020 was a terrible year overall that will be happily put in the rearview once it's over, what can't be ignored is the fact that there were a lot of truly excellent films released between January 1st and today. All in all I found time to watch 129 of them, and these, in my opinion, are the best of the best.
10. The Lodge
Veronika Franz and Severin Fiala's The Lodge is one of only 19 movies that I got to see on the big screen in 2020, and while it feels like the screening was years ago at this point, it's a film that has remained hooked in my mind ever since – making a natural inclusion for my Top 10. I went in with high expectations as a result of my appreciation for the writer/directors' 2014 feature debut, Goodnight Mommy, and wound up loving every dark, sinister twist that their new creepfest had to offer.
The Lodge's basic premise is simple, telling the story of a soon-to-be-step-mom (Riley Keough) isolated with her soon-to-be-step-kids (Jaeden Martell, Lia McHugh) in a remote cabin, but what makes it so fantastic is its manipulation of events and the way it makes you question its reality. It's not until the very end that you get a firm grip on exactly what's happen, and by the time that's happening you're also being knocked flat by an intense and excellent conclusion. It gets under your skin in the best way, and affirms Franz and Fiala as filmmakers all horror aficionados need to be watching closely.
9. The Social Dilemma
Being someone who works on the editorial staff of a movie website, I can't say that Jeff Orlowski's The Social Dilemma is packed end-to-end with revelatory information that I didn't already know about online culture and social media – but that didn't stop me from being enraptured by the Netflix documentary and take its messaging any less to heart. As much as you may think that you know about data mining, cyber security, and technological addictions, the film has a lot to teach, and it does so in an engaging and impactful way.
Not only is it impressive to get a deeper understanding of our modern digital world from some of the people that helped form it, but it's also frightening for the exact same reasons, additionally using narrative in the experience to drive the information home (both in its depiction of the inner workings of your favorite apps, and showcasing how they impact everyday life. The Social Dilemma is a documentary that may very well change your behavior after seeing it, and as someone who stopped bringing their smartphone to bed each night after watching it, I say that from personal experience.
8. Blow The Man Down
Released in late March, a.k.a. a time when the entire movie world was in panic mode about the rest of 2020, Bridget Savage Cole and Danielle Krudy's Blow The Man Down sailed under the radar when it first popped up on Amazon Prime, but now is the time to discover this gem of a movie. The best way to sum it up simply would be by describing it as Fargo processed through a Stephen King filter, but its real success comes from not feeing derivative and instead weaving its own tight, flavorful mystery.
Blow The Man Down has a classic noir set-up, following a pair of sisters (Sophie Lowe, Morgan Saylor) in a quiet New England town as they try and cover up a murder, and unfolds with smart complexity filled with dark secrets. Furthermore, it feels special both because it has an almost entirely female cast, and because it is loaded up with awesome character actors doing what they do best, including Margo Martindale, June Squibb, and Annette O'Toole.
7. Sound Of Metal
It's always special when a film can hit you with a visceral sensory experience, and that's very much the secret power of Darius Marder's Sound Of Metal – albeit in an atypical way. Rather than drawing you in with its sights and sounds, the journey of a punk metal drummer who finds himself going deaf generates its magic it makes is by pulling away the latter, and the result is phenomenal cinema that becomes heartbreakingly immersive and powerful.
Riz Ahmed once again proves that he is one of the best actors working today, taking the audience on a dark and painful journey that rings authentic at every turn (it's as eye-opening as it is emotional), and the depth and complexity he is able to bring to the character is beautiful. The fact that such a mature and impressive work comes from a first-time director is stunning, and suggests that we should expect awesome things from Marder going into the future.
6. Spontaneous
Being one of the fall's more under-the-radar releases, I went into Brian Duffield's Spontaneous with zero expectations – and an hour and forty minutes later I was in love. As someone who loves their comedies to operate with a sinister smirk, the film fluently speaks the language of my sensibilities, and not only is it incredibly funny, but it has a smart message and excellent characters blended in the mix as well.
The film is set in a small town where students at the local high school start exploding for absolutely no reason, and the weaving it does between genres is wonderful, with its ultimate categorization being something like "dark romantic, fantastical, sci-fi horror comedy." Katherine Langford delivers one of my favorite protagonist performances of 2020, and her arc as Mara is magnificent. If you haven't heard of Spontaneous, and this description of it appeals to you, do not hesitate to track it down and press play.
5. Ma Rainey's Black Bottom
The death of Chadwick Boseman was unquestionably one of the most tragic pieces of news to hit the film world in 2020 (which is saying quite a lot given the circumstances), and while we'll long grieve his passing, there is a silver lining to be found in the fact that his cinematic legacy came to an end with two remarkable pieces of work. Spike Lee's Da 5 Bloods is an awesome epic that barely missed making this list, and George C. Wolfe's Ma Rainey's Black Bottom features the best performance of the actor's too-short career.
And not only is Chadwick Boseman phenomenal, but so is Viola Davis – the two of them trading protagonist and antagonist roles back and forth throughout what is a striking and powerful drama. Adapted from the play of the same name by August Wilson, its narrative is tight as a drum, with the vast majority of the action contained to one location, but that just serves to keep tensions and conflict ever escalating up until the very end, which features an explosive and gut-punch of a conclusion. It's the kind of cinematic experience that you walk away from with a limp.
4. I'm Thinking Of Ending Things
Charlie Kaufman has a particular wavelength, and either you're on it, or you're not. Needless to say given this entry in this particular feature, I personally very much am, which is why I found I'm Thinking Of Ending Things so endlessly entertaining and a wonderful addition to a legacy that also includes Being John Malkovich, Adaptation, Synecdoche, New York, and Anomolisa. Keeping in line with Kaufman's philosophies, it's an existential ride that is about nothing and everything, and through the course of its evermore abstract narrative it's hypnotizing.
It's a film that you're meant to let your mind get lost in, as what begins as a simple story about a young woman meeting her boyfriend's parents for the first time devolves into a meditation on the subjects of identity, time, and life, all while being simultaneously freaky and funny. The outstanding cast including Jessie Buckley, Jesse Plemons, Toni Collette and David Thewlis help you fall deep into the ever-escalating weirdness, and while it may have you scratching your head at the end, in that same sense it's also a film that demands examination and analysis, and that's a joy in and of itself.
3. Soul
When I saw Pete Docter's Inside Out in 2015, I was floored by its capacity to take mature and complex ideas and make them work in a Pixar movie. Now that we have Soul, however, that previous film practically looks like an intermediary course. I can't say that I ever expected an animated Hollywood studio film to explore such massive questions regarding life, death, and purpose, but it's done beautifully and brilliant here in a brain-expanding way.
I'm not quite sure what younger audiences are going to get out of the experience, but Soul is far and away the best film that Pixar has ever produced, and it feels like it's a miracle that it exists. It's approach to character design is magic (it's hard to get over how amazing the Counselor Jerrys and Terry look); it's perspective is mesmerizing; the music by Trent Reznor, Atticus Ross and Jon Batiste is blissful; and the story at times is both hilarious and heartrending. It's spectacular, and a perfect present to celebrate Pixar's 25th birthday.
2. Mank
Citizen Kane and David Fincher are two of the key reasons why I fell as hard in love with film as I did while growing up, and in that sense Mank feels like a movie that is specifically made for me. I had what could be called impossible expectations going in, and yet it met every single one of them. In every capacity it's a love letter to what is arguably the greatest piece of cinema ever created – expertly making use of the same narrative structure and aesthetics in its construction – but what makes it more is the individual power of the story it has to tell.
Cinephiles can debate at length about Mank's accuracy in terms of its subject's contributions to the making of Citizen Kane versus Orson Welles, but that's a side conversation in the film's fascinating look at Herman Mankiewicz's life and Hollywood in the 1930s. As portrayed dazzlingly by Gary Oldman, the Hollywood legend was a remarkable individual who weaved through a dark world on his own volition and on his own terms, and the way David Fincher's film tells his story is spectacular.
1. Promising Young Woman
As I write this, most people haven't had the opportunity to see Emerald Fennell's Promising Young Woman, as it only arrived in limited theaters a few days ago, so instead of simply basking in its remarkableness, I'll offer two pieces of advice. When you do have the chance to watch, I'd recommend having an ace bandage and a cane nearby. The former will help secure your mandible to your head when the elasticity in your jaw muscles completely deteriorate, and the latter will allow you to still be somewhat mobile after you're left weak at the knees.
Without saying too much, Promising Young Woman is a whole new species of revenge film, and one of the best thrillers in recent years alongside Nightcrawler and Uncut Gems – while possessing an energy and spirit unique to it. Carey Mulligan is perfection as the disaffected, disillusioned roaring rampager, and watching her eviscerate her all-star supporting cast is irresistible. It's a special movie that people will be thinking and talking about for decades to come.
That's my Top 10 – what's yours? Hit the comments section with your own personal lists for 2020, and stay tuned here on CinemaBlend for more of our End of Year features.
Your Daily Blend of Entertainment News
Assistant Managing Editor
NJ native who calls LA home and lives in a Dreamatorium. A decade-plus CinemaBlend veteran who is endlessly enthusiastic about the career he's dreamt of since seventh grade.
Your Daily Blend of Entertainment News
Thank you for signing up to CinemaBlend. You will receive a verification email shortly.
There was a problem. Please refresh the page and try again.