Transportation To And From Disney World Is About To Get A Whole Lot Less Magical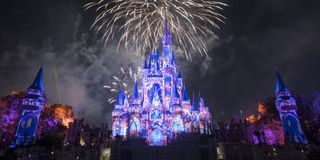 If there's anything that's been constant over the past 12 months, it's been change. This is true for individuals and companies alike and, in fact, the changes at Walt Disney World since much of the world first shut down last March have both been consistently evolving and highly publicized. However, now it looks as if another major change will be coming to the Orlando parks' experience, at least for the myriad people who fly in to check out the Magic Kingdom, Epcot, Animal Kingdom and Hollywood Studios. Following this year's parks experience, Disney World will be getting rid of the Magical Express.
What Is Walt Disney World's Magical Express?
If you've ever traveled to Walt Disney World and landed in Orlando International Airport to start your parks adventure, there's a good chance you took Walt Disney World's Magical Express. It's a reservation bus system that operates between the airport and the various parks resorts that people may stay at on property. One of the highlights of many Disney vacations is scanning your Magical Band at the airport for a cast member and waiting in a queue to hop on a bus and start your adventure.
A typical ride on the Magical Express will start with the quick scan in. Shortly after, parties will load their luggage and hop onto a plush bus. During your ride to the parks, there's video playing with Disney cartoons, celebrity and cast member interviews, and some behind-the-scenes segments about what is going on in the parks. After a short, jaunty ride -- and maybe a stop at a resort that's not the one you're staying at -- you'll reach your Walt Disney World Resort hotel. In a small way, getting on the bus has always set the tone for the upcoming vacation and gotten the magic started, but hopefully Disney World will find new ways to kick off the magic once you reach the resort.
Because all of the above will absolutely be changing in the future. The company broke news this week that Disney Transportation is about to get a whole lot less magical, as Disney's Magical Express will be ending in 2022. Per Disney, the change will officially start on January 1, 2022.
Why Is Walt Disney World Canceling The Magical Express in 2022?
Disney is saying that "consumer preferences" are prompting the change and that there simply is no need to continue running a bus service to help the number of people who are still using it for transportation upon arrival and upon departure from the parks. To be more specific, Avery Maehrer, the Communications Manager at Walt Disney World Resorts, spoke to USA Today (opens in new tab) and noted:
The official release mentions the "complimentary" transportation on site like the bus system there and more, but it doesn't mention that ride shares or additional transportation, like shuttles, will add monetary cost to your Disney vacation.
How People Will Need To Reach The Parks Without The Magical Express
By Car: Right now, there are absolutely fewer people going to Walt Disney World and other major theme parks, including Universal Studios in the area. But there's one thing the information from Walt Disney World Resort isn't mentioning: It's not free to park at a hotel in Walt Disney World. If you drive from home, you'll still be paying to park. If you do rent a car, you'll be paying on that end as well as the rental price each day. Disney officially partners with: Enterprise, Alamo or National.
Though we did pay a cost per night to park at the resort, the last time my husband and I went to the parks, we were able to drive, stay at a hotel and park at each of the parks (this was included in hotel reservation cost earlier this year) while we were there. This did give us more flexibility. But that 14+ hour drive to the resort simply won't be possible every time we visit the parks. Renting a car may be a good option and offers the same flexibility, but it didn't offer one likable thing Disney's Magical Express offered: it was free--or included -- with your hotel resort reservation, as it were.
By Ride Share: There is certainly convenience in taking a ride share service from the airport in that you don't need to stop at 1-2 other hotels on the way to your destination. However, Walt Disney World is not close to the Orlando International Airport. It takes about 45 minutes to get to the parks from the airport. That's not a cheap ride and estimates range around $30 or $40 bucks. If accurate, that's around or a little more than it costs to take a ride share between Walt Disney World and rival theme park Universal Studios -- you know, just in case you want to get your Harry Potter on -- as well. Disney officially partners with Lyft.
Shuttle: Shuttles can be cheaper than ride share options, but it's important to remember that you are often paying per person for a shuttle. If you have a large family, this may not always be the financial choice that makes the most sense.
In some ways people who frequent the parks may not miss the little envelope hanging on your door when the hotel staff announces your Magical Express bus journey has been scheduled for the following day. And Disney could absolutely be right that fewer and fewer people are using the service. Perhaps the company does have empirical evidence from prior to the pandemic that people's travel expectations are changing, and if so, perhaps dropping the Magical Express service makes sense.
But Disney has also had to make a lot of hard decisions in terms of cost-cutting measures recently. The most overt of these have been the layoffs in both Orlando and at Disneyland. Construction has also slowed on certain projects and more changes are being made as the pandemic has continued to drag on. The Magical Express change is only the latest change for the company and it won't be taking effect for about a year, but it's certainly going to be a notable one for many families, though services will assumedly spring up in its absence. We'll have to wait and see what those options are.
Your Daily Blend of Entertainment News
Reality TV fan with a pinch of Disney fairy dust thrown in. Theme park junkie. If you've created a rom-com I've probably watched it.
Your Daily Blend of Entertainment News
Thank you for signing up to CinemaBlend. You will receive a verification email shortly.
There was a problem. Please refresh the page and try again.