As Fantastic Beasts 3 Works To Get Back On Track, Katherine Waterston Reveals Difficulties Of Joining A Franchise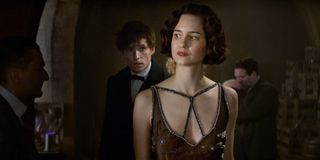 The Harry Potter series is one of the most successful film franchises of all time, taking home over $9 billion dollars world-wide since Harry Potter and the Sorcerer's Stone was released in 2001. A prequel series, Fantastic Beasts kicked off in 2016 with faces both familiar and newly introduced to the Wizarding World. While the film is currently in production, being a part of a major series demands much more than just showing up to the set for filming. Ahead of Fantastic Beasts 3, Katherine Waterston, who plays Porpentina Esther "Tina" Goldstein in the prequel Fantastic Beasts series, recently talked about how much more difficult than expected it was to commit to such a large franchise.
In a recent interview with Collider, Katherine Waterston discussed how much bigger a franchise is compared to a single film, and the time commitment that comes with the territory. As she put it, she was used to one-off roles, but Fantastic Beasts is so much more than that.
From the actual shooting of the film to the lengthy press tours, it can be a difficult decision to commit to, but fortunately the storytelling portion is the same, which makes the process worth it. It's no surprise that the Fantastic Beasts franchise is so demanding, especially when you factor in the success of the original Harry Potter series. There has to be an incredible amount of pressure to try and recreate the magic of the billion dollar franchise that started it all.
While the storytelling in the Fantastic Beasts franchise has largely remained the same, its cast has not. Since Johnny Depp stepped down from the series amid his ongoing legal battles, Mads Mikkelsen has been tapped to take over as Gellert Grindelwald. Depp appeared in the first two entries of the series and filmed just one scene for the upcoming sequel before his departure.
Aside from the major recasting, the third entry to the series has been hit with a number of delays since it started filming in September of last year. Recently, production on the film was halted due to a positive Covid-19 test on set. The third entry into the Fantastic Beasts series remains untitled but barring any other major issues is scheduled to release July 15th, 2022.
There's little doubt that the third installment of the prequel series will draw significant buzz as we get closer to the 2022 release date. Hopefully the majority of setbacks that have plagued production are in the past and the untitled Fantastic Beasts sequel will release as planned. The Fantastic Beasts franchise is reportedly set to run for five feature films, so fans can expect to see more from the Wizarding World for years to come.
Your Daily Blend of Entertainment News
Into tracksuits by Paulie Walnuts, the Criterion Channel and Robert Eggers.