Fantastic Beasts 3: An Updated Cast List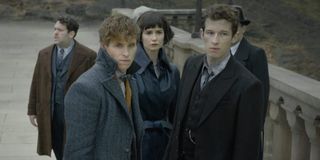 The Wizarding World franchise encompasses more than just the Harry Potter series. Starting with 2016's Fantastic Beasts and Where to Find Them and continuing with 2018's Fantastic Beasts: The Crimes of Grindelwald, moviegoers have watched Newt Scamander's magical adventures unfold decades before the Boy Who lived was born. We're now approaching the midpoint of this particular journey, with Fantastic Beasts 3 in the midst of production and on track to premiere in 2022.
Warner Bros is keeping plot details for the threequel close to the proverbial chest for now, but fortunately, we at least know who's comprising the lineup in this next sorcerous outing. Below are all the actors who have been announced or reported to appear in Fantastic Beasts 3 so far, many of whom you've already acquainted with in this franchise.
Eddie Redmayne
It wouldn't be a Fantastic Beasts movie without Newt Scamander involved, so of course Eddie Redmayne would be back. To no one's surprise, he sided against Gellert Grindelwald (more on him later) in Fantastic Beasts: The Crimes of Grindelwald, so needless to say Fantastic Beasts 3 will involve him embarking on some kind of journey involved with defeating the dark wizard. With Newt around, you can also count on more of his amazing creatures being featured (it'd be pretty weird for those to be completely dropped given this spinoff series' title), although it remains to be seen how many of them will be new.
Katherine Waterston?
Katherine Waterston plays Tina Goldstein in the Fantastic Beasts series, who was in a demoted position when we met her in Fantastic Beasts and Where to Find Them. Luckily, her reputation improved following that movie, and she was carrying out work as an Auror for the MACUSA (Magical Congress of the United States of America) when The Crimes of Grindelwald rolled around. Like Newt, Tina decided to fight against Grindelwald, though she now finds herself subsequently embroiled in some family drama, which we'll discuss soon. While it initially seemed like a foregone conclusion that Tina would be back, Waterston wasn't in the first Fantastic Beasts 3 trailer or any of the following previews. Is it possible that the character is sitting out this round of magical action?
Alison Sudol
While it looked like Alison Sudol's Queenie Goldstein (Tina's sister) and Dan Fogler's Jacob Kowalski had happy times ahead of them at the end of Fantastic Beasts and Where to Find Them, it turns out that the MACUSA banned wizards and non-magical people from marrying. So Queenie cast a love charm on Jacob to convince him to elope in Great Britain, which left him in a dazed state. Eventually Newt Scamander broke the enchantment, and being angered upon learning what happened to him, Jacob left Queenie. Later in the movie, Queenie decided to side with Gellert Grindelwald, as she believed that under his rule, she and Jacob could live their lives together free from oppression. So in Fantastic Beasts 3, she'll be by Grindelwald's side as he carries out the next phases of his grand plan.
Dan Fogler
After being freed from the love charm, Dan Fogler's Jacob Kowalski accompanied Newt Scamander on his next journey, exposing him to even more wonders from the magical world. Despite his anger towards Queenie about what she'd done with him, Jacob was still interested in living a life with her. Unfortunately, by the time they reunited, Queenie had already been taken in by Gellert Grindelwald's ideology, whereas Jacob found it repulsing. The two still love each other, but they're now on opposite ideological sides. So while he's not capable of casting spells, Jacob continues to be an important player in this saga.
Mads Mikkelsen
Much like Voldemort in the original Harry Potter series, Gellert Grindelwald has cemented himself as the main antagonist in the Fantastic Beasts film series. We know he'll ultimately be defeated, but as of The Crimes of Grindelwald, he's amassed a sizable following and is more determined than ever for impose a new world order where pureblooded wizards rule the land. However, Grindelwald won't look quite the same when he returns in Fantastic Beasts 3. After Johnny Depp lost his libel case in the U.K., Warner Bros requested that he step down from the role, and he obliged. Several weeks later, Doctor Strange and Rogue One star Mads Mikkelsen was cast as his replacement, and unless Mikkelsen gets caught in his own controversy, it stands to reason he'll be playing the character for the rest of the Fantastic Beasts series.
Jude Law
Albus Dumbledore was a key character in the Harry Potter series, and now he holds a similar position in the Fantastic Beasts series since Jude Law debuted as the younger version of the character in The Crimes of Grindelwald. Dumbledore and Gellert Grindelwald go way back, having once been allies and more, but now they're enemies, with Dumbledore doing his best to thwart Grindewald's reign of terror. At the end of The Crimes of Grindelwald, Newt Scamander delivered to Dumbledore a vial he had his Niffler steal from Grindelwald containing a blood pact that prevents Dumbledore and Grindelwald from dueling each other, although Dumbledore believes it can be destroyed. Since we know these two will eventually battle one another in a showdown for the ages, perhaps Fantastic Beasts 3 will show how the vial is destroyed. It's also worth mentioning that Albus isn't the only member of the Dumbledore family who involved in the Fantastic Beasts story…
Ezra Miller
Ezra Miller's Credence Barebone was introduced in Fantastic Beasts and Where to Find Them as a young man who hosted an Obscurus, but The Crimes of Grindelwald revealed that there's much more to him. After surviving the events of the first Fantastic Beasts movie, the sequel saw Credence meeting Nagini and searching for clues about his heritage. It was initially believed that Credence was Corvus Lestrange V, the long-lost half brother of Leta, but that proved not to be the case. Instead, after siding with Gellert Grindelwald, Credence learned that his real name is Aurelius Dumbledore, making him Albus and Aberforth's long-lost brother. Grindelwald plans to manipulate Credence's power to kill Albus, and has convinced Credence that Albus wants to kill him. We'll have to wait and see if Credence stays by Grindelwald's side for the entirety of Fantastic Beasts 3 or if he's convinced to switch allegiances.
Callum Turner
Fantastic Beasts: The Crimes of Grindelwald opened up the Scamander family by introducing Theseus, Newt's older brother who works as an Auror for the Department of Magical Law Enforcement and is described as a "war hero." Although the brothers have contrasting personalities and had a bit of an awkward dynamic in The Crimes of Grindelwald because Theseus was now engaged to Newt's former flame Leta Lestrange, they get along reasonably well. Sadly, Leta sacrificed her life during the sequel to save the Scamander brothers, leaving Theseus devastated. No doubt Callum Turner's character will still be working to apprehend Grindelwald during Fantastic Beasts 3, although it's worth considering whether he's acting strictly by the book or is willing to break the rules to seek vengeance.
Jessica Williams
Much like the blink-and-you-miss-it cameo of Zoe Kravitz's Leta Lestrange in Fantastic Beasts and Where to Find Them, Jessica Williams only briefly appeared in Fantastic Beasts: The Crimes of Grindelwald as Eulalie Hicks, a professor at the Ilvermorny School of Witchcraft and Wizardry. Nicholas Flamel communicated with Eulalie through his magical book, and she urged him to help Newt Scamander. While it hasn't been revealed yet how Eulalie fits into the Fantastic Beasts 3 picture, rest assured, she'll have a larger role rather than just cameo again.
William Nadylam
William Nadylam's Yusuf Kama was hunting Credence Barebone during Fantastic Beasts: The Crimes of Grindelwald. When Yusuf was a child, his mother, Laurena, was kidnapped by Corvus Lestrange IV and later died giving birth to his daughter, Leta Lestrange. Yusuf's father made Yusuf swear an Unbreakable Vow to kill the person Corvus loved most, which turned out to be his son Corvus V, who was born from a different woman. However, as mentioned earlier, Credence was not Corvus V, who had actually died as a child. So Yusuf wasn't able to avenge his mother's death as planned, but he'll reportedly be around for Fantastic Beasts 3, and since he didn't cross the flames to join Grindelwald's groups, we presumably count on him either being one of Newt's allies or at least not cause trouble for him.
Poppy Corby-Tuech
Oftentimes an evildoer is accompanied by a right-hand person, and for Gellert Grindelwald, that's Vinda Rosier, played by Poppy Corby-Tuech. Vinda is committed to bringing forth Grindelwald's vision for a society where pureblooded wizards rule over everyone else, and she was the one who found the distraught Queenie and brought her before her master. While there's still three movies left to go in the Fantastic Beasts series, it's probably a safe bet that Vinda will remain by Grindelwald's side rather than have a change of heart.
Victoria Yeates
When he's not trying to stop dark wizards from taking over the world, Newt Scamander works in the Beasts Division of the British Ministry of Magic's Department for the Regulation and Control of Magical Creatures. Helping him with his work following the publication of Fantastic Beasts and Where to Find Them is his assistant Bunty, played by Victoria Yeates. Newt tasked Bunty with looking after his creatures when he went to Paris in The Crimes of Grindelwald, so we'll have to wait and see if she's on beast-sitting duty again for Fantastic Beasts 3 or if she'll be able to participate in the action this time around.
Richard Coyle
Finally, we come to Richard Coyle, who is so far the only new actor who's slated to appear in Fantastic Beasts 3. Coyle confirmed his involvement on social media, but didn't reveal any details about the character he's playing. So whether he's a wizard or non-magical person, Grindelwald supporter or member of Dumbledore camp, or somewhere in between, all that's being kept under wraps. Coyle is arguably best known for playing Father Blackwood in the Netflix series The Chilling Adventures of Sabrina, so he has some experience playing around in a magical world.
As things stand now, Fantastic Beasts 3 is primed to work its magic in theaters on July 15, 2022. Keep visiting CinemaBlend for more updates on how the threequel is coming along, and if you're curious about movies arriving in theaters sooner, be sure to look through our 2021 release schedule.
Connoisseur of Marvel, DC, Star Wars, John Wick, MonsterVerse and Doctor Who lore. He's aware he looks like Harry Potter and Clark Kent.
Your Daily Blend of Entertainment News
Thank you for signing up to CinemaBlend. You will receive a verification email shortly.
There was a problem. Please refresh the page and try again.