Things To Know About Checking Into Disney World Hotels As MagicBands And The Magical Express Fade Out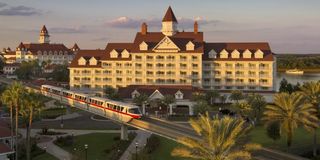 Walt Disney World is certainly not as busy as it once was, but that doesn't mean that people have abandoned the resort entirely. People are still visiting the theme parks, and the hotels, and will be able to visit one of the water parks again very soon. Many more will be planning trips in the weeks and months to come.
However, in addition to all the changes that have had to take place due to the pandemic, Walt Disney World has also begun to phase out a couple of popular options that made visiting the parks easy. MagicBands and the Magical Express will both be gone before too long, which means if you're planning a trip to Walt Disney World soon, you'll want to know how things work now with them, as well as without them.
While MagicBands and the Disney Magical Express are both still available, they don't work exactly as they once did. And since we know both items are on their way out, here's what fans will need to know.
The Magical Express Is Less Convenient
Most people's first meeting with the "Disney Bubble" at Walt Disney World is through Disney's Magical Express. The bus service will deliver you directly from the Orlando International Airport to your Disney World resort hotel. At least it will through the end of this year, as the Magical Express will cease service on the first day of 2022. However, it used to make things even easier by delivering your luggage directly to your room, without you even having to pick it up in Orlando. The bus service is still running, but this luggage feature is no longer available.
Beyond that, the fact is that while you can take care of booking nearly every other aspect of your Disney World vacation online, booking the Magical Express is something that can be handled only over the phone. And because booking a trip to Walt Disney World right now is such a complex thing, with many people modifying and canceling plans, wait times to speak with an actual person at Walt Disney World can be extensive. I sat on hold for an hour to book my most recent Magical Express trip, which took all of two minutes once I did speak with a person. It's enough to make you give up and hang up, as my colleague recently did.
MagicBands Are No Longer Free, Or Necessary
Several years ago Walt Disney World invested a lot of money in the new access program that surrounded MagicBands. These simple bracelets became your complete access solution to the resort. They housed your park ticket and your FastPass+ access. They functioned as the key to your hotel room and they also included your credit card information, allowing you to pay for meals and merchandise.
However, while MagicBands were incredibly simple and convenient to use, Walt Disney World is moving away from using them. The first step in this new plan is that they're no longer given to resort guests for free. For many, who may still have old MagicBands lying around, that may not be a big deal, but MagicBands that were previously assigned to one Disney account can't be transferred to another, so if you have a friend with a MagicBand they're willing to give you. It still won't work.
Perhaps unsurprisingly, the shift away from MagicBands is toward a device that can do all the same things, and that you already have, your smartphone. Some of these new features, like the ability to unlock your hotel room door with your phone, have already been added. One assumes things like park tickets will be added to your phone before long. Until then, if you don't have a MagicBand, your normal park ticket can be used to do all these things.
While shifting everything to smartphones might make sense on paper, it will be interesting to see how well it all works in practice. If a guest in a Disney park is already using their phone to take pictures of their vacation, as well as use various Disney Parks apps to make dinner reservations, play games, or whatever else, there's a potential of having one's battery run dry before they get back to their hotel and open their door. And if a standard park ticket can still get all this done, why does one need to use their phone to begin with?
Content Producer/Theme Park Beat
CinemaBlend's resident theme park junkie and amateur Disney historian. Armchair Imagineer. Epcot Stan. Future Club 33 Member.
Your Daily Blend of Entertainment News
Thank you for signing up to CinemaBlend. You will receive a verification email shortly.
There was a problem. Please refresh the page and try again.