Everything Walt Disney World Is Planning To Reopen In 2021 (So Far), And What It Means For The Parks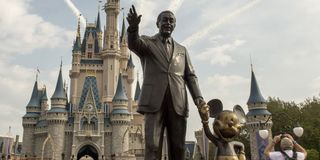 Walt Disney World spent a good portion of 2020 closed, and while it is currently running at a fraction of its maximum capacity, and likely will continue to do so through most, if not all, of 2021, the theme park resort has announced that several different parts of Disney World, from hotels to water parks, that have remained closed to this point, will be dusting off the cobwebs and getting ready to open throughout the first half of 2021. While there are a lot of questions still to be answered about Walt Disney World's future, Disney clearly believes that people will be returning to the resort in a big way next year.
When Walt Disney World first opened it was clear that the majority of the guests were Florida locals, and that the vacationers both domestically and internationally, simply weren't ready to make the trip, but considering the fact that Walt Disney World is set to reopen several new hotels over the next few months, Disney seems to think those vacationers will be making a return, even if perhaps not in the same numbers they once did. if you were even contemplating a Walt Disney World vacation in 2021, here's where your options will increase next year.
Walt Disney World Hotels
Walt Disney World had announced a schedule over the summer that would have seen many more hotels reopen in 2020 than we actually saw. After the parks reopened to limited capacity in the summer, it was realized that most of those returning to the parks initially were Florida locals. This was an issue for several reasons, not the least of which being that locals don't require hotel rooms. This meant that several of the hotel reopenings that were originally planned were postponed, but now it seems that the crowds that were missing in August and September may be expected to be back by the spring, as several of those delayed resorts are now set to open once again.
The reopening will begin March 22, 2021 when Disney's All-Star Movies Resort reopens. This is one of Walt Disney World's "value" resorts, meaning it will be one of the less expensive options for vacationers, it will also be the first of the three "All-Star" resorts to reopen. On the other side of pricing spectrum, is Disney's Beach Club resort, one of the "deluxe" accommodations which will open a couple of months later, on May 30, 2021. Another deluxe lodging options, Disney's Wilderness Lodge, will open just a few days after that, on June 6, 2021.
The fourth resort set to open in 2021 is a bit more tentative. Disney's Polynesian Village Resort has only been given a "summer 2021" window for reopening, this is because the resort, one of the original two to open with Walt Disney World back in 1971, isn't closed entirely due to covid restrictions, but rather due to a major remodel that was undertaken last summer, because the resort was closed due to covid anyway. The exact reopening of this resort will depend, more than likely, on a combination of both the need for another available hotel and the work being completed.
Blizzard Beach
While the four main theme parks are obviously the big draws of Walt Disney World, the resort also includes a pair of water parks, Blizzard Beach and Typhoon Lagoon. Both have been closed since the main resort closure in March, but one of them, Blizzard Beach, is now set to reopen almost exactly one year after it shutdown, on March 7, 2021.
The fact that Blizzard Beach has been specifically given a March reopening date and Typhoon Lagoon has not been mentioned would seem to make it unlikely that water park will be open by the one year anniversary of Walt Disney World's closure. This is likely also the case with the various other hotels that remain closed. While anything is possible, it seems more than likely that the rest of Walt Disney World won't be reopening until the second half of 2021
Increased Capacity In The Theme Parks
While we know that Walt Disney World is currently only allowing in a fraction of the theme parks' maximum capacity, Disney has mostly remained quiet on what that means. However, in November it was revealed that the parks had originally opened at approximately 25% of max capacity, but had since increased to about 35% of capacity. If we read between the lines of these planned reopenings, it would seem to indicate that Walt Disney World either already has, or over the next few months is planning, to increase capacity again.
Disney CEO Bob Chapek has made it clear several times that Walt Disney World wouldn't be open at all if it couldn't be run in the black. It needs to make more money for Disney than it costs to run. So far, that has happened. But the reopening of water parks and hotels means significantly increased costs. Either Walt Disney World has been making so much money since July that it can afford to open a bunch of hotels without taking a significant hit, or, much more likely, it expects to be able to balance the increased cost with increased revenue. It's not going to make a bunch of hotel rooms available if it doesn't think it can fill them.
Thus far Walt Disney World has seemingly done a commendable job as there have been no reports of major outbreaks traced to the resort, and considering what sort of damage such a thing would do to the parks as a whole, it's in Disney's best interest not to increase capacity unless it feels confident that can be properly handled. And the fact that more hotel rooms will be available in just a few months is not, by itself a bad thing, even if you're worried about social distancing. While new hotels are opening it doesn't mean the capacity of the existing hotels is increasing. The beauty of Walt Disney World is that its massive size allows the resort to house thousands of people and still keep them at arms length from each other.
2021 is a big year for Walt Disney World. It's the 50th anniversary of the resort opening. How much celebrating the resort will actually be able to do is still a big question, but what seems clear is that Disney World will be inviting more people back next year. The only question is how many people will take them up on the offer.
Your Daily Blend of Entertainment News
Content Producer/Theme Park Beat
CinemaBlend's resident theme park junkie and amateur Disney historian. Armchair Imagineer. Epcot Stan. Future Club 33 Member.