Big Changes Walt Disney World Is Making For Magic Kingdom And More In 2021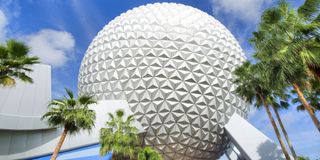 2020 was the kind of year that Walt Disney World certainly never expected. The resort was closed for more than four months, and while the parks have been open since July, things are about as far as they could possibly be from business as usual. Much of the larger resort is still closed, and only a fraction of normal capacity is able to visit Disney World on any given day. 2021 is going to be a year that sees Disney World try to get back to normal. It will see more of the resort finally reopen, but we'll also see a few brand-new additions as well.
If you're contemplating a trip to Walt Disney World this year, even if you've been there many times before, you'll want to get up to speed on the various ways things are different right now. Some familiar services offered by Walt Disney World in the past are no longer available, and others don't work the way they used to.
The Return Of Park Hopper
It was far from surprising when Walt Disney World reopened for guests that the Park Hopper option, the ticket-add on that let guests visit more than one park on the same day, was gone. With limited capacity, it was likely a bit too complicated to keep track of how many guests were in each park if they were moving all over the resort all day. However, as of January 1, Park Hoppers are back, though they have been slightly modified. Guests must still make a specific park reservation each day, and they must visit that park first. However, at 2 pm, guests may leave that location and travel to any other Disney World park, and can visit any of the four of them for the rest of the day.
Hotels Reopening
Disney officials have stated that even with the addition of the Park Hopper option, Walt Disney World is currently running on 35% of maximum capacity. However, it stands to reason that we will see that population of guests increase as the year goes on, and that may all start in March, when the first of several Disney World hotels are set to reopen this year. Disney's All-Star Movies Resort will open in March, Disney's Beach Club will follow in May and Disney's Wilderness Lodge will then reopen this June. Finally Disney's Polynesian Village, which has been undergoing an extensive refurbishment, is also expected to reopen sometime this summer.
Higher Capacity Attractions
Walt Disney World is running at a fraction of capacity, but that doesn't mean that all the lines for attractions are that much shorter, because they've been running at a fraction of capacity as well. However, we've seen the parks taking recent steps to increase ride capacity in recent days. On rides like Rise of the Resistance, this means adding plexiglass barriers between rows on the ride vehicle. However, on rides like Expedition Everest, the carriages are now running completely full. These decisions were made with the input of health officials, so they shouldn't increase risk and will lead to standing in line for less time, which is also a good thing.
Blizzard Beach
While Walt Disney World's four theme parks have been open since July, the resort also has a pair of water parks, Blizzard Beach and Typhoon Lagoon, which have remained closed since the resort first shut down in March. While other theme park resorts, like Universal Orlando, have reopened their water parks, Disney had made the decision to keep these two spots shuttered, but that will change in March, as Blizzard Beach is currently set to reopen on the 7th, nearly one year to the day after it initially closed down. Typhon Lagoon is still off the schedule, but if the crowds come back to Blizzard Beach in March, expect that to change sooner rather than later.
End Of Free MagicBands
Since their inception in 2013, MagicBands have been the keys to the Magic Kingdom. The wrist watch-like item functioned as your park ticket, your hotel room key and even your credit card to pay for food or merchandise in the parks. It was an incredibly convenient way to manage all these disparate elements of your Walt Disney World vacation. And it was that much easier because if you booked a Disney World hotel, you got a MagicBand for free, so you might as well as use it. However, starting January 1, MagicBands are no longer complimentary. They're still available for purchase, and they still function in the same way if you have one, but Disney World is beginning a transition that will allow guests to use their own smartphones in all the same ways as a MagicBand.
Disney Magical Express Luggage Handling
Recently, Walt Disney World made a somewhat surprising announcement that it was discontinuing the Disney Magical Express. The bus service was a free shuttle from Orlando International Airport to the various resorts of Walt Disney World. It was a great way to make your way to the most magical place on earth and also save money since you didn't need to rent a car or get a cab. The bus service itself will be continuing through 2021, and will end January 1, 2022. However, one especially convenient feature of the Magical Express has already come to an end. It used to be that you didn't even need to pick up your bags, as Disney World would handle getting them from the airport to your room without you having to life a finger. However, that service has ended, so you'll need to get your own bags to the bus.
2021 is going to be a year of transitions, that much is certain. So while we already know about these changes planned for 2021, there will certainly be many more to come that Walt Disney World hasn't announced yet, and many that the resort probably isn't even aware of yet. A lot will depend on external factors regarding the pandemic as far as how quickly things will be able to return to normal, and exactly what normal will even be going forward.
Content Producer/Theme Park Beat
CinemaBlend's resident theme park junkie and amateur Disney historian. Armchair Imagineer. Epcot Stan. Future Club 33 Member.
Your Daily Blend of Entertainment News
Thank you for signing up to CinemaBlend. You will receive a verification email shortly.
There was a problem. Please refresh the page and try again.