The Irishman And 6 Other Movies That Prove Ray Romano Is A Great Actor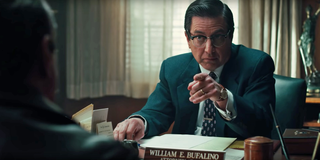 Best known for headlining the popular CBS family sitcom Everybody Loves Raymond, which ran for over nine seasons, Ray Romano is certainly... well, loved. The affable and charmingly relatable actor-comedian is a sweet, endearing screen presence on his long-running sitcom, though his genial screen presence might prevent some from fully recognizing the strength of his acting talents.
Indeed, Ray Romano has proven himself to be an outstanding character actor; one who should be getting his full due. Especially in recent years, Romano has notably taken on more substantial and challenging roles, working with top-tier directors like Martin Scorsese in The Irishman and providing Oscar-worthy dramatic performances in Paddleton and The Big Sick. The Romaissance is in full swing, ladies and gentlemen. It's been a long time coming, too. Here are seven movies that prove Romano is a great actor.
The Irishman (Bill Bufalino)
In a stacked ensemble that includes acting giants like Robert De Niro, Al Pacino, Joe Pesci and Harvey Keitel, to name just a few, it might've been easy for Ray Romano to get lost in the shuffle that is Martin Scorsese's The Irishman. The three-hour crime epic is filled with various locations, characters and time changes. If it weren't for a master-class filmmaker like Scorsese at the helm, it might've been a disaster.
But it's excellent for several reasons, and while Robert De Niro, Al Pacino and especially Joe Pesci shine in their respective roles, Ray Romano is also quite excellent as Bill Bufalino, Frank Sheeran's (De Niro) long-standing union lawyer. He's dryly funny, cuttingly frank and more than capable of standing up to his acting legend co-stars. Romano plays a bigger role than some might expect in the Netflix original, (opens in new tab) and the movie is made all the better by his appearance.
The Big Sick (Terry Gardner)
For many moviegoers, The Big Sick was when they finally realized Ray Romano had what it takes to be a great actor. While he was already doing great work in other projects before this autobiographical indie dramedy came along, notably with shows like Parenthood and Vinyl (which wasn't great, but Romano was exceptional in it), this performance was a wake-up call for people to realize how good Romano could be. And that's certainly understandable since Romano is excellent in The Big Sick.
Playing the part of Terry Gardner, a struggling father who must battle the difficulties that come from his adult daughter being in an induced coma (all while her ex-boyfriend continues to linger around), Ray Romano is measured, soulful, darkly funny and emotionally honest. It's a beautifully authentic performance that should've garnered major award consideration. Alas, that didn't happen.
Paddleton (Andy)
For my money, Paddleton might very well be Ray Romano's best performance yet. While he's terrific in The Irishman's ensemble and his performance in The Big Sick was more commonly celebrated, Paddleton finally gives Romano the dramatic lead role he's been due for years. Not surprisingly, Romano's character portrayal is excellent, as it's powerfully raw, genuine, believable and captivating in its mundane melancholy.
The indie dramedy finds Ray Romano's Andy forced to abide his best friend's wishes to end his own life when his terminal stomach cancer proves too difficult. It's a movie that finds the life in the little things when it comes to the preparations one takes to medically end their life. For a movie with such a dour and bleak-sounding premise, Romano and his co-star, co-writer Mark Duplass, bring such warmth, humor and heart into their characters. The resulting movie fully showcases Romano's great capabilities as a dramatic performer.
Bad Education (Big Bob Spicer)
Most recently, Ray Romano gave another outstanding dramatic performance in Bad Education. He played Big Bob Spicer, a real estate agent and the head of the Roslyn School District in Long Island, New York. In this scandalous true-life story, Romano's character is ultimately a composite character who is meant to represent the parents and school board members who were duped by Frank Tassone's blinding charisma and failed to notice his decades of fraudulent actions.
The supporting turn, which joyfully allows Ray Romano to play up his nerdy side in a fun and ultimately sympathetic way, paves the way for the emotional significance of the main characters' misdeeds. It showcases the weight of their white collar crimes and the significance of their deceit on the gullible school board, one that aimed to shepherd hopeful high school students into Ivy League futures. It's another excellent supporting performance from Romano.
Ice Age (Manfred, a.k.a. Manny)
After five installments and diminishing returns, it's easy to forget that Ice Age — an animated franchise whose creative potential went the way of the dinosaurs — started on solid ground. Specifically, 2002's Ice Age is a charming, entertaining and heartwarming family movie that benefitted from smart writing, an abundance of heart and humor, and winning vocal performances — notably from Ray Romano as Manfred, i.e. Manny.
While John Leguizamo's Sid is the scene-stealer, Ray Romano's Manny is our central mammoth protagonist who gets the most rewarding character arc. As our grouchy, self-satisfied introvert who learns to open his heart and accept others, Romano gives a tender and understated vocal performance — the likes of which we rarely see from a major animated kids movie. By the end, it proves to be both gentle and rewarding — showing Romano's understated acting strengths, even when we're only hearing his voice.
Eulogy (Skip Collins)
By most measures, Eulogy is the sort of dark comedy ensemble piece that makes a small splash and gets forgotten over time. For me, though, it was the first time I saw Ray Romano as a promising dramatic actor — one who could push himself into darker and more mature roles, if given the opportunity. Outside of Everybody Loves Raymond's occasional downbeat moment, Eulogy was one of the earliest examples of Romano giving a more challenging and nuanced performance.
The film itself isn't particularly memorable — and it might not be worth remembering otherwise, truth be told — but it left an impression on me for a specific reason. As the mustachioed father, Skip Collins, the awkward and mild-mannered character played to the sitcom actor's strengths as a performer at this time. The intentionally more dramatic and toned-down role signaled a change that would be prevalent in his newer work.
Rob The Mob (Jerry Cardozo)
Similarly, 2014's Rob the Mob mostly flew under the radar upon release, but the true story crime dramedy provided Ray Romano with one of his earliest dramatic movie roles (even though, admittedly, it's filled with comedic moments) — notably a few short years before it became a common Hollywood trend (thankfully). He plays Jerry Cardozo, a New York Post columnist who reports on our two small-time crooks who become a modern-day "Bonnie and Clyde" couple when they pull off a series of robberies on the mob (hence, "rob the mob").
While the tonal shifts can make the movie jagged, the performances smooth the humps, including Ray Romano's appealing turn. While the actor doesn't flex his dramatic muscles as much as he would later on, Romano carries the world-weary weight of this well-experienced journalist, but doesn't lose sight of the humor or intrigue of this larger-than-life story.
What's your favorite Ray Romano performance? Let us know in the comment section below!
Will is an entertainment writer based in Pittsburgh, PA. His writing can also be found in The Playlist, Cut Print Film, We Got This Covered, The Young Folks, Slate and other outlets. He also co-hosts the weekly film/TV podcast Cinemaholics with Jon Negroni and he likes to think he's a professional Garfield enthusiast.
Your Daily Blend of Entertainment News
Thank you for signing up to CinemaBlend. You will receive a verification email shortly.
There was a problem. Please refresh the page and try again.