The 10 Best Martin Scorsese Movies, Ranked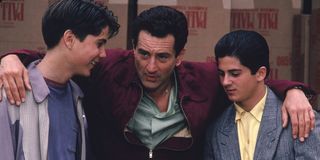 When it comes to living Hollywood directors with an impressive body of work, few can measure up to the accolades of Martin Scorsese. Scorsese has thrilled audiences throughout the years with his unapologetic depictions of violence and a fearlessness in storytelling, giving stories to individuals few audiences would label as heroes. With New York City often as the backdrop, Scorsese has found success again and again, but which of his movies rank among his best?
There's plenty to choose from when it comes to Martin Scorsese, but obviously, some rank above the others in terms of quality, memorability, and how they embody the best of the director's abilities. Below, we looked at all of those attributes, and ranked the 10 best movies from Martin Scorsese.
10. Hugo (2011)
Hugo is the tale of a boy who is forced to navigate through some very difficult situations in the absence of responsible adults. Hugo is a crafty boy, however, so he manages to get along well enough thanks to his friend Isabelle and some luck. The impressive story, based on a graphic novel, makes for a tense but classic family film for all ages. That's not something that can be said of most of Martin Scorsese's movies!
Which is why Hugo comes in at number 10 on the list. Is it a classic children's film that received many Academy Awards and critical acclaim? You bet, but it's not necessarily an accurate representation of Scorsese's best work. It's a good movie, and it definitely showed he can step outside of the tropes that made him famous, however, hence its placement on this list.
9. The Wolf Of Wall Street (2013)
Money, partying, white-collar crime, and some good old-fashioned scamming are all at the heart of the plot in The Wolf of Wall Street, which is based on the memoir of Jordan Belfort. Specifically, the film goes through Belfort's perspective of his career as a stockbroker, and how his firm ultimately committed fraud on Wall Street.
Whlie The Wolf of Wall Street has garnered its fair share of criticism over the years for its use of animals to its failure to recognize the scores of people Jordan Belfort harmed with his scamming, it's still widely regarded as one of Martin Scorsese's better movies. That's thanks in no small part to the stellar cast, which is led by the dreamboat Leonardo DiCaprio and features Jonah Hill, Margot Robbie, Kyle Chandler, and Matthew McConaughey -- just to name a few. A great watch to be sure, but not his best.
8. Casino (1995)
Martin Scorsese's Casino tells the story of a man who goes from a lower-level gambling handicapper for the mob to the supervisor of a Las Vegas casino's day-to-day operations. It sounds unbelievable, but the whole film is based on the life of Frank "Lefty" Rosenthal, who is known as Sam "Ace" Rothstein in the movie. Robert De Niro plays Rothstein, who goes through a series of highs and lows throughout the film thanks to his business venture.
Casino is the type of movie Martin Scorsese made his legacy on. It may not be his best of the mobster genre, and others will say it's a bit derivative of one of his other works that is much higher on this list, but even a flawed mobster-themed Scorsese movie is still a damn good film.
7. Gangs Of New York (2002)
As the title of the film states, Gangs of New York chronicles the story of rival gangs in New York in Five Points Manhattan in the mid-1800s. The story is centered around one Bill The Butcher and the son of one of his dead rivals, nicknamed Amsterdam. The two have quite a history over the course of the film that ultimately spins a tale of a character hell-bent on revenge.
This is another Martin Scorsese movie that stars Leonardo DiCaprio, but more often than not lovers of this film will speak to the performance of Daniel Day-Lewis as the high point of this film. Others will simply like the historical setting of the New York of old, which doesn't get a ton of play amongst screenwriters to begin with. Can we get some more films that are set in this era? I suppose we almost got a tv series.
6. Cape Fear (1991)
A remake on a top 10 list? Anyone who has seen Martin Scorsese's Cape Fear will understand, as the director's edge adds to the story of the original in a meaningful way. In it, a lawyer is forced to fight for his life when a violent rapist client realizes he kept evidence under wraps that would've reduced the time on his prison sentence.
Robert De Niro snagged an Academy Award for his performance in Cape Fear, and he's a large part of what makes this remake so great. Another thing that makes this film so great is comparing it to the original, which showcases exactly what Scorsese brings to the table as an individual when brought to a film. Finally, this film is the basis for what may be one of the best episodes of The Simpsons, which has to count for something.
5. Taxi Driver (1976)
Taxi Driver tells the story of an honorably discharged war veteran trying to make his way in the big city of New York. He becomes increasingly frustrated with the amount of debauchery and evil he sees on a daily basis in his job as a taxi driver, and sets him on a path to do something about it.
"You talking to me?," is the sequence that's arguably more famous than the film itself, but that doesn't mean Taxi Driver isn't a phenomenal film. It's not often adjectives like phenomenal are thrown around midway through a top 10 list, but when it comes to Martin Scorsese's movies, he has quite a few masterpieces. This is one of them, thanks in large part once again to Scorsese's style and a deranged Robert DeNiro.
4. The Departed (2006)
A mole for the mob and a mole for the police attempt to sniff each other out in a cat-and-mouse affair that results in a whole lot of bloodshed. Leonardo DiCaprio and Matt Damon star in The Departed, and hang with a phenomenal supporting cast that includes Jack Nicholson, Martin Sheen, and Mark Wahlberg.
Perhaps the most satisfying thing about The Departed is its conclusive ending, which really marks a definitive ending for a vast majority of its characters. It also features that fantastic Dropkick Murphy's song "I'm Shipping Up To Boston," which will always be connected to this remake of a Hong Kong film.
3. The Aviator (2004)
The Aviator is a biographical film on the life of Howard Hughes that focuses on the era where he became a successful person in the world of film and aviation. It also chronicles his struggles with obsessive compulsive disorder, which seem to intensify along with his massive success. Leonardo DiCaprio stars yet again in a Martin Scorsese movie that offers a riveting tale on a prominent American figure.
The Aviator is one of those films that's as inspirational as it is heartbreaking at points. Seeing Hughes go from what would be one of the peaks of his success to a recluse is such a powerful and sad thing to watch, and honestly Leonardo DiCaprio should've won an Oscar for his performance. Unfortunately, it would be years before he captured that award, for reasons we will always wonder given the equally great films he did after this.
2. Raging Bull (1980)
Martin Scorsese's movie about boxer-turned-comedian Jake LaMotta sounds like a bizarre story from that line alone, but it's far darker than it sounds. LaMotta's passion with boxing puts him up against the mob, his own well-being, and even his personal relationships in a film that gets heartbreaking by its end.
It's similar in style to The Aviator, in which Scorsese shows a person at their absolute best, and shows their collapse from greatness as the years drag on. It's something he's really good at as a director, and something audiences respond to quite a bit. We can evaluate what that means about us as a society some other time. For now, let's just leave it at the fact that Jake LaMotta's story is among the best and most tragic tales to have been portrayed in modern cinema.
1. Goodfellas (1990)
A young Irish boy finds a love for the mob in his formative years, and gradually works his way up the ladder to become a respected member of a crime family. Things really ramp up in intensity from that point on and get harder for protagonist Henry Hill, which as mentioned above, tends to be theme of Scorsese's works.
It's hard to say The Godfather isn't the mother of all mobster films, but if there was any other film that could be suggested as the definitive film in its place, it's Goodfellas. Scorsese pulled what may be the best performance in Ray Liotta's lifetime out of the actor and elevated the story that much further with supporting roles from Robert DeNiro and Joe Pesci. Without a doubt, this is Martin Scorsese at his best, and the go-to film to see what's so great about his style of filmmaking.
Related: Martin Scorsese's The Irishman Has Theatrical And Streaming Release Dates
Love the picks, but hate the order? Maybe you feel like a movie was wrongfully snubbed. Air all grievances or praise in the comments below, vote in our poll below, and continue to stick with CinemaBlend for all the latest and greatest news in television and movies.
This poll is no longer available.
Your Daily Blend of Entertainment News
Mick likes good television, but also reality television. He grew up on Star Wars, DC, Marvel, and pro wrestling and loves to discuss and dissect most of it. He's been writing online for over a decade and never dreamed he'd be in the position he is today.