Mission: Impossible's Simon Pegg Reveals Funny Video Of His Routine When Filming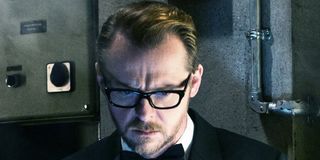 Simon Pegg has seemingly been having a lot of fun working on Mission: Impossible 7. We have seen Pegg cuddled up with a shirtless Tom Cruise on set, engaged in some friendly smack talk, and just hanging out on set with Rebecca Ferguson. Simon Pegg has given some great behind the scenes looks at Mission: Impossible 7, and now he's sharing his daily routine in another hilarious update on Instagram:
Set to Mission: Impossible theme, Pegg goes through his morning routine. He wakes up completely disheveled, brushes his teeth, gets his coffee sits and in traffic while nodding off then finally makes it to his trailer for makeup and wardrobe. The Mission: Impossible theme really sells Peggs dramatic morning, convincing himself to get out of bed and start his day as a movie star.
Mission: Impossible has to be a demanding project. The mind-blowing practical stunts and level of craftsmanship that goes into the production of these movies are unrivaled. Simon Pegg is clearly dedicated to the craft and takes portraying Benji Dunn very seriously, even getting in a quick nap while in traffic to ensure peak performance on set.
Mission: Impossible 3 was Simon Pegg's first foray into his non-comedic role, and he has certainly cemented himself as a vital part of the franchise. Benji has gone from tech guy to full-fledged field agent, becoming a real asset and friend to Tom Cruise's Ethan Hunt. It's been fantastic to see the evolution of Pegg's role and the crazy stunts and set pieces they continue to pull off movie after movie.
Mission: Impossible 7 has been pushed back to 2022, much to the dismay of fans. But Simon Pegg's updates at least provide some measure of relief for those who cant wait for the next installment of the Mission: Impossible franchise. Fans are really getting a sense of how much really goes into producing a movie like Mission: Impossible, where its star, Tom Cruise, loves stunts so much it ruins takes. Simon Peggs Instagram being an unofficial behind-the-scenes look is a real treat.
Simon Pegg has many projects in the pipeline, but none more anticipated than Mission: Impossible 7. Unfortunately, the wait will continue until next May, so fans of the series will take whatever updates and content they can around the film and Simon Pegg is providing the goods. Hopefully, Pegg continues to give us more hilarious updates to help us cope with another delay.
Your Daily Blend of Entertainment News
Movie and TV obsessive. A good Heist movie is the way to my heart. Enjoyer of everything from Marvel Movies to Rom-coms.