Upcoming Simon Pegg Movies: What's Ahead For The Mission: Impossible Star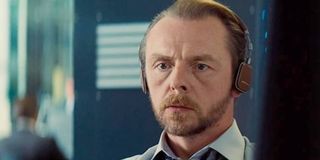 Simon Pegg has been writing, producing, and starring in various movies and television shows for more than a quarter-century now, but has been a major player in the industry since his 2004 breakout horror-comedy Shaun of the Dead. Since then, the multi-talented English actor has gone on to join several highly successfully franchises, becoming a bankable star in the process. Pegg's string of hits will surely continue for years to come with upcoming movies like Mission: Impossible 7 and its direct sequel, as well as anticipated titles coming to streaming services like Netflix and Disney+ in the coming years.
So, what is coming down the road for Simon Pegg? Well, besides portraying Benji Dunn in his fifth and sixth Mission: Impossible movies? Quite a bit actually. With the aforementioned Netflix and Disney+ animated movies and several other films that could be equally as funny, it looks like we'll be talking about our friend Simon Pegg for years to come.
Mission: Impossible 7 - May 27, 2022 (Filming)
Sometimes it's crazy to think about how the same guy who co-wrote and starred in Shaun of the Dead would later become one of the key members of Ethan Hunt's team in the Mission: Impossible franchise, yet here we are talking about how Simon Pegg is preparing to take the screen as Benji Dunn for the fifth time. When he does it will be in Mission: Impossible 7, which, in addition to featuring what appears to be some of the series' most insane stunts, also features perhaps its best cast to date, which is saying a lot. And, while the plot details of Christopher McQuarrie's globe-trotting spy thriller have been largely kept under the wraps, it's safe to say the movie will be just as exciting as previous installments.
As of right now, Mission: Impossible 7 is slated to open in theaters on May 27, 2022, a little less a year after its original July 23 date. Met with delay after delay since production officially got underway in early 2020, as of March 2021, production on the seventh of Ethan Hunt's adventures was still chugging along, though it remains unclear just when the cameras will stop rolling on this film and pick up with its direct followup, which is slated to land nearly a year later. One cool thing about Mission: Impossible 7, besides its stunts, is the fact that it will be available to stream on Paramount+ 45 days after it lands in theaters. Talk about good news for those who aren't ready to return to their local movie-house.
Mission: Impossible 8 - July 7, 2023 (Pre-Production)
As soon as Simon Pegg finishes getting everything filmed for Mission: Impossible 7, he and everyone else will just pick up with the next installment in the franchise, which celebrates its 25th anniversary this year. Not a lot is known about Mission: Impossible 8 at this point, mainly due to the fact that it's a direct sequel and much of what will happen during its runtime depends on what goes down in the movie before it. Nonetheless, the franchise's eighth chapter will surely be as action-packed and remarkable as everything else that's come before it, though that will be no easy task considering just how insane these movies have become in recent years.
Currently, Mission: Impossible 8 is slated to head to theaters on July 7, 2023 though whether or not that date sticks remains to be seen. There's a good chance it does, however, if Paramount Pictures does with it what it's planning to do with its predecessor and puts it on Paramount+ not long after starting its theatrical run. Expect to hear more about the mysterious, yet exciting, addition to the Mission: Impossible franchise in the coming months.
The Ice Age Adventures Of Buck Wild - 2022 (Filming)
The Ice Age franchise is another series of successful movies that Simon Pegg joined along the way, starting with 2009's Ice Age: Dawn of the Dinosaurs, which introduced his character Buck. Although Pegg didn't return for 2012's Ice Age: Continental Drift, he was back in action for Ice Age: Collision Course, and will soon be the subject of his own Disney+ Spinoff. One of the properties to carry over to Disney following the company's historic 2019 acquisition of 20th Century Fox, The Ice Age Adventures of Buck Wild will follow the titular character as he's joined by Crash (Seann William Scott) and Eddie (Josh Peck), and he sets off for an adventure in Dinosaur World.
Announced at Disney's 2020 Investor Day event, which saw the reveal of dozens of movies, shows, and other properties, The Ice Age Adventures of Buck Wild was revealed to have an early 2022 release on the Disney+ streaming platform, though specifics about the actual date itself have yet to be pinned down at this point. If this "early 2022" date sticks, which was reiterated by the official Disney twitter account, then we can see everyone's favorite prehistoric weasel get into all sorts of adventures (and misadventures) within a year.
Hump - TBD (Filming)
At some point in the near future, Simon Pegg will take on a more villainous role when he voices one angry badger in the upcoming animated film Hump, a movie that will play the Shaun of the Dead star against some up-and-coming talent. The film, which was first announced by Variety in May 2018, follows a wide-eyed camel played by Stranger Things' Gaten Matarazzo as he embarks upon an epic journey through the Arabian Desert to find his best friend, a 10-year-old boy voiced by Ramy Youssef, the star and creator of the hit Hulu comedy series Ramy. Two other characters — an ill-tempered goat and an overconfident desert fox — were also revealed at the time of the big announcement but their voice actors have yet to be revealed.
When Hump was announced, it was revealed that veteran artist Rob Gibbs would be serving as director, but the longtime Pixar employee tragically passed away in April 2020 just one month after the release of his final film, Onward. The MovieBrats Pictures and Walking the Dog co-production would have been his feature film directorial debut. A replacement was not immediately announced and it remains to be seen what will come of the movie based on a script from the writing team of Amin Matalqa and Matt Antonelli. Hump was initially set for release in 2020, but there is no telling when the movie will premiere now.
America: The Motion Picture - TBD (Status Unknown)
Everyone loves a good revisionist history story, right? Well, Netflix has been banking on audience's love of shows like Drunk History for a few years now with its long-in-the-works animated film, America: The Motion Picture. When the movie was first announced in March 2017, Deadline described the affair as being an R-rated animated take on the founding of the United States of America that would be written by Dave Callaham (who also wrote the upcoming Shang-Chi and the Legend of the Ten Rings) and directed by Matt Thompson, best known for his work on shows like Archer and Sealab 2021. A group that includes Lord Miller Productions and Free Association are spearheading the movie.
According to its Netflix title page, America: The Motion Picture will center on a chainsaw-wielding George Washington as he teams with a beer-loving Sam Adams to take down the British in the riff on the American Revolution. Channing Tatum is attached to voice America's first president with Simon Pegg on board to voice King James, though not much has been announced since the film's initial reveal more than four years ago.
Future Star Trek Movies?
This year marks the fifth anniversary of the most recent set of adventures for the U.S.S. Enterprise in 2016's Star Trek Beyond, the third installment in the cinematic reboot of the iconic sci-fi television series. Since then, there has been plenty of talk of where the franchise is headed, with Quinton Tarantino involved at one point, for what could best be described as Pulp Fiction in space. But, while nothing substantial has come of all these plans and we're still waiting for the fourth movie in the franchise, which was brought back to theaters in 2009, everyone seems to have thoughts on where the series can go, even Simon Pegg.
In 2020, Pegg, who has portrayed Lieutenant Commander Montgomery Scott, a.k.a. Scotty, since J.J. Abrams' reboot, suggested that instead of trying to compete with the likes of the Marvel Cinematic Universe, the Star Trek franchise should instead embrace its roots and try to do something more in line with the original series.
Does this mean Pegg, or anyone else from the current film franchise, will return in the future? It's hard to say, especially with fans beginning to give up on a fourth film. But, hey, with another Star Trek movie in the works, this might not be the end of the road for Starfleet.
Well, those are all the upcoming Simon Pegg movies. And while some seem to have more momentum than others, each look promising in their own way. If any of these movies are moved around, you'll be able to find out all the latest in CinemaBlend's updated list of all 2021 movie premiere dates.
Your Daily Blend of Entertainment News
Philip grew up in Louisiana (not New Orleans) before moving to St. Louis after graduating from Louisiana State University-Shreveport. When he's not writing about movies or television, Philip can be found being chased by his three kids, telling his dogs to stop barking at the mailman, or yelling about professional wrestling to his wife. If the stars properly align, he will talk about For Love Of The Game being the best baseball movie of all time.