Mission: Impossible 7's Simon Pegg Offers Hilarious Update With Tom Cruise Smack Talk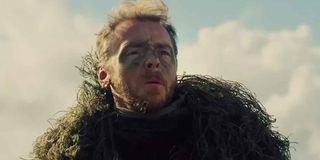 The production of Mission: Impossible 7 continues along, and fans of the action-packed spy franchise wait in anticipation for updates on the film and when they can expect a trailer. Simon Pegg, who stars as Benji Dunn alongside Tom Cruise's Ethan Hunt, has gone from sitting behind a desk to becoming a full-fledged field agent and participant in the IMF's world-saving adventures. Now, Simon Pegg has given a hilarious and joke-filled update regarding what's going on with the upcoming new movie release.
Tom Cruise portrays Ethan Hunt as a relentless force who is always running and capable of completing dangerous feats to achieve his mission. Simon Pegg's Benji beating Hunt in anything physical would obviously be a shock to both Benji and Hunt, but Simon Pegg is taking that joke and running with it as he recently recounted on his Instagram Story:
Simon Pegg is known for being quite the funny guy over at Instagram, but sharing over-the-top, ridiculous, total joke "stories from the set" is a pretty new idea for him. After this one, Pegg also got really excited about this theme and shared a second story from "set" about Benji running faster than Tom Cruise. I dunno if Cruise himself has caught wind of any of these, but he doesn't seem like the type to take this sort of smack talk lying down.
Even if Simon Pegg is having fun with us these days -- and at the expense of Tom Cruise -- one of the most endearing aspects of the Mission: Impossible franchise is the relationships and the camaraderie of Ethan Hunt's squad. The characters care about each other, and the cast seems to enjoy hanging out while filming. Simon Pegg's Instagram has loads of behind-the-scenes photos, and his recent foray into the world of storytelling about his character and Cruise is a great example of what Benji brings to the franchise as well.
Simon Pegg has a lot on his docket, including Mission: Impossible 7 and 8, which are filming back to back. The anticipation of the new installments to the franchise is growing, and fans cant wait to see what impossible odds Benji and the rest of the team will face. We'll have until November of this year to catch the flick, and you can see what else is coming in the meantime with our full new movie releases schedule.
Your Daily Blend of Entertainment News
Movie and TV obsessive. A good Heist movie is the way to my heart. Enjoyer of everything from Marvel Movies to Rom-coms.
Your Daily Blend of Entertainment News
Thank you for signing up to CinemaBlend. You will receive a verification email shortly.
There was a problem. Please refresh the page and try again.