Star Wars' Domhnall Gleeson Discusses His Desire To Learn More About General Hux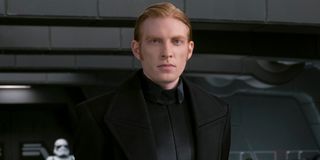 The Star Wars Sequel trilogy introduced a plethora of new characters to the galaxy far, far away, such as the powerful, young Jedi Rey and the Dark Side-fueled Kylo Ren (Ben Solo). Among these new faces was also General Hux, who was introduced as Ren's right-hand within the First Order. Domhnall Gleeson's slippery character had his moments, but one can't help but think that more could have been done with the character. Gleeson seems to have enjoyed his time as the character, but it sounds like he'd love to learn more about him.
Domhnall Gleeson stated his belief that there are still plenty of aspects of General Hux to explore. He also discussed how the filmmakers managed to keep the character fresh for him as the Star Wars trilogy continued:
If there's anything that can be said about General Hux, it's that his character arc did take a number of turns during those three films. The Force Awakens portrayed him as a staunch dictator, while The Last Jedi showed him to be more of a power-hungry and slimy madman. With this, many were likely shocked when J.J. Abrams turned him into a Resistance spy for The Rise of Skywalker. As Domhnall Gleeson revealed to Collider, this development took even him by surprise.
General Hux actually could have suffered a somewhat different fate had director Colin Trevorrow remained in the director's chair for Rise of Skywalker. In his film, Hux would have still died on screen, though he would have taken his own life. It goes without saying that Abrams' movie has received its fair share of criticism, with even Domhnall Gleeson admitting that he would have loved for his character to have played a bigger role. However, the actor believes "the film is what the film needed to be" and he trusts Abrams as a creative.
Although General Hux met his fate in that third film, there's still plenty of room to explore more of him in the future. The character could be revived for a prequel film or TV series set before the events of The Force Awakens. And of course, Star Wars literature could also help fill in the blanks of his mysterious past.
In my humble opinion, Domhnall Gleeson is one of the most underrated actors in Hollywood at the moment, and he played the role of Hux to the best of his ability. It would honestly be nice to see him get another chance to portray the character. Nothing seems to be on the horizon at the moment but, if Star Wars has taught us anything, it's that no one's ever truly gone.
You can check out Domhnall Gleeson's work as General Hux by streaming the Star Wars Sequel Trilogy on Disney+.
Covering superheroes, sci-fi, comedy, and almost anything else in film and TV. I eat more pizza than the Teenage Mutant Ninja Turtles.
Your Daily Blend of Entertainment News
Thank you for signing up to CinemaBlend. You will receive a verification email shortly.
There was a problem. Please refresh the page and try again.