Why Universal's Dark Universe With Russell Crowe And Tom Cruise Failed, According To One Writer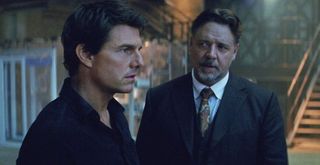 The MCU is pretty much the shining beacon of interconnected movies universes, and it has yet to be matched since it began over a decade ago. That's not to say others haven't tried to compete with Marvel's universe mastery, though. Universal's Dark Universe was a pretty awesome concept, especially for die-hard horror fans looking for their favorite classic monsters to take on a fresh look. Unfortunately, the brilliance stopped at the concept, and the films that did see production and were released were not successful. Now, Dark Universe writer Eric Heisserer explains why he thinks the potentially cool franchise failed, despite having big Hollywood names like Tom Cruise and Russell Crowe involved.
According to Oscar-nominated writer Eric Heisserer, Universal's Dark Universe wasn't as fleshed out from the beginning as it could have been. In an interview with The Playlist, Heisserer used an honest (and somewhat blunt) analogy to illustrate what it was like to be a part of the potential horror franchise. Here it is in the Arrival writer's own words:
It honestly sounds like a classic case of too many cooks in the kitchen. One would've hoped that Universal would take a cue from Marvel and take a somewhat more hands-off approach when bringing on creatives for certain projects. Though the folks at Marvel Studios are heavily involved in the creative processes of their projects, they just seemed to have the Midas touch.
Eric Heisserer was set to write the screenplay for the Dark Universe's Van Helsing. Since the failure of its first films, Dracula Untold and The Mummy, it looks like that no longer will be happening, even though Invisible Man was a different story.
It doesn't sound like it's much of a loss or even a surprise to Eric Heisserer, because he says he actually chose Van Helsing as his monster movie due to thinking that the universe would not make it as far as Universal had hoped for. In an ironic choice, Heisserer chose to write the monster killer, for he thought a lot of the monsters would not work out and need killing. While it's a shame we won't be seeing his monster-killer movie, it appears that things may have worked out for the best Eric Heisserer, and possibly for others involved in the Dark Universe venture.
Constantly thinking about books, coffee, and the existential dread I feel from Bo Burnham's Inside. While writing I'm also raising a chaotic toddler, who may or may not have picked up personality traits from watching one too many episodes of Trailer Park Boys.
Your Daily Blend of Entertainment News
Thank you for signing up to CinemaBlend. You will receive a verification email shortly.
There was a problem. Please refresh the page and try again.