Fantastic Beasts 3's Mads Mikkelsen Has Some Strong Thoughts About People Thinking He'll 'Copy' Johnny Depp's Version Of Gellert Grindelwald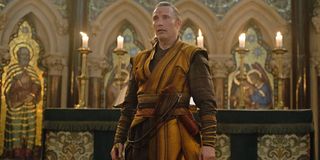 The Fantastic Beasts franchise has had a few bumps in the road, and it seems that the biggest has been replacing Johnny Depp as Gellert Grindelwald in Fantastic Beasts 3 after the actor's legal battle. Mads Mikkelsen, who has played plenty of villains, has been tasked with replacing Depp and has already compared his take on Grindelwald to Johnny Depp's. But Mikkelsen has some strong thoughts about people thinking he'll "copy" Johnny Depp's version of the character.
Johnny Depp certainly left a mark on the Fantastic Beasts franchise with his portrayal of Gellert Grindelwald and, for better or worse, he established the character as a true villain for the series. Mads Mikkelsen hasn't avoided addressing concerns regarding his upcoming portrayal, and he recently dismissed these claims while explaining his process to Collider, saying:
Mads Mikkelsen says that if he were to go into Fantastic Beasts 3 merely trying to copy Johnny Depp, it would turn out badly for everyone involved. He recognizes the job done by Depp before him while also seeing that copying him wouldn't do his performance or the film any justice. Approaching the character from his own perspective is a priority.
More specifically, Mads Mikkelsen wants to bridge the two performances to get the best out of the role. The actor obviously doesn't want to throw everything away that has been established by Depp and the movies. He wants to use everything that came before but make it his own. All in all, it seems Mikkelsen is taking a practical and considerate approach to replacing a big-name actor like Johnny Depp.
No matter how Fantastic Beasts 3 turns out, Mads Mikkelsen is an actor who seems like he gives his all in his performances, which is probably why he is so in demand. The approach he's taking is a good sign as the franchise moves on from Johnny Depp.
Aside from the Wizarding World franchise, Mads Mikkelsen also has Indiana Jones 5 on the horizon, and he has finally responded to being cast. The role only adds to the growing list of franchises he's involved with. Recently, he's also been receiving rave reviews for his performance in the Oscar-winning Another Round and is assuredly going to continue his winning streak. Mikkelsen has a challenging task ahead, as he steps into the role of Grindelwald, but if anyone is built for this situation, it's him.
Fantastic Beasts 3 hits theaters on July 15, 2022.
Your Daily Blend of Entertainment News
Movie and TV obsessive. A good Heist movie is the way to my heart. Enjoyer of everything from Marvel Movies to Rom-coms.
Your Daily Blend of Entertainment News
Thank you for signing up to CinemaBlend. You will receive a verification email shortly.
There was a problem. Please refresh the page and try again.