Zack Snyder's Justice League Concept Art Offers Alternate Look For Darkseid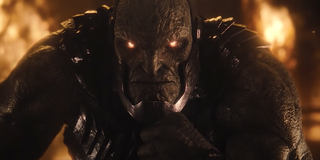 It's a pretty big understatement to say that fans were excited for Zack Snyder's Justice League to drop to HBO Max. Years were spent patiently waiting for a decent live-action take on their favorite DC heroes teaming up, and Snyder not only delivered an awesome movie for that base, but an awesome four-hour movie that gives all the heroes a lot more screen time. It wasn't just about the good guys, though, as Steppenwolf and Darkseid also get a vastly improved take as well – seeing as Darkseid wasn't even in Joss Wheden's cut at all. And now the project has dropped some cool early concept art of Darkseid that offers an alternate look for the character.
Even though Zack Snyder's Justice League dropped on HBO Max a couple months ago, we are still getting behind the screen looks. Some of the insider peeks come from none other than the director himself, but this one comes from concept artist Jerad S. Marantz. Coming from Marantz's personal Instagram page, the post features a cool look what Darkseid could have looked like in the reimagined franchise film. Take a look for yourself:
While we don't have anything to compare it to from the 2017 film, he looks pretty cool in this concept art. It actually looks so good that some fans may have preferred to see it over what we got in the released film – not to say that fans weren't totally grateful and over the moon with what they got in the cut that was released, because they totally were.
One commenter on the concept art post says that he wouldn't have been at all mad if the design is what we saw in the released film, just with the Darkseid armor added as well. Another fan goes on to say that the look makes Darkseid and Steppenwolf look more related. We see Steppenwolf without his armor in a scene of Zack Snyder's Justice League, and it is indeed somewhat comparable to what we see in the post.
When thinking of the concept art in this way, it actually totally makes sense. Steppenwolf and Darkseid are indeed related. While the comics have Steppenwolf as Darkseid's uncle, Zack Snyder reverses that relationship and makes him Darkseid's nephew. The role reversal isn't a big deal and may have been done to further accentuate Steppenwolf's desire for redemption in the eyes of Darkseid. Nonetheless, it definitely would have been cool to see a little more family resemblance between the two, although it's hard to tell with all that armor in the way anyway.
Even with fans likely having already watched and rewatched (maybe even more than once) Zack Snyder's Justice League, it's really cool to see what might have been had other artistic directions been taken. Plus, the die hard fans always enjoy a little sneak peek inside the minds of the creatives behind their favorite franchises.
Your Daily Blend of Entertainment News
Constantly thinking about books, coffee, and the existential dread I feel from Bo Burnham's Inside. While writing I'm also raising a chaotic toddler, who may or may not have picked up personality traits from watching one too many episodes of Trailer Park Boys.
Your Daily Blend of Entertainment News
Thank you for signing up to CinemaBlend. You will receive a verification email shortly.
There was a problem. Please refresh the page and try again.