Upcoming Daniel Craig Movies: What's Ahead For The James Bond Star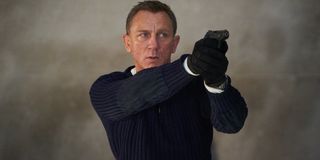 The name is Craig, Daniel Craig. You've probably heard it. The action star turned into a household name when he became the world's most famous superspy — though the award-nominated actor has been quick to impress in a variety of distinguished dramatic (and comedic) films over the years, including (but not limited to) Layer Cake, Munich, Road to Perdition, 2011's The Girl with the Dragon Tattoo, Logan Lucky, and Knives Out.
Certainly, Daniel Craig is an accomplished talent, and it'll be interesting to see where the globe-trotting superstar will opt to go with the next stage of his varied career — notably with his strenuous days as 007 approaching their long-expected twilight. With that said, here's what the current Bond actor has in store for the future, including No Time to Die!
No Time To Die - October 8th, 2021 (Completed)
It's fair to say that No Time to Die has taken its sweet time making its way to the silver screen. The long-awaited 25th Bond blockbuster has been hindered — rather severely — by various setbacks and delays from, well, pretty much the get-go, resulting in an extended wait for Daniel Craig's final spin as 007. But the horizon is near. The action movie is slated to arrive on September 30th in the United Kingdom and October 8th in the United States, which means that we still have a while to go before we catch up with everyone's favorite license to kill-wielding martini enthusiast in this newest adventure.
Along with Daniel Craig returning to play the incomparable James Bond, No Time to Die will feature returning stars and newcomers (at least to the decade-spanning series) alike. Specifically, Lea Seydoux, Ben Whishaw, Naomie Harris, Jeffrey Wright, Christoph Waltz, and Ralph Fiennes will reprise their previous roles, while Rami Malek, Ana de Armas, Billy Magnussen, and Lashana Lynch make their Bond debuts in this final film.
Directed by Cary Joji Fukunaga (Beasts of No Nation) and co-written by Phoebe Waller-Bridge (Fleabag), No Time to Die is locked and loaded with talent, on both sides of the camera, which bodes well for its expected quality. But it's hard to know how this one will fare. Fans were quick to embrace the cool energy of Casino Royale and Skyfall, but they were just as quick to dismiss Quantum of Solace and Spectre (which aren't too bad — personally speaking). This film will cut the divide, for better or worse, and determine how Daniel Craig's Bond legacy will ultimately shake out. So, you know ... no pressure. Following many setbacks, Bond is back in action. Let's hope this one ends with a bang.
Knives Out 2 - TBA 2022 (Pre-Production)
Marketed as "a whodunnit like no one has ever dunnit," Knives Out became a splashy hit when it premiered in 2019, providing Rian Johnson with another chance to produce a highly entertaining genre-bender, while also giving Daniel Craig an opportunity to play up his star power with another Southern twang accent. The result was a killer success. Thus, it certainly won't be the last collaboration that we see from Craig and Johnson.
Thanks to a monumental deal struck by Netflix, the A-list actor and the well-established writer-director will produce two more Knives Out sequels that will reportedly see each collaborator walking away with $100 million paychecks. Holy Moley! That's a whole lot of moolah. So, yeah, it's not surprising in the least that Daniel Craig will adopt that accent once more and solve another murder case —or two — for the streaming service.
Details remain limited regarding this Knives Out sequel, but we know that the ensemble is shaping up to be yet another star-studded affair — a murder's row of talent, if you will. Alongside Craig reprising his role as Detective Benoit Blanc, the growing cast of Knives Out 2 will also feature Dave Bautista, Edward Norton, Janelle Monae, Kathryn Hahn, and Leslie Odom Jr. in currently undisclosed parts. And those are just the famous names announced at this time. We should expect more stars to attach themselves to this much-anticipated project as it moves forward. That said, it doesn't sound like anyone from the original cast will come back, though Ana de Armas is very willing to return.
With casting afoot, Knives Out 2 (the unofficial title) is in early pre-production and it's expected to start filming later this summer. More details will arrive in the days ahead.
The Creed of Violence - TBA (Announced)
It has been far too long since we've seen another movie directed by Todd Field. The outstanding filmmaker behind In the Bedroom and Little Children hasn't made a new movie since the latter 2006 drama, and we're overdue for a third feature from the undervalued storyteller. Perhaps we'll get that long-awaited follow-up film with The Creed of Violence, a film adaptation of Boston Teran's 2009 novel of the same name.
With The Creed of Violence, we would follow Daniel Craig playing an assassin named Rawbone who travels from Texas to Mexico with a young government agent to stop a smuggling ring during the backdrop of the Mexican Revolution in 1910. Certainly, with the material and talent involved, it sounds like the type of dramatic project that would return the action movie star to his character-driven roots. Previously a starring vehicle for Leonardo DiCaprio and Christian Bale, it's easy to see how The Creed of Violence could be a major project for the accomplished actor ... assuming it gets off the ground.
Alas, it's uncertain if The Creed of Violence will move forward. Previously set to start production in the spring of 2020, as Collider reported, Todd Field's third feature may become another project that fell through the cracks due to the pandemic, which — if true — would be a great shame. It would be another collaboration between Field and Daniel Craig that fell sideways, notably after they were previously planning to make Purity at Showtime, which appears to be dead in the water, too, unfortunately. Hopefully, The Creed of Violence comes together eventually, but there's no guarantee that it'll ever be realized. At the very least, will someone give Field a chance to make another movie?
Knives Out 3 - TBA (Announced)
As we noted earlier, we haven't seen the last of Detective Benoit Blanc. Not only is Daniel Craig returning for a second Knives Out movie, but he'll reprise the role of the expert sleuth in another sequel, which will also be funded by Netflix's deep pockets.
It shouldn't come as a surprise that the plot for this third Knives Out movie remains unknown, mainly since we don't know what is set to happen in the second movie; it's unclear if these two sequels are interconnected or if they'll solely feature Craig's returning presence — the same way Knives Out 2 isn't expected to connect to the original outside of its main private eye. But it's safe to assume that this sequel is still in the very early stages of development, particularly as Rian Johnson and his team are hard at work on the second movie, which enters production later this year. We'll keep you posted on the details once we learn what's in store. For now, though, get hyped!
At the moment, we don't know if Knives Out 3 is expected to be the last installment in this newfound series or if these sequels are supposed to usher in a long line of movies based around Detective Benoit Blanc's case-solving expertise. Even if Rian Johnson hands the keys over to another team of writers and directors, it's not unreasonable to assume that Daniel Craig will continue to play the part in future movies. But we're thinking big picture. Truthfully, it's hard to know if that's what Craig even wants. For now, we know that he'll make two more Knives Out movies, and he'll make out like a bandit.
Recent Daniel Craig Projects
Due to his extensive commitments to the Bond franchise and the newfound Knives Out series, Daniel Craig hasn't found too many opportunities to branch out as a dramatic actor in recent years — rather unfortunately. That said, Craig continues to work small scale, at least with a few recent projects, including one film that slipped under the radar.
Most notably, Daniel Craig stole the show in Steven Soderbergh's Southern-fried caper dramedy, Logan Lucky. Finally given an opportunity to cut loose and have a bit of fun, the English actor played Joe Bang, a wily fugitive con man, in what became one of the funniest performances of his career. The actor was also heard in a couple episodes of Amazon Prime's outlandish farce series, Comrade Detective, in the role of Father Anton Streza. Additionally, Craig starred in the romantic drama, Kings, opposite Halle Berry, which premiered to modest reviews at TIFF in 2017 but only saw a quiet 2018 release.
Now that Daniel Craig is officially done playing James Bond, the proven talent will hopefully find even more opportunities to stretch his dramatic talents or tickle his funny bone — it's also worth noting that he hosted SNL for only the second time last year.
Be sure to follow CinemaBlend for the latest Daniel Craig news and a whole lot more!
Your Daily Blend of Entertainment News
Will is an entertainment writer based in Pittsburgh, PA. His writing can also be found in The Playlist, Cut Print Film, We Got This Covered, The Young Folks, Slate and other outlets. He also co-hosts the weekly film/TV podcast Cinemaholics with Jon Negroni and he likes to think he's a professional Garfield enthusiast.
Your Daily Blend of Entertainment News
Thank you for signing up to CinemaBlend. You will receive a verification email shortly.
There was a problem. Please refresh the page and try again.