Cujo: 10 Behind-The-Scenes Facts About The Vicious Stephen King Movie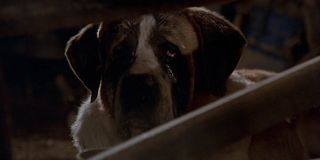 CinemaBlend participates in affiliate programs with various companies. We may earn a commission when you click on or make purchases via links.
Over the years, Stephen King has found many ways to terrify readers and audiences with all manners of the supernatural, but Cujo is a different kind of beast. The horror at the heart of the novel is disturbingly real, as it is absolutely possible for a gentle St. Bernard to be transformed into a giant, mad killing machine after receiving a bite from the wrong bat. And not only is the book as distressing as ever as it is celebrating its 40th anniversary in 2021, but it also served as inspiration to what remains one of the scariest King adaptations.
From a macro perspective, Lewis Teague's Cujo is a simple film with a clear, linear structure, but a lot went into the process of bringing the novel to life. As discovered in commentaries, featurettes, and various books, there were a number of challenges faced, but also a number of great moments of inspiration – and learning about them only enhances one's appreciation of the finished feature. I've dug through all of that material and more, and what you'll find below are 10 fun and interesting things I discovered about the production of the killer dog movie.
Lewis Teague Didn't Sign On To Direct Until After The Start Of Production
It took very little time for Cujo to go from being a published novel to becoming a movie (less than two years, in fact), but still it managed to pack in plenty of behind-the-scenes drama during its development. As detailed by Lewis Teague in the movie's director's commentary track, he was personally Stephen King's choice for the job, as he was coming off of the 1980s creature feature Alligator, but the studio decided to hire Peter Medak instead. It wasn't until a few days into filming while watching dailies that the production decided Medak wasn't working out, and so Teague was brought in to replace him. None of the footage from that brief period of photography is included in the finished cut.
Stephen King Wrote The First Draft Of The Screenplay, But It Deviated Greatly From The Book
Whenever an adaptation makes a serious deviation from the source material, it's easy to imagine the original author feeling frustration about their work being manipulated – but in that arena Cujo presents a strange case. Don Carlos Dunaway and Barbara Turner (as Lauren Currier) are credited as the screenwriters on the movie, but before they did their drafts it was Stephen King himself who took a crack at turning the novel into a movie, and a striking aspect of his take was that it added subplots and changed details of the book. Not only was this ultimately reversed as the film made its way towards production, but there was even a specific pass that saw the character's dialogue directly lifted from King's tome.
Cujo Filmed A Steamy Sex Scene That That Was Nixed For Being Too Sexy
The big conflict in the opening act of Cujo is that Donna Trenton is cheating on her husband with his friend and tennis instructor, and that's illustrated early on with a scene that simply opens with Donna (Dee Wallace) and Steve Kemp (Christopher Stone) in bed together. It's all the movie needs to explain the relationship to the audience – but there was a cut that drove it home more explicitly. The production filmed a sequence that began with a close up of what appeared to be Donna playing the piano, but as the shot evolved it revealed that she was mid-coitus with Steve. Test audiences evidently felt that it was a bit too much, so it was left on the cutting room floor.
The Fire Department Wound Up Responding When The Production Was Filming The Fog Sequence
While most of the horror in Cujo is generated from the gnashing jaws of a rabid dog, there is one sequence that changes things up with a more spooky vibe, and that's the sequence when young Brett (Billy Jayne) goes out looking for his pet in the misty morning. The crew used a Navy fogger to generate the proper atmosphere on set, but unfortunately it got them some unwanted attention. The billowing fog was apparently mistaken for smoke, and as a result the production had to deal with the local fire department arriving with the expectation of putting out a blaze.
The Studio Tried To Edit Down The First 2/3 Of The Movie, But Received Poor Test Screening Results
When people think about Cujo, what immediately springs to mind is the harrowing third act that features Donna and Tad (Danny Pintauro) trapped in their car, but what makes that climax so particularly effective is all of the build-up that leads to it. And that's not just conjecture, but something that was tested and found to be true. When the film was in post-production, the studio feared that the pacing was too slow, and so an edit was commissioned that saw 15 minutes cut out of the first two acts. Put in front of test audiences, that cut's reception was noticeably more negative. Simply put, people got more out of the movie when it provided them the opportunity to connect and relate to the characters.
Dee Wallace Was Bitten On The Face By One Of The Dogs And Required Stitches
There is obviously a certain risk that comes with working animals, and that especially goes for filming scenes that ask said animal to demonstrate aggression. The making of Cujo had a renowned trainer Karl Lewis Miller working on set, and he was able to work some real magic with the canine actors – but what can never be forgotten is that the dogs don't have the awareness of being in a movie. For the most part everybody was safe, but there was an incident while shooting the sequence when Cujo manages to get inside the car. During one shot, Dee Wallace was bitten on her face, and the gash required eight stitches to properly heal, according to Lewis Teague.
Despite How It Looks On Screen, It Was Actually Super Cold On Set
The fact that Cujo takes place during the summer is a major contributor to the horror. It's bad enough to be trapped in an isolated broken car by a rabid dog, but the hot sun draining Donna and Tad's energy and creating the risk of heat stroke both increases the stakes and adds a ticking clock factor. It's a palpable aspect of the movie… which is why it's pretty crazy to learn that production took place in Northern California in the late fall. It made time on set for Dee Wallace and Danny Pintauro unpleasant, as they were dressed for a heat wave in 50 degree weather, but tremendous credit goes to them and the costuming and makeup departments for a great sell.
Cujo's Rabies Foam Had A Special Formula, But The Production Had To Shoot Quickly After It Was Applied
In addition to Dee Wallace and Danny Pintauro needing make-up to look baked by summer heat, the dogs playing Cujo also needed some special touches to appear rabid – though getting that done wasn't always the easiest thing. One of the hallmarks of rabies is the sufferer foaming at the mouth, and the teams on the set were able to create that effect with vinegar and bicarbonate soda, the problem that the crew ran into was that the dogs would just lick the substance off their mouths. This required a key adjustment to timing on set, as the foam would have to be applied with as little time before "Action" as possible.
Lewis Teague Made The Specific Decision To Never Show Cujo Really Getting Hurt
This might blow your mind a little bit, but it's a fact: people love dogs, and they're not a fan of seeing them get hurt. And while this idea generally applies to beloved pets, things don't really change all that much even when you're talking about a canine with a diseased mind and killer instincts going haywire. This is something that Lewis Teague inherently understood in the making of Cujo, and the choices he makes in the cinematography clearly demonstrate it. In the scene where Donna has her final showdown with the titular St. Bernard, all of the shots where she either hits or stabs him are from Cujo's perspective – which means that you don't actually see any contact.
It Was Stephen King Who Changed The Book's Very Dark Ending For The Movie
As noted, there were efforts made in the development of Cujo that saw the project specifically made to be a direct adaptation, but there was one particular alteration from Stephen King's first draft of the script that made it all the way to the final cut: the decision to let Tad Trenton live. In the novel, Donna is unable to kill Cujo before her young son dies as a result of heat stroke, but King felt that while you can have a child die at the end of a book, that wasn't something that could be done in a movie. Is he right? That will long continue to be a hot debate among Constant Readers.
For more behind-the-scenes info about the making of Cujo, both the 25th anniversary edition Blu-ray from Lionsgate and the 30th anniversary edition from Olive Films have their own commentary tracks that are filled with wonderful stories. And if you just want to watch the movie after digging into all of these details, you can find it presently streaming on fuboTV or Philo or available for digital rental/purchase at all major outlets.
Your Daily Blend of Entertainment News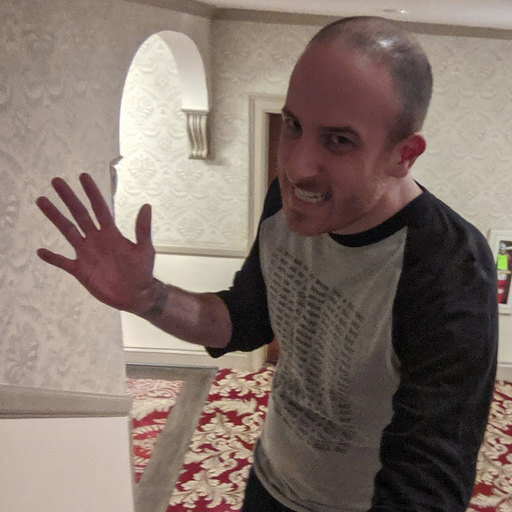 Assistant Managing Editor
NJ native who calls LA home and lives in a Dreamatorium. A decade-plus CinemaBlend veteran who is endlessly enthusiastic about the career he's dreamt of since seventh grade.