Original Musicals And 6 Other Types Of Movies Hollywood Needs To Start Regularly Making Again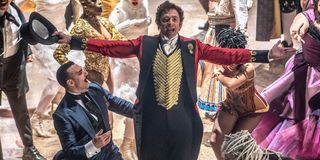 When you look at the 2021 release schedule, or any year at the box office, there's an overwhelming picture of what's being made in Hollywood and what's not. There are several genres that we used to see a lot more of on the big screen that seem to have lost market share over the years, giving way to more comic book movies or other adaptations of recognized properties. While it's no crime to give the people what they want, there are some types of films that deserve a resurgence, and it's about time we saw them made on a regular basis. Let's start with original musicals.
Original Movie Musicals
2021 is a pretty exciting year for musicals, with stage favorites like In The Heights, Dear Evan Hansen and Everybody's Talking About Jamie heading to a screen near you. So the musical clearly isn't dead; but what seems to be dormant right now is original movie musicals that aren't based on a pre-existing play. With audiences in the need of some fresh distraction as they head back into theaters, musicals could be a premium investment at the movies; which only doubles if it's something no one's ever seen before. It worked for The Greatest Showman and La La Land, and it could work for anyone else who decides to take a gamble on creating a new songbook.
Whodunnits
The whodunnit looked like it was dead and buried, with the possibility that it may or may not have been done in by the butler. However, two movies revived it to the point where Hollywood started to pay attention again. As both Rian Johnson's Knives Out and Kenneth Brannagh's Murder on the Orient Express became surprise smash hits, sequels were quickly greenlit and put into production to capitalize on that opportunity. Should another studio or two try to bring us a quirky sleuth that's stumbling their way through a case, it would be a welcomed return to a crowd pleasing format.
Westerns
After a year of being cooped up indoors, and the world starting to open up in its own time, the wide open spaces of the frontier are a welcomed sight. The Tom Hanks film News of the World reminded audiences that a traditional Western can still captivate the attention of both audiences and actors, while the Kevin Costner/Diane Lane neo-noir Let Him Go used a format adjacent to the Western to make for a thrilling personal drama. It's time to head back out to the prairie and make a fortune in the great frontier again. Whether that frontier happens to be on a planet far away or a prairie that the saw massive action in the past, as long as there's a lot of sun and some squinty showdowns, the Western can live on!
Screwball Comedies
Simple misunderstandings that get blown out of proportion. Physical pratfalls that see actors we know and love in embarrassing situations. The occasional pie in the face. All of these were the hallmark of the screwball comedy, which, with or without its romantic component, has persevered in modern society thanks to the grace of films like The Coen Bros' Hail, Caesar. They're practically movies that pull out all the stops with wordplay and hijinks to make the audience laugh, and much like original musicals, it's high time studios start to try and revive this genre on a more periodic basis.
Parody Movies
We all know why parody movies died out, as horrific failures like Disaster Movie and projects of that ilk happened to torpedo a genre that once laid claim to movies like Airplane! and Spaceballs. There's been enough time between the failures of recent memory and our current moment to allow this type of movie to return, so it's time to give it another shot. All we need is the right sharp-minded comedy talent of today to find the perfect window of topical, yet timeless humor, and the world will be allowed to laugh again. We can even pretend that Superhero Movie never happened and let someone new take a shot at lampooning superhero movies.
Emotional Dramas
Returning to the example of Let Him Go, that film also represents another bygone genre that seems to have been sent down to the indies: emotional dramas. Whether it's centered around familial strife or a romance that's falling apart, major Hollywood muscle doesn't seem to sit behind these sorts of movies as much as it used to. Quiet and sometimes epic stories about people living their lives don't take up as much space on the major movie calendar as they used to, and it's about time they did.
Silent Movies
Ok, this is going to feel like an oddball choice, especially when The Artist still gets a ton of side-eye for winning Best Picture at the Oscars. But that should only be proof that something so archaic as the silent movie is something that's worthy of a more modern approach. Whether it's focusing on visuals and a more symbolic journey, or a return to the classic format with title cards and a score-driven audio soundscape, experiments in narrative without dialogue could be a canvas that filmmakers could take full advantage of.
In the absence of the types of movies we've mentioned above, there comes an opportunity to jump back into once familiar waters. With some of these sorts of films already testing the waters, it's only a matter of time before the next big hit strikes in one or more of these formats; which will trigger an onslaught of even more experiments designed to replicate that feat. It's just the ebb and flow of cinema, and right now these are the ebbs that we hope to see flowing again.
Of course, if you're more focused on the here and now, the 2021 film release schedule is available to answer your questions of what movies are headed into theaters throughout the year. And as always, stay locked on CinemaBlend for the latest in movie news, including if any of these genres look to be making the desired resurgence.
CinemaBlend's James Bond (expert). Also versed in Large Scale Aggressors, time travel, and Guillermo del Toro. He fights for The User.
Your Daily Blend of Entertainment News
Thank you for signing up to CinemaBlend. You will receive a verification email shortly.
There was a problem. Please refresh the page and try again.