5 Questions John Krasinski Could Answer In Quiet Place Part III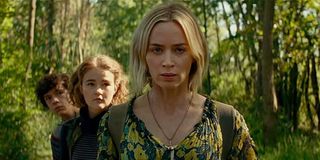 (Image credit: (Paramount))
SPOILERS are ahead for A Quiet Place Part II.
Congratulations, you survived another A Quiet Place movie. Good on you for watching your step, screaming at your own risk and chowing down on that popcorn with more reserve following the anxiety-fueled 2018 film. Although John Krasinski's sequel definitely had a longer trip to the big screen than initially planned, the movie has finally arrived in theaters and it's doing great for itself. And as we see the horror film soar at the box office, it's fair game to start theorizing about A Quiet Place Part III.
Much like the conclusion to the first movie, A Quiet Place Part II doesn't necessarily end on a full-on cliffhanger, but it most definitely does not wrap things up for the Abbotts nor the terrifying apocalypse they live in. And though A Quiet Place 3 has not been officially confirmed, we have heard word that there may be plans in place for A Quiet Place to be a trilogy. Emily Blunt recently shared that filmmaker John Krasinski has a "whole arc of ideas that could work" for a third film. So let's talk about it. What questions were left unanswered by Part II that we'd hope Part III might answer?
Will Regan And Emmett Be Able To Reunite With Her Family?
A Quiet Place Part II ended without getting Regan back to her family and we're not ok with that. It's a bit understandable since the movie needed to remain a tight thriller and the journey to reunite the Abbotts could come into play for the third movie. But, that's a major loose end to leave an audience with. As Part II left it, Regan and Cillian Murphy's Emmett had defeated a monster at the radio station whilst Emily Blunt's Evelyn, Noah Jupe's Marcus and the baby had barely survived a stressful moment with them on their own.
Right now we know that the two parties are a few days away from each other and thus far, Evelyn has no idea about the number of developments that have occurred with her daughter. Regan's mom knew she was going off to try and finish her father's work and Emmett had gone after her. I could definitely see some wires getting crossed with communication and the groups continuing to be separated for longer, though they may, at the very least, deduce from the radio that Regan's planned worked.
Who Were Those People On The Docks... And Can They Not?
One major aspect of A Quiet Place Part II that was revealed but not quite explored as much as we'd like is the river people who get in the way of Regan and Emmett's journey "Beyond the Sea." A group of less-than-friendly locals seemed to want to straight up murder any other people in their way, and while we can guess that they are not willing to share what's left of Earth with anyone else and have become savages.
It would be interesting if A Quiet Place Part II explored the people who are left on Earth a bit more in depth and some of the drastic and surely terrifying ways they managed to survive for so long. Maybe in the same way we learn about the first day the Abbotts came in contact with the aliens, we can get an added POV with these people through some kind of flashback or added character arc in the third movie?
Are There Any More Peaceful Settlements Left On Earth?
A Quiet Place Part II brought together some hope for the world's apocalyptic circumstances when Regan and Emmett find an island that is existing peacefully without monsters. As we learn, the aliens cannot swim and therefore the island was safe from invasion and it was a random pocket of a safe haven for its settlers. Of course until one monster comes in on the boat and kills many of its settlers.
We'd imagine that there could be more settlements such as this that the monsters have not arrived to. There are surely more than a few islands on Earth that the invasion could have missed and would be key to the survival of humankind. A Part III could provide a better scope of this to audiences.
How Many Monsters Are There On Earth?
Another question running through our heads after the sequel is in regards to how major the monster invasion is. We know it has caused some major damage and basically wiped out the planet's population, but as Regan looks to kill them off, we need to know how major of an invasion we're looking at. For example, are they multiplying and breeding on Earth?
If so, that would mean the threat is increasing with each day. However, if there are only so many, it might be an easier task for the Abbotts and others to take them out. We know they are across the globe, but we have never had a glimpse of how they actually live and how they coexist on Earth aside from jumping out and scaring us.
Can Regan's Monster Repellant Destroy The Species Once And For All?
Lastly, by the end Regan manages to kill some more monsters by amplifying her hearing aid at the radio station, and while that's exciting news for her and Emmett living another day, we do wonder if the weakness can really bring down more of the alien population living on Earth and whether a Part III would explore Regan trying to save our planet as a whole, or if will remain a contained story, maybe just about how the Abbotts can find a permanent safe haven within their barren world.
Quiet Place Part III doesn't have to go global with its storyline, but our questions about the world John Krasinski has developed over two movies definitely do span this far and wide. We're definitely rooting for A Quiet Place to be a trilogy following the ending of the second movie and there's more than enough plot points for the movie to continue to explore going forward. Until then, let's keep supporting A Quiet Place Part II in theaters this summer.
Your Daily Blend of Entertainment News
YA genre tribute. Horror May Queen. Word webslinger. All her writing should be read in Sarah Connor's Terminator 2 voice over.