The Best Zach Galifianakis Movies And TV Shows And Where To Watch Them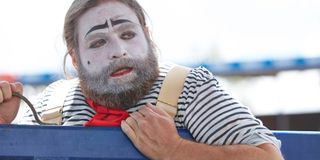 CinemaBlend participates in affiliate programs with various companies. We may earn a commission when you click on or make purchases via links.
Over the course of a decade-plus, Zach Galifianakis became one of Hollywood's most reliably berserk comedians, particularly with The Hangover's unlikely success. While the comedian's peak has passed, the actor-comic continues to find fame in offbeat roles, including FX's exceptional dramedy series, Baskets, and Funny or Die's mean-spirited faux talk show, Between Two Ferns with Zach Galifianakis. Certainly, on the big screen, small screen, or the wide recesses of the web, there's a lot of great content from the seasoned comic at the click of a button, and we're here to direct you to his best stuff.
If you love Zach Galifianakis, here are the best movies and shows to rent or stream.
Between Two Ferns with Zach Galifianakis (Amazon Prime)
Seated between two potted ferns, an indignant talk show host mercilessly grills his increasingly-aggravated celebrity guests in a series of uncomfortable interviews.
Why You Should Stream It If You Love Zach Galifianakis: In the deliberately awkward web program that would unexpectedly mirror Zach Galifianakis' career ascension, Between Two Ferns with Zach Galifianakis started modestly, beginning as a sketch short before it transitioned into a Funny Or Die favorite and spun off a 30-minute special and, eventually, a movie adaptation on Netflix in 2019. In the process, the humiliating interviews went from (then) up-and-coming stars like Michael Cera to famous faces like Brad Pitt before Galifianakis was almost inexplicably trading insults with U.S. President Barack Obama. Throughout its gestation period, Galifianakis never lost focus of the series' intent, delivering more pointed jabs with each uncomfortable celeb guest to surprise Emmy-winning success. It's the little fern talk show that could.
Stream Between Two Ferns with Zach Galifianakis on Amazon Prime and on Funny Or Die.
Additionally, you can stream Between Two Ferns: The Movie on Netflix here.
Baskets (Hulu)
When he flunks out of a prestigious French clown college, Chip Baskets (Zach Galifianakis) becomes a rodeo performer in his hometown.
Why You Should Stream It If You Love Zach Galifianakis: It started with a simple premise: what if a sad clown became a rodeo star? From there, Zach Galifianakis, Jonathan Krisel, and Louis C.K. (who left the show after several sexual misconduct reports) created an oddly melancholic (yet darkly funny) exploration about trying to follow your passions and find your sense of self in a world that refuses to take you seriously. Pulling double duty as Chip Baskets, our central clown, and his dismissive twin brother, the amusingly named Dale, Baskets was an excellent showcase for Galifianakis' comedic and dramatic talents, though it was Louie Anderson's evocative performance as Christine Baskets, their long-labored mother, that stole the spotlight, resulting in an Emmy win for this transformative turn. Though it was more of a critical darling, Baskets was an exceptional display of Galifianakis' post-Hangover star power.
Stream Baskets on Hulu.
Buy Baskets Season 1 on digital on Amazon.
Buy Baskets Season 1 DVD on Amazon.
The Hangover (Amazon)
Three men (Zach Galifianakis, Bradley Cooper, Ed Helms) wake up from a bachelor party blackout to discover that their bachelor (Justin Bartha) is missing in Las Vegas.
Why You Should Stream It If You Love Zach Galifianakis: In the explosive role that turned Zach Galifianakis into a household name, the comedian's comedian became an overnight celebrity with his steal-stealing performance as Alan, a socially inept brother-in-law who's thrown into (and the cause of) the mayhem that is this bachelor party from hell in Todd Phillips' surprise hit, The Hangover. Through playing this befuddled oaf with an unsuspecting teddy bear gentleness and a child-like curiosity for the wild-and-out antics of these hard-partying men — the wolfpack, as it were — the supporting turn quickly became a quotable delight, though the two sequels sadly shied away from his warm-hearted demeanor to explore Alan's burgeoning dark side. It's a shame because this movie had Galifianakis' dry prickliness but also found his oddly moving sweet side.
Buy/rent The Hangover on digital at Amazon.
Buy the DVD/Blu-Ray at Amazon.
Bored To Death (HBO Max)
A struggling writer (Jason Schwartzman) becomes a private detective (of sorts) by utilizing the methods he learned in private eye novels.
Why You Should Stream It If You Love Zach Galifianakis: Though it gasped for airtime during its three-season tenure on HBO, Bored to Death became a niche favorite on the premium cable service, notably thanks to its sharply dull-witted lead performances from Jason Schwartzman, Zach Galifianakis, and Ted Danson. More specifically, Galifianakis played Ray Hueston, a comic book artist and our would-be sleuth's best friend. Premiering in 2009, Bored to Death befitted from The Hangover's success, which came out the same year. This boost helped the series stay on the air for a couple years. Nevertheless, while the noir-inspired show wasn't a rating favorite, it was celebrated by critics for its writing and spirited performances. Though plans to make a film follow-up never materialized, Bored to Death remains one of the actor's most endearing projects.
Stream Bored To Death on HBO Max.
Buy Season 1 on digital on Amazon.
Buy The Complete Series DVD on Amazon.
Zach Galifianakis: Live At The Purple Onion (Netflix)
Zach Galifianakis delivers a murderer's row of one-liners in his acclaimed DVD special.
Why You Should Stream It If You Love Zach Galifianakis: Becoming something of an underground sensation only a few short years before its titular comedian discovered mainstream success with The Hangover, Zach Galifianakis: Live at the Purple Onion found a wide audience towards the end of the '00s, notably when more comedy lovers were finally familiar with the comic's signature dry delivery. That said, this 2006 DVD comedy special was a major moment, demonstrating in one hour-plus special what he could deliver — especially when left to his own devices. The results are screamingly funny, in a way that only Galifianakis can be, resulting in a hilariously hectic hour that continued the comedian's rising ascent. Certainly, this standout special was key to Galifiankis landing a plump role in The Hangover. And the rest, as they say, is history.
Stream Zach Galifianakis: Live At The Purple Onion on Netflix.
Buy the DVD on Amazon.
Birdman Or (The Unexpected Virtue of Ignorance) (IMDbTV)
An over-the-hill superhero actor (Michael Keaton) revives his career by writing, directing, and starring in his own Broadway production.
Why You Should Stream It If You Love Zach Galifianakis: In an A-list ensemble filled with award-nominated performances from Michael Keaton, Emma Stone, and Edward Norton, Zach Galifianakis didn't get as much attention or praise for his supporting turn as Jake, our lead's perpetually frustrated best friend and lawyer, which is a shame because Galifianakis is on top of his game here. Through the actor's dependable work, Galifianakis captures Jake's weighted emotional vulnerability while also demonstrating a sense of grounded integrity that stands out in a sea of egomaniacs. As a result, Galifianakis' performance was overlooked during the movie's awards run, particularly as it wasn't a full departure from his previous work. Nevertheless, it's a standout part that shouldn't be undervalued — much like his woeful council of a supporting character.
Stream Birdman on IMDbTV.
Buy/rent it on digital on Amazon.
Buy the DVD/Blu-Ray on Amazon.
Into The Wild (Netflix)
A bright college grad (Emile Hirsch) hitchhikes across the country to live in the wild.
Why You Should Stream It If You Love Zach Galifianakis: Admittedly, Zach Galifianakis only provides a cameo in Into the Wild, writer-director Sean Penn's soulful adaptation of Jon Krakauer's non-fiction book, in the role of Kevin, a wildlife expert with a seemingly checkered reputation. Nevertheless, while Galifianakis' short, pre-fame performance is notably small, the comedian is part of a tremendous ensemble, including Emile Hirsch as our adventurous protagonist, along with a supporting cast that features Marcia Gay Harden, William Hurt, Catherine Keener, Jena Malone, Vince Vaughn, Kristen Stewart, and the late Hal Holbrook, who was Oscar-nominated. Through its rascal spirit and its emotional exploration of this determined youth, Into the Wild captures what it means to pursue your wild-at-heart dreams, particularly in a civilized world that won't understand.
Stream Into The Wild on Netflix.
Buy/rent it on digital on Amazon.
Buy the DVD/Blu-Ray on Amazon.
Missing Link (Hulu)
Recruited by an opportunistic explorer (Hugh Jackman), a well-mannered Sasquatch (Zach Galifianakis) travels out of his natural habitat to find his furry, long-lost relatives.
Why You Should Stream It If You Love Zach Galifianakis: Since he's often prone to playing unsophisticated dullards with a flawed understanding of the known world, Missing Link became a bit of a departure for Zach Galifianakis. Specifically, the vocal role allowed the actor to play up the character's curious mind and wondrous desire to learn about the undiscovered truths of its own bloodline. The result is a witty, winsome performance in a family film that doesn't live up to the high standards of its often-impeccable stop-motion animation house, Laika, though it certainly looks gorgeous. Also, it features sharp turns from Hugh Jackman, Zoe Saldana, Emma Thompson, and Timothy Olyphant to round out the voice-only cast. Additionally, while it favors familiar fish-out-of-water jokes, the slapstick timing is consistently sharp throughout, which continues Galifianakis' history of exacting comedic precision.
Stream Missing Link on Hulu.
Rent it on digital on Amazon.
Buy the DVD/Blu-Ray on Amazon.
The LEGO Batman Movie (HBO Max)
An immature Batman (Will Arnett) must learn to accept responsibility when the solo hero accidentally adopts a plucky teen orphan (Michael Cera). Meanwhile, a band of villains, led by a vengeful Joker (Zach Galifianakis), attempt to overtake Gotham City.
Why You Should Stream It If You Love Zach Galifianakis: Over the years, we've either seen or heard many different interpretations of the Clown Prince of Crime. Several are widely celebrated, including Mark Hamill, Jack Nicholson, and Alan Tudyk. A couple of them (Heath Ledger, Joaquin Phoenix) are even award-winning. And, well, the less said about Jared Leto, the better. With that said, it's easy to overlook Zach Galifianakis' maniacal, traitorous toy version of the Aces of Knaves, but the voice actor winningly gives the miniature menace a few unexpectedly tender moments, particularly one memorably tender scene that proves to be more sympathetic than possibly any other portrayal of the clown criminal. It's not the definitive Joker, but it brings the laughs.
Stream The Lego Batman Movie on HBO Max.
Buy/rent it on digital on Amazon here.
Buy the DVD/Blu-Ray on Amazon here.
Up In The Air (HBO Max)
Corporate downsizer Ryan Bingham (George Clooney) travels the country, firing people across the nation, while he's accompanied by an enthusiastic new hire (Anna Kendrick).
Why You Should Stream It If You Love Zach Galifianakis: Though Jason Reitman's Up in the Air belongs to its central three stars, George Clooney, Vera Farmiga, and Anna Kendrick, all of whom were Oscar-nominated, this slickly-made, high-flying character dramedy is also indebted to its standout supporting talents, including Melanie Lynskey, Danny McBride, J.K. Simmons, Sam Elliott, Amy Morton, and Zach Galifianakis. The latter plays a disgruntled ex-employee who becomes the focal point of a memorable montage that shows us everything that could potentially happen if this unstable man's job termination takes the wrong turn. It's easily the film's most darkly hilarious scene, and Galifianakis brings it readily with a fine mix of trembling vulnerability and anarchic glee, establishing the hit movie's unconventional acidic (yet also soul-searching) tone.
Stream Up In The Air on HBO Max.
Buy/rent it on digital at Amazon.
Buy the DVD at Amazon.
It's Kind Of A Funny Story (Amazon)
A clinically depressed teenager (Keir Gilchrist) checks himself into an adult psychiatric ward, where he makes an unfriendly friend (Zach Galifianakis).
Why You Should Stream It If You Love Zach Galifianakis: While Zach Galifianakis is rightfully celebrated for his wry witticisms, the comedian demonstrated his understated dramatic talents in the underrated coming-of-age dramedy, It's Kind of a Funny Story.
Based on the YA novel of the same name by the late Ned Vizzini, this likable, sweet-natured titular story is too cutesy for its own good, especially given its heavy subject matter. That said, It's Kind of a Funny Story is anchored assuredly by its heartfelt lead performances, notably with Zach Galifianakis providing wistful warmth as Bobby, a mentor found inside these white walls. Sadly, it wasn't a hit, but the film demonstrated his expandable talents, which have only periodically been realized in other projects.
Buy/rent It's Kind Of A Funny Story on digital on Amazon.
Buy the DVD on Amazon.
Will is an entertainment writer based in Pittsburgh, PA. His writing can also be found in The Playlist, Cut Print Film, We Got This Covered, The Young Folks, Slate and other outlets. He also co-hosts the weekly film/TV podcast Cinemaholics with Jon Negroni and he likes to think he's a professional Garfield enthusiast.
Your Daily Blend of Entertainment News
Thank you for signing up to CinemaBlend. You will receive a verification email shortly.
There was a problem. Please refresh the page and try again.