11 Vince Vaughn Movies Available On Streaming Right Now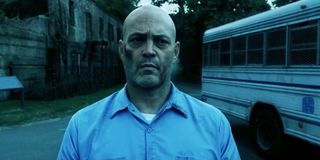 CinemaBlend participates in affiliate programs with various companies. We may earn a commission when you click on or make purchases via links.
On Hulu, Vince Vaughn returns for a new comedy, The Binge. Like many other comedic actors, he has set his sights on the streaming game, which is certainly understandable. A service like Hulu is one of the best ways you can get your comedy to a wide audience as quickly and easily as possible, and it's also how you can watch several of the actor's most famous and/or popular movies. Indeed, there are several comedies and dramas starring Vince Vaughn on many different platforms at the moment, and they're all just a click of a button away. Without further ado, if you're a fan of Vince Vaughn movies, here's what you should stream now.
Brawl In Cell Block 99 (Amazon Prime/Hoopla)
A boxer-turned-drug mule (Vince Vaughn) enters an underground prison after a drug deal takes a deadly turn.
Why It's A Good Option For Vince Vaughn Fans: While Swingers will undoubtedly remain his most signature performance, as I'll discuss in a bit, Brawl in Cell Block 99 might arguably be Vince Vaughn's best. In a transformative turn, Vaughn loses his hair and bulks up his muscles to show us how physical of an actor he can be. While we're used to seeing Vaughn fast-talk his way around town, Brawl is a notably toned down role, allowing him to be intuitive and interpretative in surprisingly really effective and bruising ways. While there's a pulpy simplicity to this story, Vaughn brings an invested sincerity, showing a willingness to expand himself as a dramatic performer and really pack a punch.
Stream It On Amazon Prime here and Hoopla here.
Swingers (HBO Max)
A struggling comedian (Jon Favreau) and an aspiring actor (Vince Vaughn) make their way through Hollywood during the 1990s swing revival.
Why It's A Good Option For Vince Vaughn Fans: With Swingers, Vince Vaughn went from an up-and-coming actor to a Hollywood lead. This wasn't an accident. In a role written by his co-star, Jon Favreau, that was clearly specialized for his talents, Vaughn provides a charismatic, entertaining performance as Trent Walker, a high-energy, party-loving personality who is always looking for a good time. His performance is as quotable as it is magnetizing, allowing you to get hooked into this buddy duo's off-kilter dynamic. Vaughn clearly relishes every piece of dialogue and makes the most of every line delivery, producing a character who isn't the best person in the world (to say the least), but someone who makes for a wildly transfixing presence.
Stream It On HBO Max here.
Into The Wild (Starz)
A former top student (Emilie Hirsch) abandons his possessions and professional desires by hitchhiking to Alaska to live out in the wilderness.
Why It's A Good Option For Vince Vaughn Fans: In Sean Penn's soulful adaptation of Jon Krakauer's best-selling biography, Vince Vaughn plays only a parting role in the proceedings. As a contract harvesting company owner who is later arrested for satellite piracy, Vaughn's character doesn't tell a long time to shine, but Vaughn makes the most of it, playing up his talents for capturing humble, hard-working penny pinchers who like to prove themselves and leave a good impression. As a mentor figure, if one not without his legal troubles, Vaughn provides a refrained, refreshingly downplayed dramatic role, allowing the comedic actor to showcase his expansive talents — notably at a point when he was typecast for certain goofy leading man roles.
Stream It On Starz here.
Dodgeball: A True Underdog Story (HBO Max)
To save their local gym from a corporate health fitness chain, a group of misfits enters a Las Vegas dodgeball tournament with a $50,000 top prize.
Why It's A Good Option For Vince Vaughn Fans: As a send-up and a tribute to the '80s sports comedies, Dodgeball: A True Underdog Story is a goofy, consistently outrageous farce with an inspired premise, some enjoyably ludicrous jokes, and a fittingly game cast. While Rip Torn and Ben Stiller get more attention to their sillier, more bombastic supporting performances, Vince Vaughn carries this comedy well as the straight man, relying on his relaxed demeanor and his appealing everyman charisma to get us invested in our sweet-natured misfit dodgeball players with humble ambitions, if not proven skills. It's an entertaining starring vehicle for Vaughn — even if he doesn't get proper credit here.
Stream It On HBO Max here.
Made (Cinemax)
Two aspiring boxers (Jon Favreau, Vince Vaughn) get involved in a money-laundering scheme.
Why It's A Good Option For Vince Vaughn Fans: Coming a few short years after Swingers' astounding indie success, Jon Favreau's directorial debut, Made, reunited the actor/screenwriter with his friend/co-star Vince Vaughn for another spirited buddy comedy. While the results aren't as memorable or quotable as their first collaboration, this crime comedy is heightened by their renewed on-screen chemistry, and they continue to work well together in this follow-up picture. While Vaughn's performance might not be as natural (and potentially autobiographical) as it was in their first filmmaking effort, he still brings the heat in this second effort, allowing the first-time director to follow the money and let his increasingly famous friend steal the spotlight. Made doesn't make for another comedy smash, but Favreau's movie is still enjoyable in its own right.
Stream It On Cinemax here.
Fighting With My Family (Hulu/Amazon Prime/Epix)
A dramedy biopic exploring the early days of WWE wrestler Paige (Florence Pugh), who must step away from her wrestling-obsessed family (Nick Frost, Lena Headey, Zak Zodiac) to live out her professional ambitions.
Why It's A Good Option For Vince Vaughn Fans: While it's not the type of comedy that steps too far outside the lines (or, perhaps more accurately, outside the ring), Stephen Merchant's appealing, often charming family film is benefitted nicely by its warm heart and its engaging lead performances from Florence Pugh, Zak Zodiac, and Nick Frost. It also features a rock-solid supporting turn from Vince Vaughn as Hunter Morgan, Paige's coach throughout her training process. As this demanding-but-considerate mentor figure, Vaughn infuses this biopic dramedy with a well-rounded personality who brings out some of the movie's finest, most rewarding dramatic beats.
Stream It On Hulu here, Amazon Prime here, and Epix here.
Dragged Across Concrete (HBO Max)
Two ill-tempered cops (Mel Gibson, Vince Vaughn) dive into the criminal underworld to be compensated after they're suspended from the force.
Why It's A Good Option For Vince Vaughn Fans: Reunited with Brawl in Cell Block 99's S. Craig Zahler, while also re-teaming with his Hacksaw Ridge director Mel Gibson, Vince Vaughn provides an intriguing take on the procedural buddy cop format with Dragged Across Concrete, a gritty, vicious neo-noir which features another great collaborative turn from the experimenting actor. Its vile characters and seedy focus on unbecoming characters won't make it an easy watch for some viewers, particularly with its extended runtime, but Zahler knows how to blend his pulpy sensibilities with a pair of hard-nosed cops who want to prove themselves even when their badges are off. While often unflinching and demanding, this drama works well with Vaughn's strengths.
Stream It On HBO Max here.
Rudy (Showtime)
A determined young athlete (Sean Astin) works to defy the odds against him in order to fulfill his dream of playing college football for Notre Dame.
Why It's A Good Option For Vince Vaughn Fans: While Sean Astin is undoubtedly the star of Rudy, this celebrated sports film also has a unique place in comedy history, weirdly enough. Indeed, it's the movie where co-stars Vince Vaughn and Jon Favreau met, sparking up a friendship between two promising young actors that would result in collaborations like Swingers, which propelled both their careers immensely. While that makes for an interesting bit of trivia, it should also be noted that Rudy is well-liked in its own right. Many sports lovers consider it one of the best football movies out there in American cinema, while even non-sports fans might find themselves whipping a tear or two from their eyes.
Stream It On Showtime here.
Wedding Crashers (HBO Max)
Two divorced mediators (Owen Wilson, Vince Vaughn) crash weddings in an effort to meet and seduce bridesmaids.
Why It's A Good Option For Vince Vaughn Fans: Vince Vaughn is often at his comedic best whenever he has someone to work with. Be it Jon Favreau or Jennifer Aniston, Vaughn is an actor who can really sparkle off another performer's energy, which is exactly what happened when he joined forces with Owen Wilson to make Wedding Crashers. The raunchy 2005 comedy is kooky and wacky in its approach, but what really sells the comedy is the winning bromance between Wilson and Vaughn. As a pair of party-hopping bachelors looking for a good time, it's not hard to imagine a lesser version of this film where these non-committal socialites become a creepy couple of horndogs. Thankfully, Vaughn and Wilson remain charming and appealing together.
Stream It On HBO Max here.
Clay Pigeons (Starz)
In a small Montana town, Clay (Joaquin Phoenix) finds himself near an assortment of dead bodies, making him the number one suspect in a murder investigation led by FBI agent Dale Shelby (Janeane Garofalo). More cadavers pile up in the process.
Why It's A Good Option For Vince Vaughn Fans: Violent dark comedies with high body counts weren't hard to come by in the 1990s. Every young filmmaker wanted to be the next Quentin Tarantino. While a slim few (if any) found the same high level of success as that revered auteur, director David Dobkin (Wedding Crashers) made an admirable attempt in his feature directorial debut, Clay Pigeons. While our leads, Joaquin Phoenix and Janeane Garofalo, are expectedly strong, Vince Vaughn's serial killer provides a splashy bit of sensationalism to the proceedings, allowing the actor to liberally indulge in his darker comedic impulses.
Stream It On HBO Max here.
Mr. And Mrs. Smith (HBO Max)
A dissatisfied married couple (Brad Pitt, Angelina Jolie) discovers that they're both assassins for competing agencies, tasked with killing each other.
Why It's A Good Option For Vince Vaughn Fans: Vince Vaughn is firmly in "jokey best friend" territory in Doug Liman's match-making action-comedy Mr. and Mrs. Smith. Nevertheless, it's the type of role that Vaughn relishes. Throwing off one-liners to Brad Pitt, who is always playing off his familiar tricks, and serving as his comic foil for a number of outlandish sequences, Vaughn is playing his familiar tune in this studio comedy, but he knows how to milk it for all its worth, providing a few reliable chuckles and several wacky antics in this well-regarded star-power vehicle for Pitt and Angelina Jolie.
Stream It On HBO Max here.
In addition to these titles, it's also worth noting that The Lost World: Jurassic Park is available on Netflix, Arkansas is found on Amazon Prime, Starsky & Hutch is also on Netflix, Pyscho is on Starz, Term Life is available on Netflix, Lay the Favorite is on Tubi, and Seberg is now on Amazon Prime. What's your favorite Vince Vaughn film? Let us know in the comment section below!
Your Daily Blend of Entertainment News
Will is an entertainment writer based in Pittsburgh, PA. His writing can also be found in The Playlist, Cut Print Film, We Got This Covered, The Young Folks, Slate and other outlets. He also co-hosts the weekly film/TV podcast Cinemaholics with Jon Negroni and he likes to think he's a professional Garfield enthusiast.