High Maintenance And 6 Great HBO Shows That Ended Too Early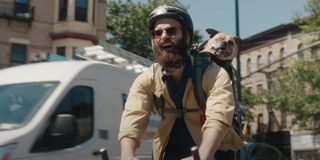 HBO has long been home to some of the best TV series of all time, shows that were given room to breathe and multiple seasons to tell a story that wrapped up with a fitting and meaningful conclusion. The Sopranos and Game of Thrones gave viewers a conclusion (even if they didn't like the results), but others haven't been as lucky and ended too early. Take High Maintenance, the show which following a bicycle pot deliveryman known simply as The Guy and his various customers around New York City. After four seasons, the sleeper hit quietly faded away. And the show is not alone.
Over the years, countless HBO shows have either been forced to wrap up prematurely while others were unceremoniously cancelled, leaving their fans wondering what happened to their favorite characters. While some shows like The Comeback have been brought back to life years after the fact, others haven't been as fortunate, not yet at least…
High Maintenance
On the surface, High Maintenance is a show about a pot deliveryman named The Guy (Ben Sinclair, who also co-created the show alongside Katja Blichfeld) and the colorful cast of characters who use his services in New York City, but the show was so much more than that. At its core, High Maintenance was an exploration of what it means to be human and how each person we come across has their own story with varied experiences, expectations, and desires.
From its start on Vimeo in 2012, all the way until what would be the final episode of its four-season run on HBO, High Maintenance was consistently one of the most hilarious, honest, and diverse shows. The anthology series made you cry tears of joy and sadness, root for complete strangers, and helped normalize smoking pot by showing that everyone from parents visiting their college-aged kids to young professionals indulged.
Unfortunately, High Maintenance quietly came to an end in January 2021 when HBO announced (via Deadline) that the show's co-creators had decided to take a break and pursue other projects. Here's to a Comeback in the future…
Bored To Death
With a great premise, tight writing from show creator Jonathan Ames, and a cast anchored by Jason Schwartzman, Zach Galifianakis, and Ted Danson, Bored to Death seemed like a recipe for success. Despite those factors, the comedy series about a neurotic writer-turned-detective failed to take off and the show was subsequently cancelled less than a month after the show's third (and final) season finale.
Bored to Death was filled with hilarious and awkward situations involving an amateur sleuth and struggling novelist who just couldn't seem to get things right, but the real charm of the series came from the two secondary leads played by Zach Galifianakis and Ted Danson, who stole every scene they were in together, even if the former Cheers star was too high to remember his lines.
Although there was talk of a movie continuation in the months following Bored to Death's cancellation, nothing ever amounted from the talk and the Jonathan Ames' film remains in developmental hell.
The Outsider
Released in January 2020, The Outsider quickly became one of the best Stephen King adaptations of the past 10 years, with its engaging and downright terrifying story about the investigation of a horrific murder of a young boy in a small Georgia town which quickly turns into something much more menacing (as is the case with most of King's works). With outstanding performances from Ben Mendelsohn, Cynthia Erivo, Jason Bateman, Billy Camp, and others, a story that hit in all the right places, and a great Season 1 ending that left the door open for the future, it seemed like it was just the beginning.
That all came to a stop in November 2020 when HBO passed on a second season, making it seem uncertain that we would see how things would play out for all involved parties in the future. Although the door is not officially closed on the saga, the cancellation of The Outsider remains one of the biggest television tragedies of the past year.
Deadwood
Long considered to be one of the biggest examples of a show cancelled too soon, Deadwood cussed its way into HBO lore when it premiered in the spring of 2004. Anyone who was around at the time will probably remember hearing all about the foul language from the show and its central cast, but the gritty western was so much more than that. Filled with just as many well-rounded and thoughtful characters as it was with the likes of Ian McShane's Al Swearengen, the three-season story about a lawless mining town outside the jurisdiction of the United States government really struck a chord with audiences.
Unfortunately, for one reason or another, the powers that be at HBO failed to receive that message and Deadwood was cancelled in 2006, and characters never got the closure they deserved. The show was eventually revived as a two-hour movie in 2019, but time didn't heal all wounds, as star Timothy Olyphant was still not pleased when he said he still felt "a little ripped" off during a Rolling Stone interview prior to the film's release.
Rome
Before Game of Thrones came along with its massive budgets, intricate narratives, and unmatched attention to detail, there was Rome, the short-lived HBO historical drama set during Ancient Rome's transitional period in 1st Century B.C. This show was epic in every meaning of the word and featured one of the most realized worlds seen in a television series at the time. This fact, however, would ultimately lead to the show's premature ending following its second season in 2007.
See, Rome had a reputation of being one of the most expensive TV shows of all time, and the budgetary concerns were too much for HBO so the original plan of telling the story over the course of five seasons was cut down to two, forcing much of the material from later seasons into the final chapter of the short-lived drama. Much like the ruins of the former empire, Rome is now just a relic of the past.
The Newsroom
When The Newsroom was first announced, before its eventual debut in June 2012, it seemed like it had all the ingredients to become the next great television drama. With Aaron Sorkin writing or co-writing every episode, Jeff Daniels leading an all-star cast that included Jane Fonda, Sam Waterston, Dev Patel, Emily Mortimer, and Alison Pill, and a story centering on a 24-hour news network, how could it not work? I mean, Sorkin, who created The West Wing and wrote The Social Network was leading the charge. Sorkin!
But, alas, The Newsroom was never a critical darling and audiences didn't seem to care too much about the politically-charged drama. And, it's a crying, shame because the cast of established and up-and-coming stars, the show's bite, and ability to talk about delicate situations made this one of the most fun shows to experience. The show was renewed for a third and final season in January 2014, and by the end of the year, Aaron Sorkin said he was was done with TV.
These are just a few of the many HBO shows that ended too early, for one reason or another. But, even though they're over and done with, there are still plenty of great shows on the premium network with quite a few shows premiering in 2021.
Your Daily Blend of Entertainment News
Philip grew up in Louisiana (not New Orleans) before moving to St. Louis after graduating from Louisiana State University-Shreveport. When he's not writing about movies or television, Philip can be found being chased by his three kids, telling his dogs to stop barking at the mailman, or yelling about professional wrestling to his wife. If the stars properly align, he will talk about For Love Of The Game being the best baseball movie of all time.