How John Krasinski Reacted After He Learned Matt Damon Passed On Avatar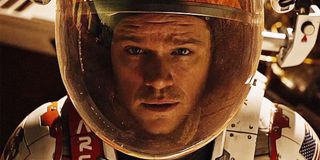 Matt Damon has one of the better track records when it comes to his Hollywood career choices. With films like Saving Private Ryan, The Departed and Ford v. Ferrari under his belt, the actor, writer and producer has more than proven he's got a good eye for picking solid projects. That doesn't mean he's always gotten it right, though. There have been some clunkers along the way -- and, it turns out, he's also turned down at least one major motion picture opportunity: James Cameron-directed blockbuster Avatar. At least he has a funny story to tell about how John Krasinski reacted when he found out his friend had passed on the role of a lifetime.
It's not like Matt Damon wasn't already a household name when James Cameron was getting Avatar off the ground. The actor had already won an Oscar for his Good Will Hunting screenplay and proved he had serious box office staying power as a part of the iconic ensemble of the Oceans franchise. So it's not surprising that the famed director would have sought him out to star as Jake Sully in the film. It's just a little shocking that Matt Damon revealed at the Cannes Film Festival (via Deadline) that he said "thanks, but no thanks" when he was offered not just a role but a decent piece of the film's financial windfall:
That's probably one piece of Hollywood history no one wants to lay a claim to, so you can imagine why Matt Damon's mega-famous peers like John Krasinski found it hard to believe that he'd made that career choice. He remembers how his friend and collaborator reacted when he told him he'd passed on Avatar -- initially with shock, but then with a sage kind of wisdom:
The Quiet Place creator does make a good point. Sure, having a role in the famed director's legendary space fantasy is a gold star on anyone's resume, regardless of their star power. But Matt Damon is not the first actor to turn down a huge role, and he won't be the last. Plus, regardless of how much money Damon lost out on, Avatar may not have been a career-making moment for him. Again, he was already a pretty big star.
The role offered to him eventually went to Sam Worthington, and Matt Damon obviously faired just fine in the long run. He even got a chance to go to space a couple of times, in Interstellar and The Martian -- so, technically, he still could have met John Krasinski there anyway.
Your Daily Blend of Entertainment News
Thank you for signing up to CinemaBlend. You will receive a verification email shortly.
There was a problem. Please refresh the page and try again.