Ben Affleck And Matt Damon To Produce John Krasinski Spec Script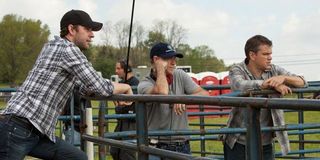 John Krasinski is best known as the lovable Jim Halpert of The Office, but when he wasn't mugging on the faux-doc series, he was developing a hand at screenwriting. After adapting the David Foster Wallace story Brief Interviews with Hideous Men, he teamed up with Matt Damon to draft the anti-fracking drama Promised Land. Now these two co-writers/co-stars are reteaming to produce a mysterious spec script Krasinski co-authored with fast-rising scribe Oren Uziel.
Deadline reports that Warner Bros has bought the script, but is withholding its title and logline for the time being. What we do know is that it's an action-adventure tale from Krasinski and Uziel, and that Krasinski's production company Sunday Night will be bringing it to the big screen with help from Damon, Ben Affleck, and Warner Bros. It's unknown if Krasinski fronting the film was part of the deal. But considering he was a lead in both of his prior screenwriting ventures, it does seem likely.
In case you missed it, here's a taste of the Sundance-selected Brief Interviews with Hideous Men via its trailer:
Of course, Krasinski is not the key factor to this curious screenplay; rather he's just the better-known one. Uziel has only one produced script to his credit so far, and that was for the video short Mortal Kombat: Rebirth. But his fortunes shifted dramatically when his script "Kitchen Sink" made the 2010 Black List. A genre-blending horror comedy that contains vampires, humans, and zombies, it's set to hit theaters in 2015. But the buzzed-about screenplay landed him highly coveted gigs writing 22 Jump Street, the rebooted Mortal Kombat and Men in Black 4. So, many eyes are on this little known writer right now.
Check out the red band trailer for 22 Jump Street below to get an idea of Uziel's comedy-crafting chops:
Looking at the works of Krasinski and Uziel, it's difficult to predict what this spec script will involve. For his part, Krasinski went from penning a dark comedy about love and sex to an incredibly stern and earnest political drama. As an actor, he doesn't have much action-adventure, save for a bit part in the Queen Latifah/Jimmy Fallon action-comedy Taxi and a lead role in the little-known action crime caper A New Wave from writer-director Jason Carvey. Notably, that film has him playing a crook who scripts his crime.
Uziel is an even greater wild card. I mean, the guy's big screenplay is literally titled "Kitchen Sink" because of the wide array of influences that have been chucked into it. Still, there was something in that first script that has studios seeing dollar signs, trusting the untested screenwriter with a highly anticipated action comedy, a martial arts actioner, and the continuation of a sci-fi comedy franchise with one of the world's most beloved movie stars. Here's hoping a director will be in place soon, and from there some new clues on this mystery project will drop.
Your Daily Blend of Entertainment News
Staff writer at CinemaBlend.