The Funny Way Liam Neeson Realized His Career Was Changing After Doing Taken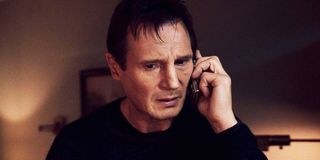 Liam Neeson's The Ice Road was released on Netflix, and it's yet another crazy action movie the actor can add to his list. At present, Neeson has updated fans about Seth McFarlane's Naked Gun remake, and it has us very excited. The veteran actor has seen his career shift to these kinds of action movies, which have arguably helped inspire other veteran actors to do their own "middle-aged man" action adventures. But how did it all start for Neeson? Well, he recently recalled the funny way he realized his career was changing after doing 2008's Taken.
Taken was a significant turning point in Liam Neeson's career, as transformed him into a bonafide action star and spawned two sequels of its own. Taken helped set the tone for the "older guy" action movies we see today, and it apparently didn't take long for him to realize things the changes that were occurring for him after Taken's success. Neeson told EW about the way he realized something had changed for him, saying:
Liam Neeson says he didn't know that Taken would lead to other action films and thought it was probably a one-off thing. But Neeson started receiving scripts that were intended for younger performers but had the younger ages hilariously crossed out just for him. Still, his action star turn wasn't completely out of the blue, as his performance in Batman Begins did require some crazy stunts.
Without Taken, we wouldn't be getting movies like Nobody, starring Bob Odenkirk as an older man on a mission and beating the hell out of people along the way. Even something like the John Wick franchise owes Taken some level of thanks, as Keanu Reeves (as spry as he is) can be considered a seasoned actor at this point.
Liam Neeson has dropped a lot of gems recently, most notably what his force ghost would say to Ewan McGregor's Obi-Wan Kenobi. Neeson also revealed he was once in the running for GoldenEye, but he has a sweet story about why he probably would have said no. It's possible we would never have gotten Taken and some of the films that followed if Neeson had played James Bond early in his career, so things probably worked out alright in the end.
Liam Neeson is reaching the end of his action stint and has talked about his plans for when he eventually retires from the genre. Still, I'm sure there are plenty of fans hoping he'll take on more action roles and even play a character in the MCU, since he's the perfect match for a few of them. But until he closes out his action star run, let's just enjoy what he still has coming up and be thankful he got the chance to be big-screen badass in the first place.
Movie and TV obsessive. A good Heist movie is the way to my heart. Enjoyer of everything from Marvel Movies to Rom-coms.
Your Daily Blend of Entertainment News
Thank you for signing up to CinemaBlend. You will receive a verification email shortly.
There was a problem. Please refresh the page and try again.