5 Marvel Characters Liam Neeson Would Be Perfect To Play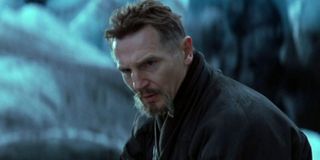 CinemaBlend participates in affiliate programs with various companies. We may earn a commission when you click on or make purchases via links.
In a way, Liam Neeson has already been playing superheroes in movies for years, but, with the exception of 1990's Darkman, he has only played villains in the definitive superhero movies he has appeared in so far. He was Bruce Wayne's mentor turned tormenter Ra's Al Ghul in two DC movies (2005's Batman Begins and The Dark Knight Rises in 2012) and Chris Hemsworth's mentor turned tormentor in Men in Black: International - both of which proved that Hollywood's favorite mature action movie star is also great when playing the opposite side of the law.
In fact, most of the potential characters I have chosen for him to play, if the Irish Oscar nominee ever made a full transition into the Marvel movies, are villains, such as one character who is known for having quite the alluring personality.
Magneto
To be perfectly honest, it is really difficult to imagine anyone better for the role of Magneto than the two actors who have already played him. Of course, since it is likely that the X-Men movies will soon undergo a full-scale reinvention once Marvel Studios reboots the franchise, we should be prepared to to accept that we have seen the last of Sir Ian McKellan and Academy Award nominee Michael Fassbender as the powerful magnetic mutant.
On the plus side, this means that the role is up for the taking for Liam Neeson, who I think could benefit greatly from adding metal-bending to his "particular set of skills." In all earnestness, however, I think that Magneto's most defining personality traits are class and intimidation, which the actor has been specializing in portraying for the majority of his career. There will be never be another Magneto like McKellan or Fassbender, but Neeson could be just as good.
Beast
Now, let's say that Liam Neeson were to say "Yes" when asked to appear in a future X-Men movie installment, but wants to take his return to comic book movies as an opportunity to be a hero this time. Luckily, I have an another character in mind who might resemble the actor's most notable strengths even better than Magneto.
Most recently played by Nicolas Hoult in Twentieth Century Fox's X-Men prequel movies, Dr. Henry "Hank" McCoy is a sophisticated, highly intelligent softie on the inside, but a burly, blue creature on the outside due to his mutant physiology. Beast, in his middle-aged form in particular, is actually another character who I find trouble imagining as anyone other than Kelsey Grammer, but if he is too busy working on his long-awaited Frasier revival, then I think Liam Neeson can easily tackle the character's signature combination of brutish and benign.
Ulysses Bloodstone
Actually, I do not believe that we have seen Liam Neeson don heavy makeup prosthetics for a role (if we exclude Darkman, where he was largely covered in bandages) and, at 69 years old, he might prefer to keep it that way. So, maybe instead of playing a large, monstrous creature, he would be better at playing a human who specializes in the extermination of such things?
One of Marvel's most famous monster hunters is Ulysses Bloodstone, who is portrayed in the comics as a caveman kept alive for thousands of years by an extraterrestrial gem lodged in his chest, which also inspired his alias. He would later pass on his skills in tracking the world's most notorious beasts to his son Cullen and daughter Elsa, whom I would love to see team up with Deadpool someday. If and when that happens, I think it would be fun to see Liam Neeson portray a new take on Bloodstone who, instead of having prehistoric origins, is just a tough guy who knows how to kick some ass - a persona that Neeson has perfected over the years.
Mephisto
Of course, Liam Neeson actually does intend to step down from the ass-kicker role he has played countless times since he played Bryan Millls in the first of the Taken movies in 2008. So, perhaps, when that happens, he might prefer to take on the role of a Marvel character who does not require much physical activity to play. Luckily, the comic book medium is chock full of those kinds of characters, including a villain considered to be Marvel's interpretation of Satan.
Marvel fans have actually been waiting to see Mephisto become inducted into the MCU for years now, which is why so many felt that WandaVision missed a perfect opportunity to have him be the one who was pulling the strings behind the scenes of the Westview Anomaly. Personally, I do not care how long it takes to see the red-faced interdimensional demon earn his big screen (or even small screen) debut, as long as he is played by an actor who pulls off his defining grizzled, menacing traits. Need I say more?
Galactus
Actually, on second thought, I think there is more that I could say in terms of Liam Neeson's potential as a Marvel movie villain. In fact, there is one villain whom fans have been pining to see Liam Neeson play more than any potential character in the Marvel Universe (or Marvel Multiverse, more accurately) who also happens to be the one most commonly rumored as the one to succeed Josh Brolin's Thanos as Phase 4's "Big Bad." Coincidentally, "big" and "bad" could not be a more fitting description of him.
Formerly a humanoid astronaut named Galan until he became the sole survivor of an otherwise deadly amount of cosmic energy, Galactus is a being who is more powerful than most, larger than most, and hungrier than most - hence his sweet tooth for entire planets. It is an intimidating role that would require someone who can speak with much authority in their voice. Thus, it is no question why Liam Neeson has been the top choice to play this top villain.
If Liam Neeson's action movie star days are truly over, I cannot think of a better way for him to follow-up that era than becoming a comic book movie star. If the Marvel movies are in his destiny, which character would you pick for him to bring to life?
Jason has been writing since he was able to pick up a washable marker, with which he wrote his debut illustrated children's story, later transitioning to a short-lived comic book series and (very) amateur filmmaking before finally settling on pursuing a career in writing about movies in lieu of making them. Look for his name in just about any article related to Batman.
Your Daily Blend of Entertainment News