Netflix's Fear Street Was Pitched As 'The Marvel Universe Of Horror,' But Does That Mean Sequels Are Coming?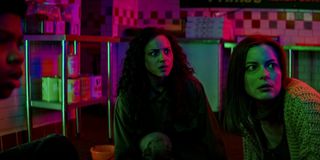 Warning: spoilers for Fear Street: Part 3 - 1666 are in play. If you haven't seen the film yet and want to remain unspoiled, you are welcome to turn tail back to Sunnyvale where it's safe.
It's hard to believe that the Fear Street Trilogy has concluded, as the past three weeks have been a continuous cycle of surprise, reaction and examination. With the full story now in the open, Leigh Janiak's three film cycle can be seen in its entirety as one singular epic. However, if you thought this past weekend's Fear Street: Part 3 - 1666 was the end of the story, you're absolutely wrong. As Janiak had pitched the project as a gateway to 'the Marvel Universe of Horror,' there's a lot of potential for sequels to be put into the works.
There's more to the Fear Street Universe than just witchcraft and centuries old grudges
During the press tour for Netflix's Fear Street films, I was lucky enough to speak with co-writer/director Leigh Janiak on two separate occasions. Both instances were amazing opportunity to pick the brain of a fellow fan of the YA horror-thrillers that made a tremendous impact on that particular realm of literature. Cherishing her memories of the Fear Street books like any proper fan would, Janiak told me that early on, she was interested in turning what could have been a simple cinematic adaptation of a nostalgic property into something more:
Anyone who's read the Fear Street books knows that it isn't just ghosts and witches that make the town of Shadyside, Ohio a dangerous place to live in. Romantic jealousy, personal grudges and all sorts of pitfalls inspire the various characters of the world to do the evil that people do. But just as Leigh Janiak did with her trilogy of films spanning from 1994 to 1666, an underlying evil has always been hinted at, which has plagued the town for generations.
A Fear Street Cinematic Universe is another nod to R.L. Stine's source material
So how does this turn Fear Street into the Marvel Cinematic Universe style property it was pitched as? Going back to the original R.L. Stine books, you can see that for the most part, Fear Street is a bunch of one-shot stories, with all sorts of nefarious plots being told throughout. However, there were also special events, like Super Chillers and various multi-book arcs, that popped up every now and then. No matter what you were reading or which characters you were following, the overall world of Shadyside was always the center of the action; and you could pick up on clues to events that had already happened.
With that in mind, Fear Street: Part 3 - 1666 is the culmination of what amounts to the cinematic equivalent of a trilogy event like The Fear Street Saga or The Cataluna Chronicles. Kicking off Leigh Janiak's vision that started as a Fox event trilogy, but eventually migrated to Netflix when producer Peter Chernin's exclusivity deal with the studio ran out, these three films are the foundation for what can happen down the road. And if you've already seen the film, you know exactly what I'm talking about.
Fear Street: Part 3 - 1666 ends on a perfect note of ambiguity for future installments
At the end of Fear Street: Part 3 - 1666, we learn that the Goode family, a bloodline that's been in power ever since the original colony of Union split into Shadyside and Sunnyvale, has been behind the curse that's long since been attributed to Sarah Fier. Though the heroes of our trilogy seemed to have broken said curse and doomed the Goode family to tragic deaths, the film ends with the spellbook that started this all being snatched by an unknown force. Acting as the huge door opener for the rest of the potential Fear Street universe to walk through, Leigh Janiak described her intentions even further with this explanation:
Indeed, The Devil hasn't been vanquished, but merely transferred to a new, unknown partner. Which means that Sunnyvale and Shadyside might not be safe for too much longer. Though the party that now possesses the book is unknown, there is the possibility that a Shadysider with inside knowledge to what's actually going on may have taken it for themselves. Should that be the case, the future of Fear Street could be even more unpredictable.
But then again, that's the best part about the Fear Street world existing as a MCU-style entity. If Leigh Janiak doesn't want to jump back into the story of Deena, Sam, Josh and the other survivors of this bloodletting, she can always venture into a story of star crossed lovers haunted by someone who was long believed to be dead. Maybe a prank can start out as good fun and end in murder? The possibilities are endless, and as the reaction to the Fear Street Trilogy has been rather promising, it would be a hell of a shame if audiences weren't given a chance to return to Shadyside for another round of scares.
For fans old and new, the Fear Street Trilogy can now be seen in its entirety on Netflix, whenever audiences choose to do so. Fear Street: Part 3 - 1666 closes things out on a high note, and you can either binge the entire trilogy or spread the fear throughout as many nights or weeks as you like. If you're not into the whole bloody teens in peril thing, then feel free to head off and see what the 2021 Netflix movie schedule can provide in the name of entertainment.
This poll is no longer available.
Your Daily Blend of Entertainment News
Senior Movies Contributor
CinemaBlend's James Bond (expert). Also versed in Large Scale Aggressors, time travel, and Guillermo del Toro. He fights for The User.