This New Merch From Deadpool And Rick And Morty Is Even Weirder Than I Would Have Guessed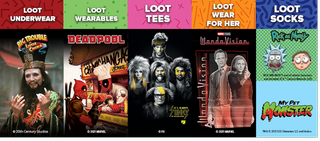 Hey there, movie and TV lovers! Are you looking to step up your style? Well, you're not going to want to miss out on the latest Loot Wear line from Loot Crate, which we are excited to reveal! The August line is appropriately titled "Get Weird," and features officially licensed, exclusive apparel from everyone's favorite franchises including Marvel's WandaVision, Deadpool, It's Always Sunny in Philadelphia, Rick and Morty, My Pet Monster, and Big Trouble in Little China.
When I say it's appropriately titled "Get Weird," I mean it. For instance, the Deadpool item in the Loot Wearable line is a beach towel poncho. Let's take a look at everything included in Loot Crate's (opens in new tab) entire Loot Wear line.
What's Included
Like I said, the Loot Wearable (opens in new tab) line gets super weird with that Deadpool beach towel poncho, featured above. The Loot For Her (opens in new tab) item is a WandaVision cotton beach shorts and tank top set that Wanda herself would definitely wear. To help tide you over until the next season of It's Always Sunny in Philadelphia, there's an officially licensed T-shirt for the Loot Tees (opens in new tab) line. The August Loot Socks (opens in new tab) includes exclusives from Rick And Morty and My Pet Monster, which you can view below. And lastly, the Loot Underwear (opens in new tab) includes officially licensed Big Trouble in Little China undies, also seen below. Ready to Get Weird yet?
How To Get Everything
The new Get Weird line of Loot Wear starts at $9.99 plus shipping and handling, and you can pick and choose your favorite items or order one of each. Supplies are limited, so be sure to order soon! You can buy everything starting at 11 p.m. CST on July 19.
To purchase everything, just visit these links: Loot Wearables, Loot For Her, Loot Tees, Loot Socks, and Loot Underwear.
Hopefully these weird and totally awesome items will help you upgrade your wardrobe! I mean, who doesn't need a Deadpool poncho in their lives? Everyone does, okay? Speaking of Deadpool, did you know he officially joined the MCU in the weirdest, most Deadpool way possible? Very fitting.
Your Daily Blend of Entertainment News
Thank you for signing up to CinemaBlend. You will receive a verification email shortly.
There was a problem. Please refresh the page and try again.