Why Olympian Ariarne Titmus And Her Wild Coach Would Make For An Awesome Movie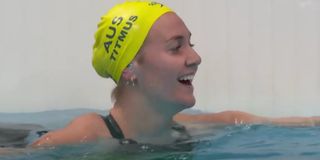 (Image credit: Photo courtesy of NBC Sports YouTube screengrab)
The Tokyo Olympics are underway, and with their arrival comes some larger-than-life stories that just beg to be adapted at a later date. After all, Hollywood loves a good story about athletes overcoming overwhelming odds, and is it possible it has found that story with Ariarne Titmus?
Speaking as an American with nothing but pride for his country, I say yes. There's a story to tell about the Aussie causing a stir at the Olympics, and that wild coach of hers is the perfect addition to turn this into a real hit.
The Build-Up To Her Big Olympic Moment Is Just Wonderful
Ariarne Titmus made headlines recently at the 2021 Tokyo Olympics, but it wasn't like this young athlete just appeared on the scene out of nowhere. This Aussie swimmer stunned the dominant Katie Ledecky at the 2019 FINA World Aquatics Championships. When I say stunned, I mean she beat Ledecky for Gold by a little under one full second in the final despite being two inches shorter than her.
The moment lit the swimming world of fire, but there were some contingencies. For starters, Katie Ledecky was sick during the event to the point that she had to pull out of another event at the meet she was supposed to be a part of. The swim world was ready to see if Titmus was for real, and the thought was they'd get their answer at the 2020 Tokyo Olympics.
Of course, 2020 happened, and suddenly there was a chance that these two young swimmers not only wouldn't get a chance to face off in their primes at the Olympics, but that the event could be canceled entirely. The melodrama of that will be a hard sell to the audience since they know all this took place the following year, but there's a real opportunity for a movie to show just how impactful the time difference was for these young athletes who prepared their whole lives for the event. It's such a niche experience, I think you'd almost need a filmmaker's perspective to truly understand it, and that could make for a great story.
Her Coach Is Wild In The Best Way Possible
Honestly, the moment that sold me on the idea that Ariarne Titmus could get a movie was when her coach Dean Boxall just went off the rails when she got her first gold medal at the Olympic games. A lot of people likened the moment to WWE's Ultimate Warrior, as he pumped his fist and thrust his hips toward the protective glass barrier. The moment immediately went viral, which is always a good sign for things that will eventually have marketability.
It's worth noting that while Coach Boxall doesn't appear to be in the habit of gyrating all the time, he does seem to be like a character one would see on the big screen. There's a video online of him talking to his swimmers, and the odd analogies and jokes he makes during this short video only sell the fact that this guy needs to be represented on the big screen. Seriously, at one point, he tells an athlete that being a swimmer is like being Batman, in that when they put their suit on, they're ready to go to work.
Also, I can't be the only person who got Matthew McConaughey vibes from that celebration. I think if a fan poll were put up of who would be perfect to play Dean Boxall, McConaughey's name would appear. While there may be better actors for the role, let me just say that McConaughey lived in Australia for a year, and convincingly faked the accent when he returned to Texas for a full year. Perhaps if someone were to approach him about the role, he may just say "Alright, alright, alright, oi, oi, oi."
She Had The Ultimate Rival In American Katie Ledecky
We touched on this a bit earlier, but it really can't be stated enough how impressive Ariarne Titmus wins are. She's a six-time Olympic gold medal winner, and since 2013 she's absolutely dominated the women's swimming scene. Titmus already solidified herself as one of the best professional swimmers in the sport's history, and the Tokyo games seemed to be a golden opportunity to further cement her already remarkable legacy.
Ariarne Titmus was certainly in the conversation due to the aforementioned upset in 2019, but a lot of factors were at play. Katie Ledecky was in the setting, in which she started her legacy, while Titmus was the spry newcomer competing in her first-ever Olympics. Lots of dominant athletes can struggle under a big spotlight, so it wouldn't have been surprising in the least bit if Titmus couldn't rise up against her swimming rival when the big moment came.
Ariarne Titmus not only rose to the occasion in her first event by keeping up with Katie Ledecky, she also beat her. It was a hype moment certainly worthy of gyration and dancing, and that was before she did it a second time. The first time could be written off as a fluke or maybe even an off-day for Ledecky. When Titmus won the second time, it built the anticipation that this Aussie swimmer is for real, and perhaps Ledecky's crown as one of the GOATs of professional swimming may be slipping. After all, Ledecky has never lost individual swimming events at the Olympics, and she's now lost twice in two days to the same person.
The two will ultimately square off another couple of times, but the big thing in the story is already there. Ariarne Titmus did the unthinkable and showed that no one stays champion forever. The only real downside (solely from a story perspective) to this tale is that Katie Ledecky has already assured the media that her and Titmus are friendly to each other even though they're fierce competitors. Of course, that hasn't stopped Hollywood from dramatizing rivalries on the big screen before, though I'm not sure how someone could possibly make someone like Ledecky look like a villain. I guess we'll find out if this movie is ever made!
Now that I've spoken my piece on what I think has been the story of the Olympic games, I want to know what fans think. Would you like to see Ariarne Titmus get a movie based on her journey? Sound off on our poll below.
This poll is no longer available.
Mick likes good television, but also reality television. He grew up on Star Wars, DC, Marvel, and pro wrestling and loves to discuss and dissect most of it. He's been writing online for over a decade and never dreamed he'd be in the position he is today.
Your Daily Blend of Entertainment News
Thank you for signing up to CinemaBlend. You will receive a verification email shortly.
There was a problem. Please refresh the page and try again.