Looks Like Disney World Will Continue To Increase Capacity Ahead Of 50th Anniversary, Despite Covid Surge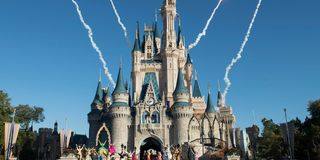 If your fall plans did not factor in the Delta variant of COVID-19, you probably know by now that you're not alone. A surge in cases has ushered in a new era of the pandemic, and has created new challenges. Some areas of the entertainment sector are seeing new delays and shutdowns. At Disney World, however, plans for increased capacity are still going forward for now as the park's 50th anniversary approaches.
Last year, like many other tourist destinations around the world, Disney theme parks were hit hard by COVID-19. After shuttering in March 2020 and staying completely closed for several months, Disneyland, Disney World and other major attractions began a slow reopening process.
The reopening plan has included safety measures like social distancing and mask-wearing, limiting the number of people allowed in the parks and hotels, and the continued closure of some of popular features like restaurants. However, the plan has always been to get the park back to where it was pre-pandemic and in Q3 the parks were finally profitable again.
Over the last several months, many of the pandemic-era sanitation guidelines, including physical distancing and plexiglass barriers, have been removed. And according to Forbes, despite the increase in COVID cases, park leadership is still targeting an increase in attendance by year's end.
In a call with investors, Disney's CEO Bob Chapek revealed there has been an increase in reservations over the course of the summer, even as the Delta variant has led to new worries about the pandemic, especially in states like Florida. While Disney hotels are currently capped at 70%, the plan is still to move toward 100% capacity. The rise in demand is also fueling Disney leadership's goal of having the parks fully staffed by the end of 2021.
The decision to continue forward with reopening plans despite the increase in COVID cases does not mean that Disney has not made changes to its safety strategy. In late July, Disneyland and Disney World both reinstituted their indoor masking policy inside their parks and resorts. Masks are still optional for guests when they are outdoors.
Like many other corporations, Disney was hit hard by the COVID pandemic in 2020. The parks, in particular, were hit with a wave of long-term layoffs due to closures, and Disney World alone lost nearly $7 billion in revenue. According to Forbes, the most recent earnings report marked the first time that the parks have been profitable since the pandemic began -- so it is not difficult to understand why the parks are hoping to keep things moving.
As the summer winds down and, Disney parks are heading into what should be a busy few months In addition to the annual Halloween and winter holiday celebrations, Disney World will begin celebrating its 50th anniversary on October 1, 2021. Reservations have already sold out in some of the parks on that date, but as capacity increases, that could change as well.