Could Mask-Wearing Return To Disney World? Here's What Official Park Policy Says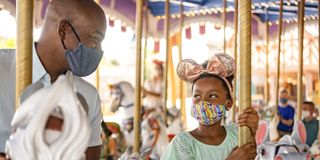 Earlier this year as the vaccine rollout began it seemed like things would finally start to get back to normal. Places where crowds of people used to gather, like sporting events or theme parks, began to reopen and relax restrictions. Disneyland, that had been closed for over a year, finally reopened, and Walt Disney World began to let more people through the gates. But now as coronavirus cases are once again on the increase, almost entirely among the unvaccinated, the question of whether mask rules should return is being asked. And so many are wondering how those decisions might impact the theme parks.
Currently the official Disney World policy is that masks are not required for those that are vaccinated, except on transportation like buses. But they are required indoors for the unvaccinated. Of course, since there is no verification of vaccine status going on, it is quite likely that many unvaccinated people are ignoring that requirement. And while the vaccine is proving successful, even as it regards the delta variant, "successful" in this case means preventing serious illness and death in the vast majority of cases-- not necessarily preventing one from getting the disease or even transmitting it. And so with all that there's at least an argument to be made that putting everybody back in masks would help.
While Walt Disney World's current rules aren't requiring masks of the vaccinated, and aren't verifying the status of the unvaccinated, the theme park resort has left themselves an opening in their rules, and at least an indication that this might change. The site states that "based on recent trends and guidance" there will be future adjustments to the rules. It also states that changes could occur without notice. Disney World has always remained flexible with its policies in this regard, continually adapting them as new information came out.
From the beginning, Disney has been basing its policy on the pronouncements coming from the Centers for Disease Control, and currently the Disney World policy is in line with that. The question is that if virus transmission increases even more, could the CDC end up recommending masks be required. If that were to happen it would seem likely that Disney World would follow suit, though certainly that's not guaranteed.
For what it's worth, the mask mandate itself didn't seem to keep people away from Walt Disney World. And there's a potentially bigger issue as even if people were all wearing masks, the good they could potentially do would be limited. Capacity in the parks has increased, and many of those tickets have been sold, so the parks are likely to remain more crowded going forward. This makes social distancing essentially impossible and reducing the effectiveness of masks.
At this point it seems unlikely that masks will be returning to Disney World. The state of Florida certainly doesn't look to be interested in its own requirement and the CDC is showing few signs of reversing course. Still, if you're planning a trip to Orlando in the new future, maybe be sure to have those masks all packed, just in case.
CinemaBlend's resident theme park junkie and amateur Disney historian. Armchair Imagineer. Epcot Stan. Future Club 33 Member.
Your Daily Blend of Entertainment News
Thank you for signing up to CinemaBlend. You will receive a verification email shortly.
There was a problem. Please refresh the page and try again.